Earthdance Melbourne : Needs Volunteers - Get Free Entry
for 3-4 hours work volunteering? AND a free tshirt!! :)
not to mention the copious tonnes of good karma ;)
THIS WEEKEND : SUNDAY 14 SEPTEMBER 2008
Please email Adam adamduus@yahoo.com.au to express your interest.
Positions still need filling in the following areas:
Info tent
Gate
Carparking
Waste & Wellbeing
Let him know your name, number and preferred areas and times.
Theres a volunteers meeting this Thursday at 7.30pm at 127 Campbell St Collingwood, come one come all and bring a friend or 3!
We have 50 volunteers and need 100 to make this happen!!
What is Earthdance? visit Earthdance Melbourne
pass it on :)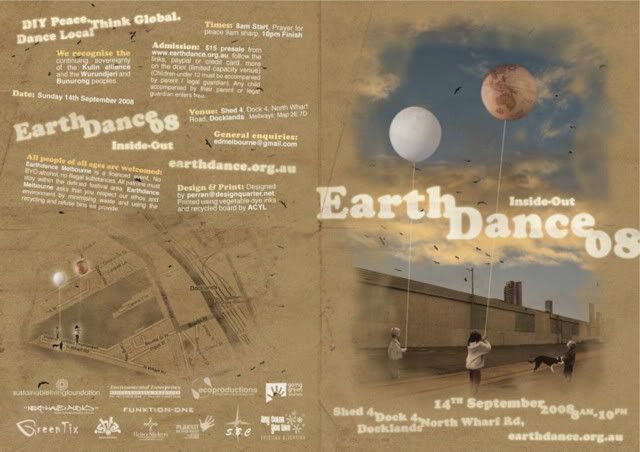 This year's Melbourne Earthdance returns to its urban roots with a massive venue in the Docklands, exploring the quirky yet relevant theme "Inside-Out".
2008 will see Melbourne Earthdance Crew bringing the biggest production and most diverse line up to date.
Expect nothing less than, state of the art sound and lighting, performing and visual arts, workshops and family activities all in the name of sustainable living in the city of Melbourne! The most significant production values ever for a Melbourne Earthdance with a licensed bar and smokers area close to the main stage
Earthdance in conjunction with Funktion One presents a single stage policy of mashed up goodness representing everything from Hip Hop to Trip Hop, down tempo to Dubstep, Funk, World Music, and our old friend Techno.
Don't forget! Since its inception Earthdance Melbourne has donated close to $100 000 to charities, this year's charities your Earthdance ticket will support are:
•Skateistan – http://skateistan.org
•NYING – JEY Project for Tibetan Communities (Australia) Inc
•Harmoni Music Project- Papua New Guinea.
•Red GUM Forest Preservation – http://www.saveredgum.org
•The Sustainable Living Foundation (SLF) Melbourne
All people of all ages are welcomed.
Shed 4, North Wharf Road, Docklands.
Earthdance Melbourne is a licensed event, No BYO alcohol, no illegal substances.