Unsure How to Change the Order of Your Artwork on Your Pages?
This is for a friend on my watchlist. I was trying to explain the arrows on "MY ART" page, I wasn't explaining it very well, so I thought if I broke it down into steps and added screenshots, it might help. It's worth the effort if it helps someone else who may find this confusing.
The discussuin started Here
To catch you up…
.."._I use the arrow keys to move my pictures to a different page or position. I keep my shots with the most comments, favorites and views on the front page on my profile …sometimes, I leave my newest uploads on the first row or two for a while until I feel people have opportunity to look at them. I do this because I know some people on my watchlist only get on the site once a week or less…if the recent shots don't get any love, I move them to the back page unless I think it is a fluke and deserves more viewing."_ (revised)
What I hope is a simple explanation:
Your newest art uploads by default will show up on your profile page on the top row, first square on the left. You can change the positioning of the artwork if you want, here is how.
1) Open RedBubble in your browser
2) Click on "My Bubble" on the tool bar
3) Another light gray tool bar appears, click on "ART"

4) You will see "MY ART" on the top left. Choose the artwork you would like to relocate in the line-up.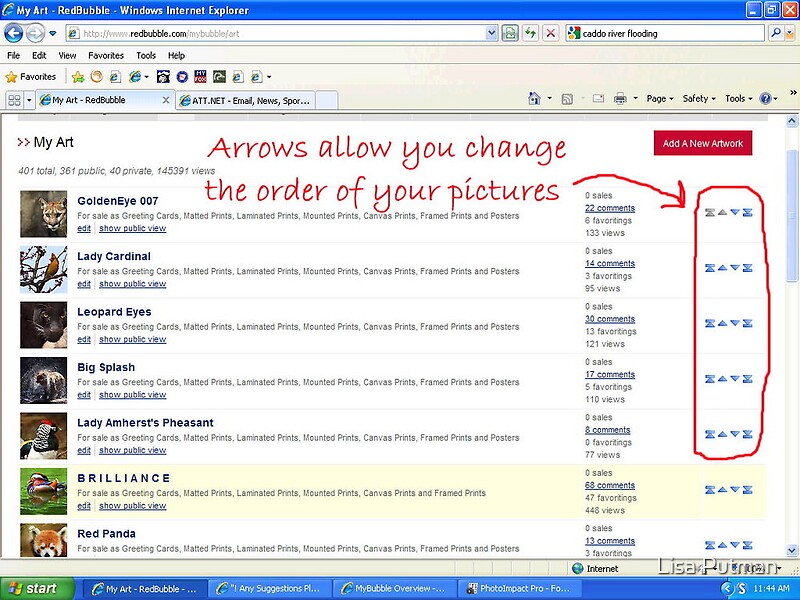 5) In the example below "Leopard Eyes" is my third picture,
if I want it to be at the TOP, I click the first set of arrows.
if I want to move it UP one, I click the second arrow,
if I want to move it DOWN one, I click the third arroa,
if I want to move it to the very LAST PAGE, LAST PHOTO in my profile, I click the last set of arrows.
I can play with these arrows repeatedly until my pictures are just where I want them to be.