"Lofty Ideals" received TBA :D
Hi!
Was delighted to find out that "Lofty Ideals" received the "Today's Best Award" , thanks to Zazzle :D And yes, I do draw other animals other than just the owls :D Many of you may not have seen this work as this was one of the first few that I uploaded here in RB. So I thought this is a good opportunity for the rest of you to know her better….a piece that's close to my heart and maybe you can also identify with this painting. This pink sheep's name is Knitto Pinko :D In this pic, she feels that she is unique and set apart for bigger things, not just another sheep under the shepherd's shears….not just another digit on the farm….she faced a big dilemma…should she stay or should she leave?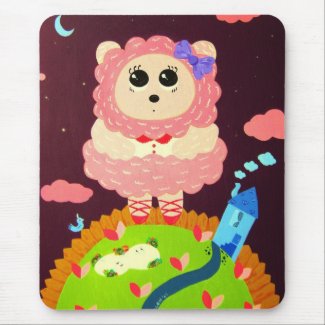 You can view more of "Lofty Ideals" at my Zazzle Gallery.
Part 2 of the story:
Knitto Pinko submitted her resignation as head knitter to Farmer O'MacDonald a year ago. She decided that she no longer wanted to knit designs that she was in the least passionate about. Her dream was to have her own shop of knitwear, designed by her with 100% wool.Knowing her dream extended beyond the boundaries of this farm which she had grown so familiar with,she took on the challenges that awaited her outside nevertheless.There was no turning back since. She's now busy with her knit creations which she fondly calls them "Knitties Gritties".
Hope you like the story :D