Carisbrook Falls - A Day in the life of a Waterfall Addict #7
Just came back from a week down at Skenes Creek in the Otways with the family and as I have done many times before we dropped into Carisbrook Falls which has a short 260m track to a lookout just off the Great Ocean Road. After visiting with the fam I thought I'd go back alone to GPS and measure them. From previous visits I knew they were bigger than the tier that is visible from the lookout but I didn't think it was too much more. After getting the wifely blessing for a solo trip I left at lunchtime and told her I'd be back in 2 or 3 hours time. Six hours later… I returned just as dinner was hitting the table, of course my wife thought I'd take this long initially anyway and it was I who insisted it wouldn't take long (obviously I was only fooling myself).
This is the shot I took on the family friendly trip to the lookout and from this vantage point this is Carisbrook Falls in its entirety which at almost 60m is a pretty impressive sight.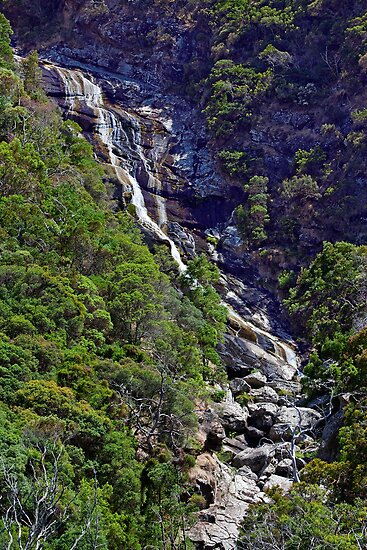 Just behind the lookout however is an old closed and overgrown track and from previous visits I knew this gave a far more expansive view of the falls.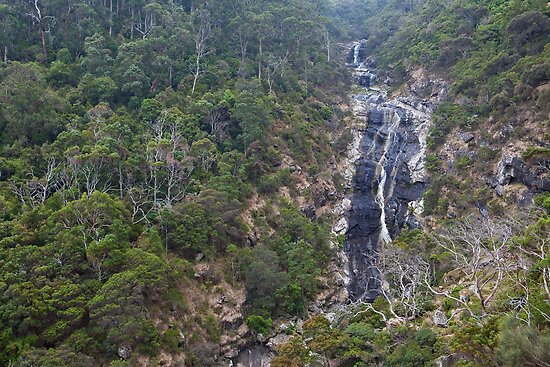 From here you can see tiers three through seven. The angle is a little low to see them all clearly but each tier has a substantial plunge pool (one of my definitions of what makes up a distinct tier). Note how this perspective makes the bottom tier look like an almost shear drop.
From here I then descended a very steep slope down to river level which gave me this view of the 59m high 7th tier. From this angle it doesn't look nearly as steep.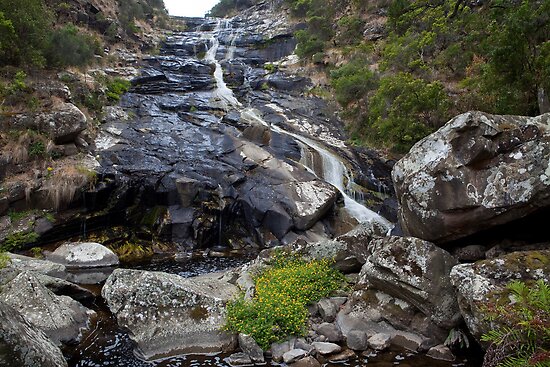 In years gone by an official track went to the base of the falls and there were a number of 'danger don't climb the falls signs' but as too many people couldn't resist and there were a number of accidents the authorities responded by closing the track. As I have done a great deal of this sort of thing and have extensive experience rock climbing and more importantly believe I know what my limits are and when to back off I felt I could climb this drop safely and did so. On the way up I stopped to measure it from four different spots with my laser distance measurer which unfortunately didn't have the power to do it all in one go (in the middle of the day). This is the view from half way up: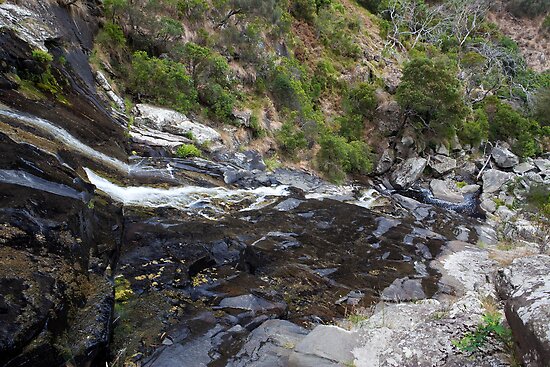 Upon reaching the top of this tier I was met with this gorgeous little drop (7.7m) with a superb plunge pool which on a hot day would make a truly divine swimming hole with a view to die for (an eventuality that could easily be fulfilled if you weren't careful).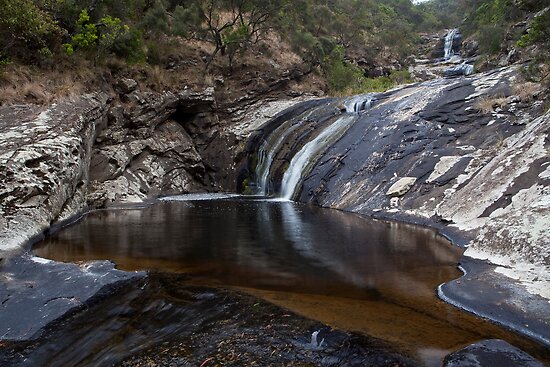 and looking down on the plunge pool and lip of the 7th tier:
Just above this was the fifth tier (8m). As I couldn't cross this without swimming, I then took to the scrub and could only observe the third and fourth tier from the cliffs above them.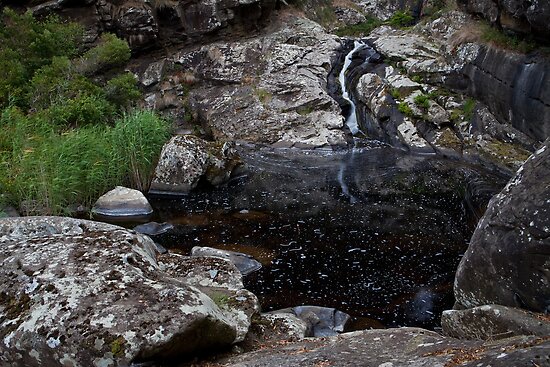 The fourth tier (29m):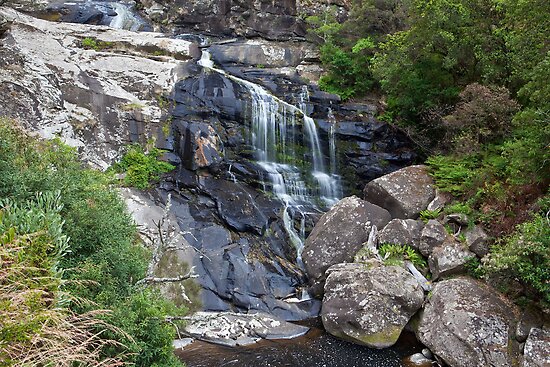 and the third tier which is the steepest and therefore most impressive tier of Carisbrook Falls (21.8m).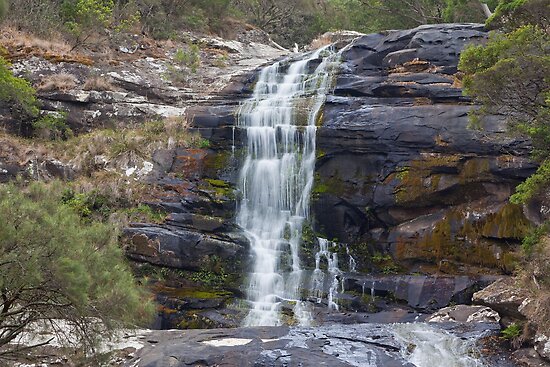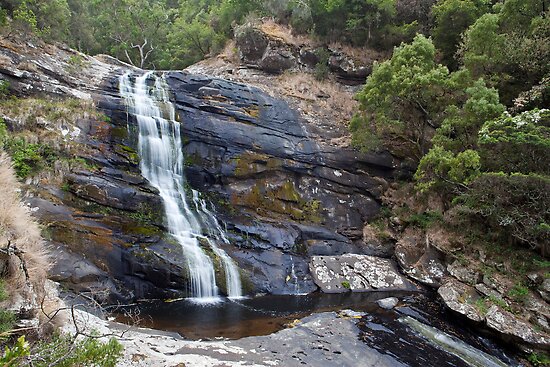 This was, I thought the top tier of this waterfall but because I like to get accurate GPS co-ordinates of drops I visit by taking readings from the very lip of the falls I decided to continue up the cliff/ steep slope to the top. On this section I encountered a few pet hates that is unfortunately the lot of off track waterfall hunters. The first was decidedly hazardous being a tiger snake that I was half way to stepping on before I noticed it. This is all very well on flat ground but on a cliff you can't just run away you have to stay calm back off slowly and work out an alternate route without doing anything stupid (yerr yerr). Shortly after this, pet hate two came into being in the form of some prickles and some very spikey native shrubs. The problem being that as I was on a cliff I simply couldn't avoid them so just had to grit my teeth and push through them as best and safely as I could.
Eventually I got through the hellish bit and made my way to what I thought was the top only to find to my immense delight that there were two more hidden tiers above this tier.
The impressive second tier (20.1m):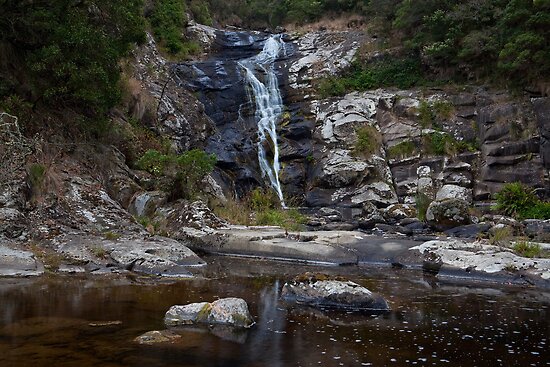 And to cap it all off the lower angle first tier (11m), which sadly has a small brick water inlet with a couple of steel grates over it at its lip (the white plastic water pipe coming from the inlet is visible in the top of the frame).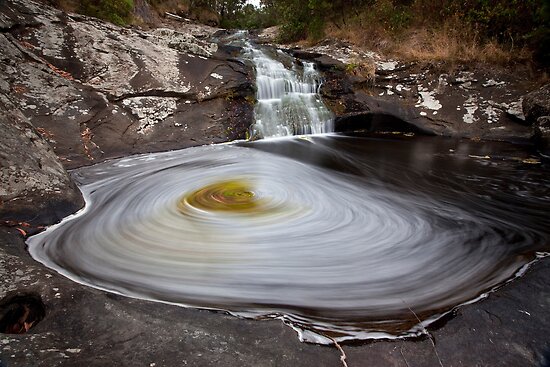 I was now a long way overdue getting home and although I felt a pull to keep exploring the lovely creek beyond I began the lengthy descent which was interupted by a startled Blink Bill hurtling up the closest small tree halfway down the seventh tier. This was the closest I've ever been to a Koala in the wild and I took great delight in taking a few shots before continuing.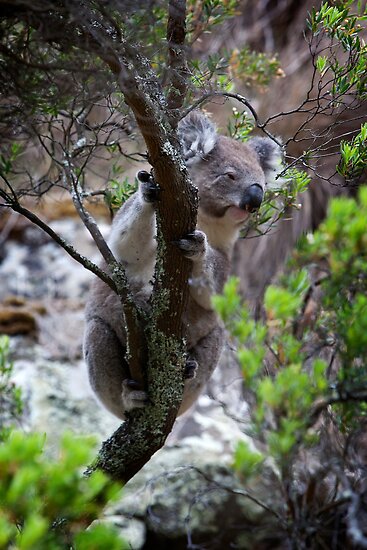 After reaching home I added up all my measurements and was pleased to find that my 11 laser distance measurements added up to 155.5m which was only 1.5m shy of the altimeter reading of 157m that my GPS gave me, this fall happens over 400m of creek.
It was a real revelation and thrill to have explored such a massive waterfall that I have visited many times before but have only viewed from a distance without any real comprehension of just how massive and spectacular they are. Any individual tier of this drop would be a worthy destination in and of itself but to put them all on top of each other is a truly special natural wonder indeed.
It would be interesting to try this again sometime in winter/ spring with a higher volume of water but of course this same water would make the whole trip a lot more dangerous as I would not even consider climbing the seventh tier unless there was a clear dry route up its face.
Previous waterfall addict posts:
A day in the life of a waterfall addict #6
A day in the life of a waterfall addict #5
A day in the life of a waterfall addict #4
A day (or 3) in the life a waterfall addict #3
The beautiful Creek with the ugly name – A day in the life of a waterfall addict #2
A day in the life of a waterfall addict #1