Japan Earthquake: my experiences
Hi all, a big thankyou to everyone for the kind and thoughtful messages. Many of you were worried for my safety, knowing I was living and working in Japan when the super-disaster struck. Fortunately for me, I was in Tokyo at the time of the initial earthquake. I say fortunately because although it was the scariest thing most Tokyo-ites have ever experienced and our ground and buildings shook violently, we were the lucky ones compared to the devastation that hit the North (Miyagi, Sendai and surrounding areas). Not only was this beautiful country hit with the biggest most destructive earthquake in their history, they were also dealt a tsunami, which wiped out entire towns along the coast. The footage of what went down in those areas is just horrifying and it breaks my heart every minute.
Excerpt from my story
-—————————————————————————————————————-
"My flatmates and I barely left eachother's side in the days that followed the quake, glued to the English news channel NHK. Everytime the ground shook in those days after we were wondering if this was the next big one. None of us wanted to take a shower in case another aftershock hit while were were naked! Saturday afternoon (the day after the quake) we had all headed to the shop to buy water and supplies, we were concious not to panic and hoard anything, but we wanted to be prepared for the worst, which it seemed was becoming increasingly possible with each news update. On the way to the shop someone started singing 'I feel the earth move… under my feet' which lightened the mood with a few nervous giggles. We also scoped out parks and other 'open areas' that we could possibly run to if needed. We were in complete survival mode but trying to stay positive and not panic. That night, I slept in my clothes, my bag packed, my light on and my door wide open. We also left the main entrance door to our apartment open incase a quake shifted the door frame and jammed the door shut. Yep, we were paranoid as hell but rightly so."
-—————————————————————————————————————-
You can read the full story of my experiences over at my blog, and for those who would like to help out, you can donate through the Red Cross
I will also be donating all proceeds from my latest illustration hope (below) to the relief fund.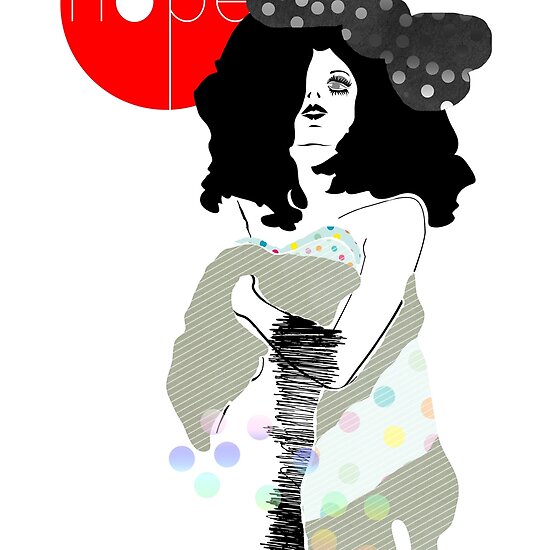 Thanks again everyone,
Tiffany xo