Bloggish Journaly Bit - April 17
So I thought I would try and do a bloggish journaly type thing, not because the world needs more blogs, but because there are things I want to keep track of, and there are often other artists or charities that I would love to share and support. Add to that the fact that I had been keeping track of features etc on my profile page, but at some point, RB said "too much guff on your page" and started dropping one off the end of the list for each new one I added, and there's motivation to give this a go.
So, taking a leaf out of the book of several other artists here, I will try writing bimonthly (aka fortnightly) journals to keep track of features and sales etc, as well as highlighting a fellow artist and/or charity. If you read this – thank you! If not, all good, I hope you scroll to the bottom and check out the charities or artists highlighted all the same. Please let me know if you did so I'll know to keep doing this, since it's a bit of an experiment. :) And please feel free to share your successes and links in the comments section as well! :)
So – I'll get the tracking bits out of the way first. :) The features on my profile page got to 382 before they started to drop off. Here are the features for the past six days:
Features 383 – 407:
(Any image shown more than once was featured more than once)
My work is currently on display at Rise Cafe on the Terrace in central Wellington. The exhibit opened on April 6 and runs until June 25th, 2010. Some pics of the exhibit are here on my FaceBook Fan Page. All work is displayed as RedBubble's Matted Prints, framed in 16×20 white box frames which look great, very clean and crisp. So far, three have sold! The images sold are:
Ebb and Flow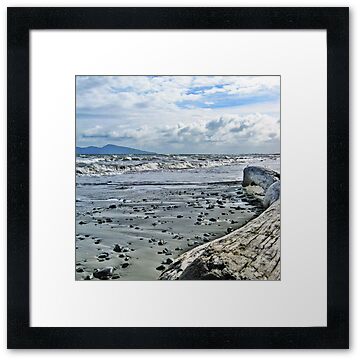 and
(bought together by one buyer)
If you're in Wellington in the next three months and are free to pop in, let me know if you do drop by and check it out. Rise make a fab coffee and the food is YUM!!!!
My friend Holly Shepheard is a fabulous artist who is trying to fund her next exhibition in a very original and fun way. She is selling small pieces of her resin work for NZ$50, and those proceeds will go to funding her exhibit. It's a win-win deal – sponsors get a truly unique, original piece of art for only NZ$50, plus the warm fuzzies of knowing you supported a struggling artist. She gets the support she needs to put her next exhibit together. There is a deadline, so if you're able to help in any way, please check out the details here. Thank you!!! :)
The fabulous Ravi Kambhoj is a Wellington based photographer who is working on an inspirational Burlesque Calendar in support of Breast Cancer research. Ravi is looking for other photographers, make up artists and models, as well as support by way of helping him spread the word to make the calendar a success and boost the funds raised for this worthy cause. Please check out the calendar page and do what you can to help. Thank you!!! :)