Janis Zroback - The Profile Of A Self -Representing Artist
See the Blog featuring to Janis Zroback
Janis Zroback – The Profile Of A Self -Representing Artist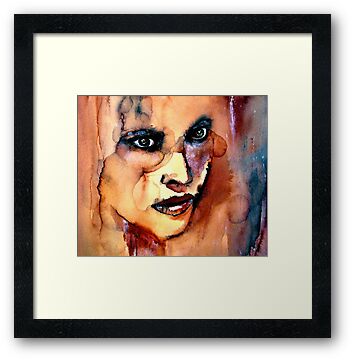 I just started working with sanded paper this week and I love the effects I can create with dyes on it…I certainly plan to use it again….
"Portraits with Meaning" is a part of my general portrait gallery called "Significant Faces"…
Inspired by life in general, they all have something to say whether it be through music, verse, or story…most are pictured looking inwards, introspective, mulling over thoughts, and fears, sometimes joy…..real life…
Although they are fairly realistic, I want the hand of the artist to show, so I use unusual colours, techniques, lighting, and supports….
Janis Zroback is a self-taught artist and painting is my passion…..Over the years, she has taught art at the college level and privately in the studio, and has been a frequent contributor to Canada's premier decorating and art magazines.
Her television appearances include several popular decorating shows, and her work has been featured in numerous publications, and can also be found in many private homes.

"Luscious Layer cake with Berries and Whipped Cream" is the newest addition to the "Delicious" collection… as I finished the painting, with all the delectable juices of the berries dripping down the sides of the slice of the cake, the song MacArthur Park, was running through my head… those of my generation will remember it… you know… the song that nobody understood, and that nobody could figure out why Richard Harris decided to sing it… be that as it may, this cake has nothing in common with that song… this cake is a celebration, not a reason to mourn
Watercolour on Arches Paper…

"Ripe Cherries" is part of the Delicious Collection and Cherries Collection…..
Watercolour on Arches Not Paper…
She paints in many different styles and genres, which she showcases as individual series. The paintings are shown exactly as they are…no retouching or change is made electronically.

"Towards The Light 2" is part of the Dragonfly series"…it was one of my favourite projects and actually started out to be a demo for a class I was teaching…I decided to paint it on a piece of linen (which I have since discovered is actually silk), and once started I realized it was going to be quite special…how special it would be to viewers, I certainly did not anticipate, as I did not post it here for a very long time…I am so pleased that I did.
Painted in mixed media on hand woven raw silk.. over painted in inks and acrylic mediums
Janis Zroback Profile on Redbubble.
Janice is an active member of the Redbubble Community and acts as hosts for:
"Art with Meaning: A group for traditional fine artists who create meaningful, quality artwork." (Invitation Only):http://www.redbubble.com/groups/art-with-meaning
Disintegration Collaboration (DisCo)
A Collaboration with Nature to Create new Art Materials and Art Work
First Things
A Group of Firsts
Mixed Media
Studios, Artist Workspaces & Tools
Show us HOW and WHERE you create your art
Water Media
Watercolour, water-based acrylics and all other water soluble media with the exception of oils, including water micible oils are welcome.

"Papaya at the George St Market" is part of the Tropics and Textures collection…Acrylic on Canvas..
As well as showcasing her extensive art portfolio on Redbubble Janis Zroback Fine Art she also has her own website – janispaintseveryday.com and Zazzle Gallery painteveryday

The first in a Series of Oriental Paintings….mean't to soothe the soul and rest the heart…Daocheng in the mountains of China…
Ink and Watercolour on Rice Paper
Janis Zroback – Buy All Time Popular Calendars

I find the patina of age very intriguing and exciting to recreate in paint…I always have cuts of MDF and Masonite primed with gesso waiting in the wings, ready for when inspiration hits me…lately I've been preoccupied with doors and things to do with doors….I made this door old…very old…it has withstood the test of time and all kinds of weather and has been painted many times, attesting to a tale of many owners…lately someone dressed it with a shiny new red door knob…why? if it could talk it would tell many stories….
Watercolour with Acrylic on Gessoed Masonite
Janice won the recent Challenge "Paint a Poinsettia" in the Fine Art Group with this wonderful work of art
Flowers…Christmas Poinsettia by Janis Zroback

Created for a current Challenge, this Poinsettia is painted as if growing in it's natural setting…when I was young our garden had huge poinsetttia bushes which I took for granted…now I buy it in little pots for Christmas…ironic I think….
Watercolour on Arches HP Paper…Part of the Christmas Collection…
Copyright notice:
© All rights reserved. All images contained on these pages are © copyright protected by Janis Zroback and any use of these images in any form without her written permission will be considered an infringement of these copyrights.