Paint a Poinsettia - Challenge Results
This challenge closed about 5 hours ago.
I would just like to thank everyone who entered for responding to the challenge and getting creative.
colors by Elena Oleniuc
The Challenge
Did you know that the poinsettia has a special day all its own? By an Act of Congress, December 12 was set aside as National Poinsettia Day. The date marks the death of Joel Roberts Poinsett, who is credited with introducing the native Mexican plant to the United States. The purpose of the day is to enjoy the beauty of this popular holiday plant.
Judging / Voting Criteria
The challenge was about showing your best Poinsetta artwork – any artistic medium. No photography and no digital art.
Rewards & Prizes
Vote for what you consider to be the best poinsetta image.
The top entries will be featured on 12 December.
These are the entries to be featured ın the Fine Art Group
Flowers…Christmas Poinsettia by Janis Zroback was voted the most popular entry in this challenge with 13 votes.
The runners up in this challenge are: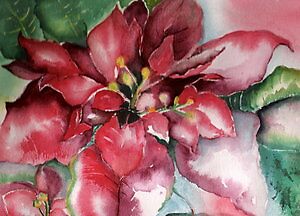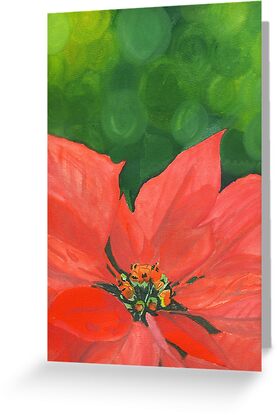 About This Group
The appreciation of all styles and mediums in art making (No photography please).
So this is the group for all you Fine Art Artists
(please no Photography or Digital Art, there is a Fine Art Photography group for your beautiful Photographs)
a few rules though….
1. Only TWO works per day. Limit of 10 per artist.
(if you put more than two on, we will accept two and reject the others.)
2. All Fine Art mediums (drawing, painting, printmaking, sculpture etc)
3. No photographs or digital works please, as there are plenty of groups on Redbubble already existing for photography and digital art.
4. Nudity is accepted if painted or drawn, no photographs again, no photoshop art.
5. No writing unless it is writing about your art making, other artists, exhibitions and questions about art or materials – but remember we have forums that we'd like you to participate in and they are a more appropriate place to write in.
6. IF YOU SEND EITHER myself or a cohost abusive emails than you will be removed from from the group, if you cannot speak nicely, than you can join another group.
Thanks everyone.