"American Bulldog: "Yale"" is featured in British Painters 29.12.09
American Bulldog:Yale was featured in British Painters 29.12.09.

Buying 2 Framed prints gets you FREE SHIPPING
A commissioned work completed
7 December 2009.
24×32 420g/m2 acrylic painting paper.
Courtesy AKC
Known for their loose-jointed, shuffling gait and massive, short-faced head, the Bulldog is known to be equable, resolute and dignified. A medium-sized dog, they are not your typical lap dog, but would like to be! They are one of the most popular breeds according to AKC® Registration Statistics due to their lovable and gentle dispositions and adorable wrinkles. The Bulldog may be brindle, white, red, fawn, fallow or piebald.

My zazzle gallery has a premium range of gifts that are suitable for people of all ages and tastes: an eclectic collection of unusually imaginative, hip and sometimes beautiful designs. Enjoy browsing though this store and please feel free to comment: there is always room for improvement.

Some products from my Zazzle store Female Contemporary Art
More Zazzle choices from Female Contemporary Art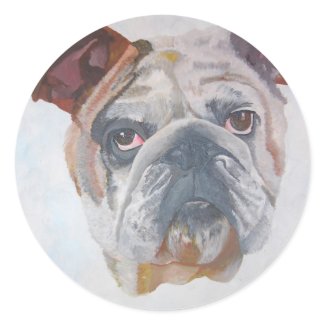 Wear my Art. Try out these items at Female Contemporary Art
See more of taiche at ZAZZLE
Baby Custom T-Shirts :dress that baby up with a special design on a custom t-shirt, long sleeve or onesize
Kids Custom T-Shirts .from organic t-shirts to long sleeve shirts, boys, girls, and toddlers can fill their fashion needs with a one-of-a-kind custom t-shirts for kids. Check out the latest organic t-shirts, sweatshirts, and girls shirts. And plenty of styles for toddlers too!
Aprons
Bags
*"Buttons*":http://www.zazzle.co.uk/taiche/buttons
Cards
Hats
Keds Shoes
Keychains
Magnets
Mousepads
Mugs
Postage
Postcards
Stickers
T-Shirt
Ties
Selected works of art from my 2009 Portfolio
Do not forget to check out my range of fully customisable calendars. Simply let me know your choice of images and months to show them and I will create especaillly for you.
You can choose from any of my images.