This is a recent commission I have undertaken in pencil. The portrait is of an old friend and fellow ex policeman, Bruce Coltman. He asked me to sketch him holding a silver cup with a crest. Here is the Reference Photo:


Here is Bruce in deep thought admiring? his cup (wish he had worn a plain shirt, but if you know anything at all about me, I sketch what I see (checked shirt an all!)
Medium: Pencils (2B and 4H)
Paper: Goldline Bristol Board 220gsm
Size: A2 23.4 × 16.5 inches (594 mm x 420 mm)
Duration: 3-4 hours (so far)
STEP 01


Here I've started on the head, working from the ear in view. I had previously sketched out the outline using my Slip and Slide Method So I'm really just texturing the skin on his face, this time instead of cross hatching, I thought that a squiggly hatch stroke gives me a better skin texture on his face, takes a bit longer but the effects are looking OK. You may notice that I've also started using my embossing tools to create this fine white hairs on true brows and a few spots here and there.
STEP 02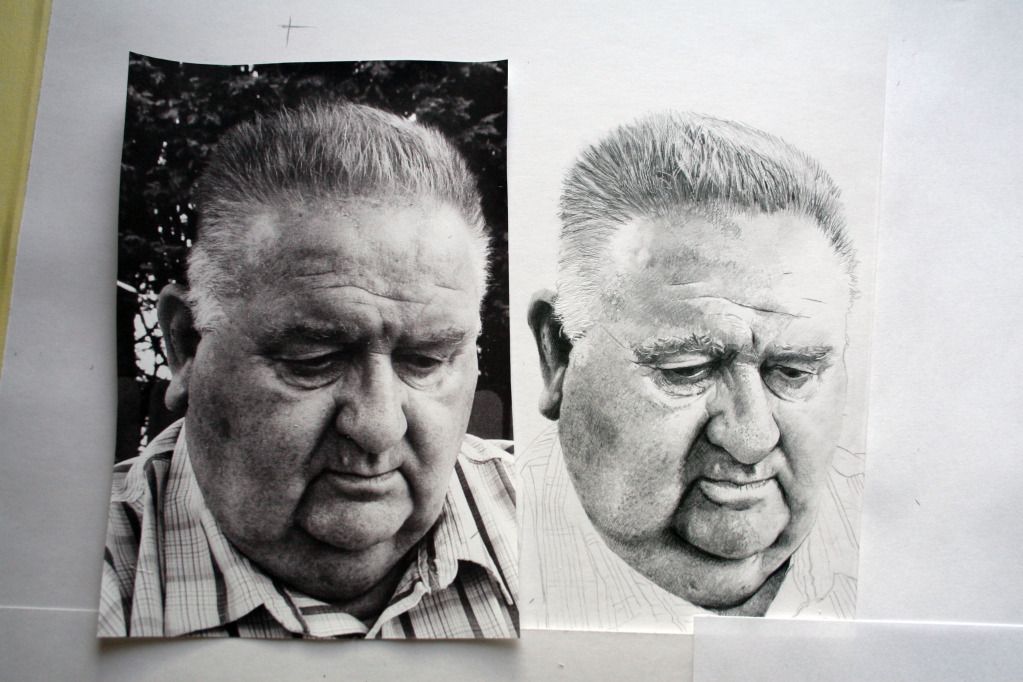 I've got my skin tones of his face just about there now, I can (and will) go a plane darker on the hatching where it is required. I'll sketch the full pose of him holding his cup, but I still like to print off a couple of extra printouts which I cut up and use for reference. This stage I cut out a close crop of his face, asa I'm working on his face at the moment it's invaluable to have the reference right next to where I'm sketching. This closeness, I find really helps me achieve the likeness I'm striving for. I used a couple of my embossing tools to emboss the highlights of his hair, then go over lightly with a hard pencil (4H) I'm only using two leads on this portrait, a 2B and a 4H, this is enough for the moment.
STEP 03


Now I'm really starting to get into this shirt he's wearing (Tip to self: ask the client what they will be wearing on the day of the Reference shoot! – avoid checked shirts!). Although I'm moaning about this shirt, it is fairly easy to sketch it onto the paper, I just have to make sure that I follow the pattern like for like, I'm actually helped by the fact that there are heavier stripes in the pattern with a couple of double track lines in-between each. The elbow, is more fun to do, I lay a circular squiggly texture hatch with my 4H to begin and go over with my 2B to pick out details in the skin, especially those feint creases going diagonally (those lines really are fine, but patience and a steady hand prevail). Well this is enough for today. You can come back to read how I'm progressing, I'll be posting my progress over the next few days.
Thanks for reading.