Sketching the Ballantines - Gypsy's Story

Sketching the Ballantines (continued)…
Continuing with this challenging composition I've recently decided to undertake, I've now concentrating on the second Collie, "Gypsy", who unlike her sister, has a richer shaggy black, chocolate and white coat. Gypsy's coat although darker is giving me different challenges to the previous collie with the lighter coat.
I love the facial mask that Gypsy has with her light flash running down the bridge of her nose and the slight crescent flash on her forehead.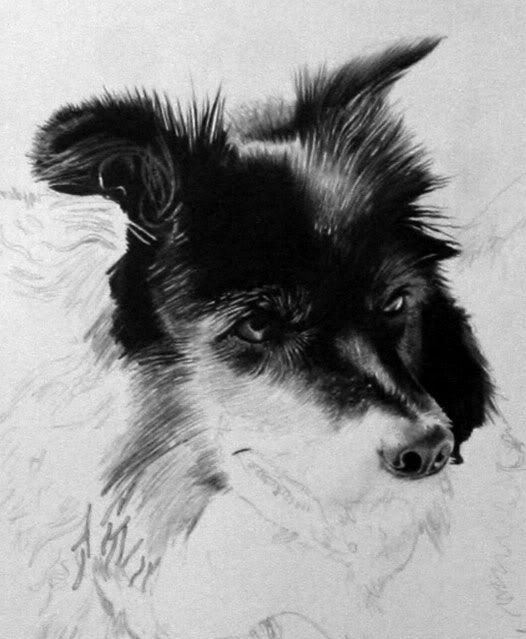 I love sketching in the strong contrast on Gypsy's mane, just completed the thin flecks on her forehead (really enjoy using mechanical pencils for this effect – this is what they where meant for!). The white flecks around her left eyebrow had to be sketched individually (you know I love a challenge) and reinforced with 2B shading to make them stand out.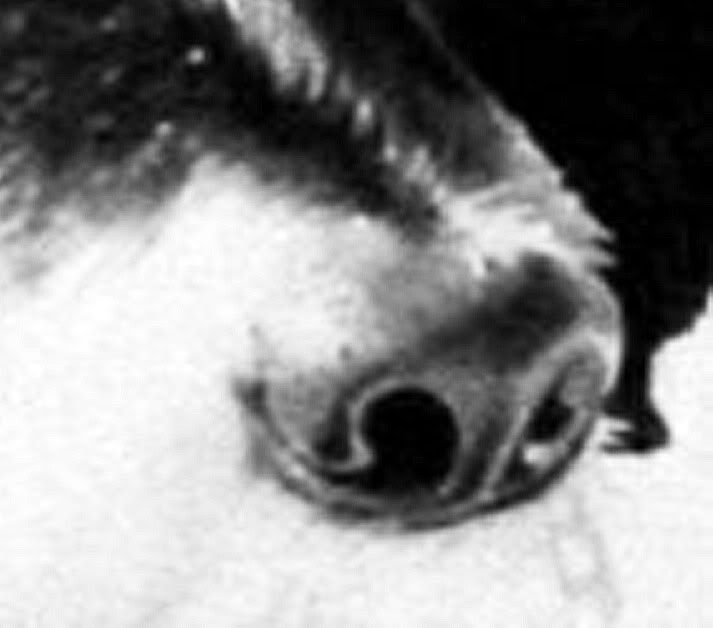 The contrast on the snout starts to fade to white and I find myself using a combination of leads F, 3H, 4H up to 7H. The nose itself was a real challenge, I'm trying to get that corner shadow within the dark nostrils, the eyes were easier to sketch in than this nose, but patience and a cup of tea and several Jacob's cream crackers later, I get the effect I was looking for.
Well that's enough for today.
WIP 2 – Gypsy so far (day one)…

Day two of Sketching the Ballentines (Gypsy)…
I'm concentrating on Gypsy's beautiful mane, I'm finding it really intricate, unlike Lily's there is so much contrast in each tuft of hair, no, more like every strand of hair! I have to draw rough outlines (construction outlines) for practicularly eavery tuft, every hi-light, then re-inforce each tuft and hi-light with darker and stronger definition. The masochist in me carries on (I reckon most artist's have to be a masochist to some degree, right?), why do I bother? I ask myself, will anybody really notice the efforts I'm going to for this beautiful animal? They have to! they will! (I keep reminding myself, of course they will, won't they?) they will see it, if only in the final overall effect. There is no easy way to sketch fur (if there is, PLEASE LET ME KNOW!) it is slow, tedious but never boring, but it begins to try even my patience… This is my time to stop, get a drink of tea, maybe a few Jacob's cream crackers (Oh Jacob, where would I be without you?) and reflect on my progress. Especially Gypsy's mane, you know something? I've impressed myself no end, it really does pay to go through pain for your art.

WIP 2A – Gypsy so far (day two)…
Day three of Sketching the Ballentines (Gypsy)…
OK, so back to finishing off Gypsy, I trying to blend Gypsy into Lily, but just playing it by ear and trying a little here and a little there. Gypsy tongue is the next challenge, and I'm using a H7 to lay down the first coat of pencil, then go over with a F and finishing off with a 2B. I'm having to skewtch ever so delicately round a few bubbles on her tongue, "Now why on earth go toi the trouble of drawing these minute details?" I hear you ask, well, I'm following my only one and golden rule, draw what you see, no matter what! Anywhoo, by drawing these bubbles on her tongue, I think it makes her look more fresh, alive, yes? The gums and lips are next and follow fairly quickly. I then begin finishing off her beautiful mane, but stop short of the wee Jack Russell (Toby) who is placed beneath her, don't know how I'm going to marry up Gypsy's mane with the Jack Russell's (Toby), I'll try and cross that bridge when I need to later on. I still have a bit of work around Gypsy's tongue and onto her mane on the right, I'm leaving it hangingh as another collie (Brinnie) is positioned there on this sketch. When I am sketching only one animal, I never really have to think about composition much, but I'm finding that this four dog compilation makes you think about the edges of your art and especially how they will interact with each other. Anywhoo, the mane is finished and a few more details on her snout and I'm ready for a well deserved break, a cup of tea and maybe a cream cracker or two…
WIP 2B – Gypsy so far (day three)…