Sketching the Ballantines - Lily's Story

Sketching the Ballantines
This is a four dog composition featuring three Collies and one wee Jack Russell I agreed to sketch for a commission from a lady (called Ballantine) living just outside our local town. I Started the ball rolling by first going out to visit my "models", what is that old theatratrical addage "never work with children and animals" – try to remember this!
Anywhoo, I was shown my models in the back garden, it was a glorious sunny day (great for a photo shoot I thought!, more fool me!) Each of my models were as individual as any four random folks you find on any subway anywhere in any city.
The models (from left to right on the final art piece) are Lily (a beautiful golden tan collie with a cute distinguishable trait – floppy down though alert ears, she just loved being nosey, when not looking over into the neighbours garden she kind of came so close to the camera just to say Hi!), then there was Gypsy (a big younger collie, wearing a shaggy black, chocolate and white coat who like here namesake is forever on the move, and has that mischievous look in her eyes, though did eventually settle down to play with her favourite tennis ball), on the right was Brinnie or Brin (your typical generic black and white collie and definitely the elder of the pack, an old collie who has seen many a summer and seems to dreaming of many more, Brinnie is the shy-est of the pack and for some reason,didn't want her picture taken, ears down in submissive stance and looking away but kept her eyes on me just in case!), last but not least was the wee Jack Russell, Toby (a short haired speckled black, brown and white coat, now he was, despite his size, a mighty tall, proud looking fellow, who, to give him his due, loved to pose – but be careful, the owner warned me, has a tendency to snap, if your fingers get too close! So with the cast finally assembled I duly began snapping away, taking shots when I could, inbetween Gypsy wanting to play ball, Lily on her hind legs looking over the fence, and Brinnie, always the shy one looking away, and amongst all this turmoil was wee Toby standing waiting, as if saying, well Mr Photographer, I'm here standing for you, do your thing, so I duly did! About two cups of tea and an hour later I was done (taking over 200+ photos) I left to review my photo session and begin my sketching.
The client wanted four head shots on one piece of paper and after much deliberation (similar to Simon Cowell, Louis Walsh and Cheryl Cole on that TV talent thingy) I wittled the photos to four that would make up the composition I was looking for. I used Adobe Photoshop to arrange the four into how I wanted them to look on the paper, as well as cleaning up each photo by removing excess background, shadows adjusting the tonal values and changing the photos from RGB to greyscale to give me the tones I would need top sketch on my art. Photoshop, I find is fantastic tool at allowing you to play with different arrangements and compositions. Using a very hard pencil (H7) I then very lightly sketched the outlines of each dog onto A2 size Bristol Board Paper (23.4 × 16.6 inches).
Reference Composition

Lily
Once I had the final composition, I then printed off several copies, A3 size (16.5 × 11.7 inches). Then duly began cutting a few of these printouts into vertical strips about 2 inches in width, this, I find helps me concentrate on strips of my art (as I am right handed I draw left to right) the strips, starting with the first on the left (a section of Lily's face, ears, nose and jaw) I place onto my paper and begin sketching only the strip I use for reference, this I find, really helps me to concentrate on, and only on the strip of art I begin with, it also helps keep the sketch paper clean (as I tend to rest my right hand an a piece of A2 paper folded over). Lily, was going to be the lightest coat amongst the four and would take delicate strokes, I soon discovered, as I was drawing each and every hair curl, wisp and the whites strands were some oh the thinnest I've ever attempted to sketch, but sticking to my slow but reliable system of sketching sketching the strip I was using as a reference, I quickly was able to fill out her gorgous coat, an interesting thing I noticed was in the shadow of her right ear, the shadow was basically a diamond shape, but looking closer, I noticed that the edges of the shadows revealed individual shadow hairs going across the vertical way of the fur. This is probably due the the lightness of her coat and the really sunny day I took these photos on.
WIP 1 – Lily

Well if you know anything about me, you know I love a challenge and in sketching Lily, this was mine, anyone else would just been happy to leave the shadow simple, but as the head of Lily was going to be fairly large I decided to stick to my only golden rule in life, draw only what you see Jan! Lily presented other challenges as her fur is so light, this meant I had to play more attention to the shadows, which helps the light coat stand out. Coming down onto the nose, I found it starting eating up time as I was drawing the each of shadows of every minute dimple in the nose, the sunlight, again was picking out the shiny dimples and there was no way round it, and each one has to be sketched, individually to give me that squared ended nose that was glistening in the light. The soft downy hair on the ears and on the main were really slow, and I need the patience of Job, but I found early on that to get fur looking half decent like fur should, you literally have to sketch all the seperate hairs (well it seems you do!) in seperate layers. I really have to make sure that the ends of the leads always have sharp points (I find I cannot get fur to look this good with a blunt pencil lead (unless you want an out of focus effect – which I didn't). As I looked closer at Lily's right ear, I could see small white flecks coming out of the darker shadow of the fur, these wew fairly easy to achieve with both a kneadable eraser and a hi-polymer plastic eraser ( tend to carve up these plastic beauties with a scalpel knife to get various tips I used to scoop out the hi-lights I was after. I think you'll agree, overall the effect seems to work. I've consciously left the left hand side empty as I'll marry Lilly up to her sister Gypsy later on.
WIP 1 – Lilly so far…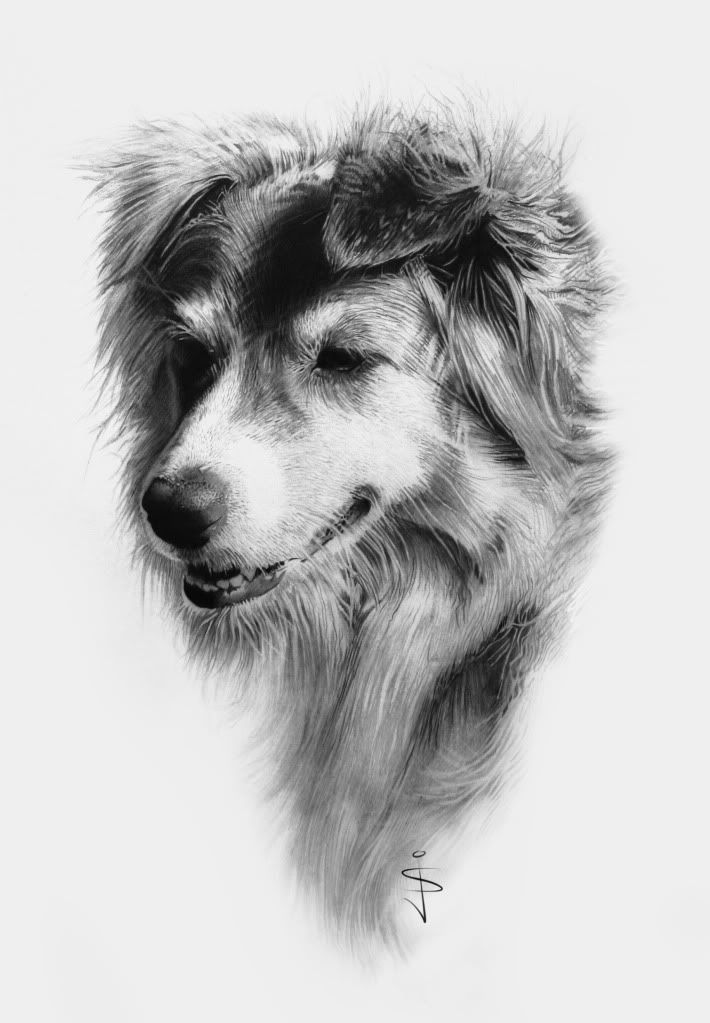 One Ballantine down, three to go….