Drawing a Face Tutorial - Part 5 (Mouth)
Welcome back class,
Hope your keeping up with this tutorial. Now we are ready for the mouth and lips.
MOUTH (hatching shadows)
Using a 7H I begin roughing out the shadows with a few strokes across the upper lip and under the lower, finally add a few hint strokes at each corner of the mouth.


Figure 005A (hatching shadows)
MOUTH (reinforcing shadows)
Now switching to a softer 2B, I reinforce the initial strokes, adding a few stich strokes on the edge of the lower lip. I also add a small hammock shade below the lower lip.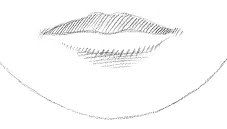 Figure 005B (reinforcing shadows)
MOUTH (adding body)
Still using the 2B, I strengthen the shadows and texture giving the lips more body, still rough strokes but stronger definition.


Figure 005C (adding body)
MOUTH (flow lines lower lip)
Switching to the 7H, I sketch out the lower lip flow lines fanning out from the centro of the mouth. You can keep these lines straight or curve them which gives a more fuller look to the lower lip.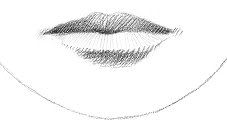 Figure 005D (flow lines lower lip)
MOUTH (hatching lower lip)
Still using the 7H, I cross hatch along the edge opf the lower lip and across the lower corners spilling out onto the skin around the mouth.


Figure 005E (hatching lower lip)
MOUTH (softening corners)
Switching over to the 2B, I soften the shading around the corners and just below the corners where the lips spill into the skin.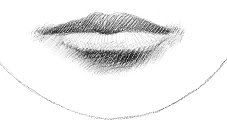 Figure 005F (softening corners)
MOUTH (tidy up)
Using the softer 2B and then onto the harder 7H, I tidy up the lips, feathering very gently around the edges and again as in the nose, ever so fine across it. I fine shade across the whole of the lips blending it in uniformly. I use a sharp 2B to pick out a few cracks coming from the top of the lower lip. I also use the kneadable putty rubber to softly remove shading from the top lip.


Figure 005G (tidy up)
MOUTH (face so far)
Now we have the face so far, Hair, eyes, nose and mouth. It's really starting to take shape, but don't hurry it off just yet, there is still some work to do on the skin and ears.


Figure 005H (face so far)
I hope that this has been of some benefit to anyone out there, I'd love to see your results. Keep up the good work.
Class dismissed.
Drawing a face Tutorial – Part 1
Drawing a face Tutorial – Part 2
Drawing a face Tutorial – Part 3
Drawing a face Tutorial – Part 4