My Adventure in Landscape and Light (SoJie 16 Workshop)
I have been participating in the SoJie 16 workshop Landscape and Light and thought I would share my adventure with you.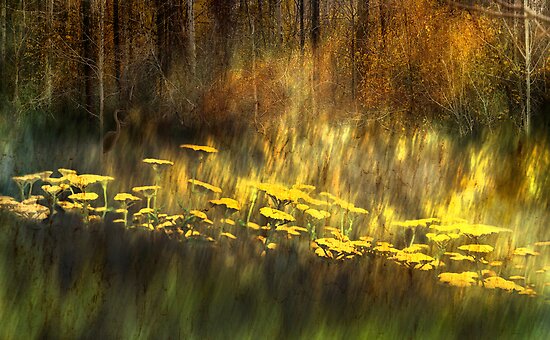 As Nature Intended
by Robin Webster
A translation of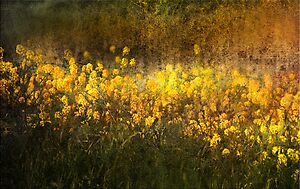 GRASSES
by linaji
What a fabulous experience this translation was! When I looked through all of the wonderful choices up for translation in this workshop I thought WOW…how will I ever choose. I felt like a kid in a candy store! When finished browsing through all of the fine images I immediately returned to page one and for the second time Linaji's "Grasses" jumped right off the page at me. I have been a huge fan of Lina's work for years and was so drawn to this image. I chose it because of the wonderful light, the amazing composition and oh those deep rich gorgeous colours and tones!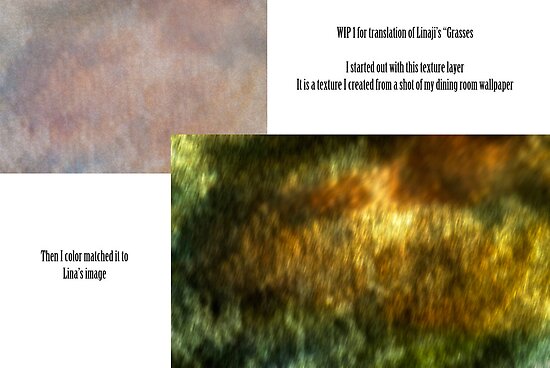 I don't usually start an image with a texture layer. but in this case after much thought, i figured it would give the image a great background to start my adventure into landscape and light on. I like to use my own textures and images in all of my artwork of late so that each piece I create is all me, so I was pleased to have this one on hand. I used Image Adjustments / Color Match to get the tones similar to Lina's image.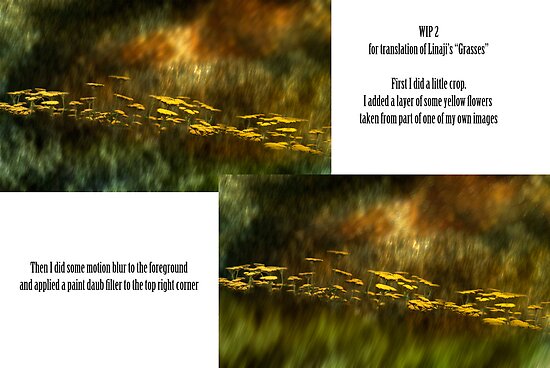 This turned out to be the most difficult and frustrating stage of building my image. I needed to choose the images I was going to use. As I am sure all of you must relate to if you are a photographer…you have 10's of thousands of images. So having said that…this was very time consuming scouring through my pictures. In the end I tried about 10 different floral images and then settled on these ones. This actually took 3 layers of the same image turned and tipped in 3 different ways to get the flow I wanted. Then began the removal of the background in between all of the flowers at about 400%. Worth the time and effort though I think. Choosing the trees was a bit easier because I knew where I wanted to go by this point.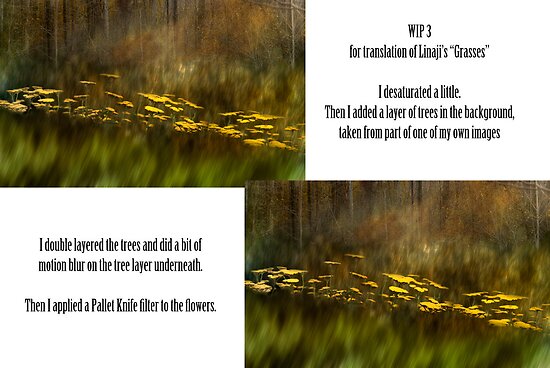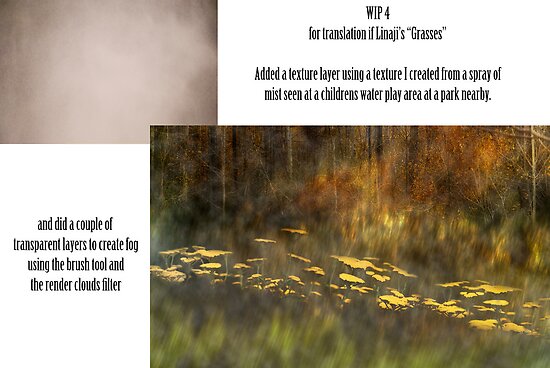 The reason I wanted to add some mist and fog was so that it would add to the play of light in the image at the end and add a bit of mystery.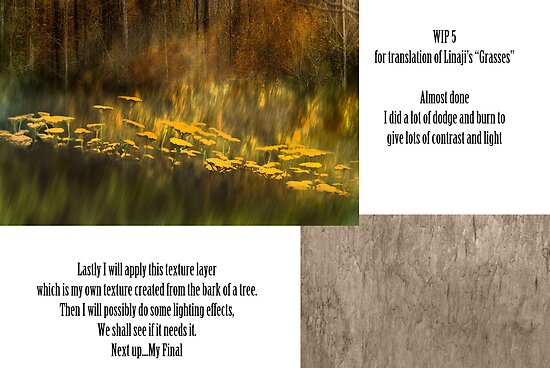 Finally I fussed and fidgeted with all of my layers adjusting opacity, saturation, curves, dodge and burn, etc to bring out the beautiful light and added a finishing texture on top.
Then of course in my true style I just couldn't leave well enough alone and I decided to add Mr. Heron in the background.
Over the last year these workshops have had a huge impact on the way I view and create art. I want to thank Frannie, Elizabeth and Maxy and all of the other helpers in these workshops for creating a marvellous place for artists of all genres to create, learn and grow. I have learned so much through my participation in these worshops and will remain forever greatful!