Enough of that!! back to real world art...
OK…so I got a touch distracted with getting all internetsy……but I have some self control, I have strength of character…I have art to attend to!!
….and now that i have started I'll have to do them all….the collages which I created, unglued, then photographed and photoshopped these guys
ARE GETTING GLUED!!!
I started with a small one – star eyes
and I liked what happened. I was a little concerned that getting all the pieces in the right spots would be tricky….and it is a little…but I had a revelation – I didn't refer to my photographed version, I didn't need to. I know these people very well indeed now and any little change which has occurred is simply like a different position or facial expression of the very same character! I'm delighted.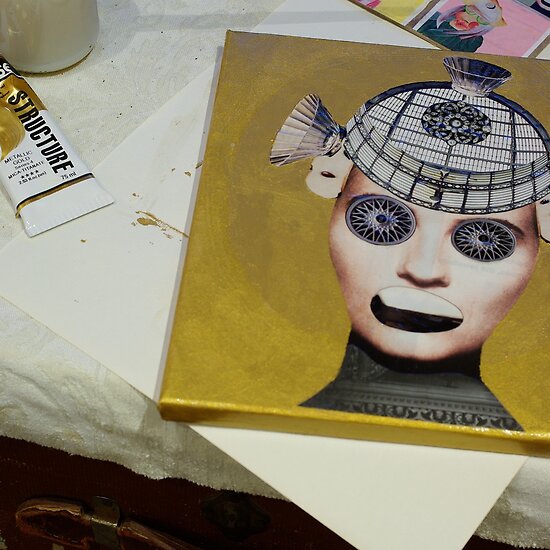 The collage has been glued to a small stretched canvas. I will need to get some different paints for backgrounds of the others. On this one I used a metallic gold acrylic for the background which has given the finished piece the feeling of a religious icon. I've also used an acrylic gloss varnish which is very shiny, I'm considering trying to rough it up a bit, not sure yet. Anyway, I am very pleased with the result, with my lucky escape from internet interment back into the land of real and tangible art. And these ones WILL be for sale….I love my children but they must go out into the world. Would be nice to exhibit them somewhere before then…..I've only done the first small one and there are 11 more trickier, bigger, more complicated… so don't hold your breath!!….. Boy, do I set myself some tasks!!