Even though Sarah had settled into the coastal villa to rest and recuperate from her recent traumatic accident, she knew she must remain active and continue with the strengthening exercises given to her by the physiotherapist. She descended from her palatial residence, and, after dipping her toes into the cool, jade-coloured bay, she surveyed the area for a suitable support to facilitate her spinal workout. Once she had spotted the dead tree trunk she swiftly attached the large, and stretchy, red bands which were the equipment for her prescribed therapeutic treatment.
She was wrapped in a large, white sheet to protect her skin from the burning sun, however, as she progressed with her exercise routine, she started to feel rather warm, and slipped the diaphanous garment from her torso. Sarah continued rather too vigorously with the muscle extensions until she became quite faint, and in a moment of over-heated delirium cried out "Oh heavens, I pray, splash me with some cooling water!"
No sooner had she spoken than an enormous monster rose from the bay to grant her request. The grotesque creature's fiery eyes and tufty hair sat atop a massive and ugly face and it sprayed a steady stream of fluid over her from its huge proboscis. Though the cooling blast refreshed Sarah and saved her from becoming completely unconscious, she continued to reel about in the grip of feverish hallucinations.
Whilst in this transformed state she experienced vivid dreams of brightly and exotically clad figures and minstrels playing upon fantastic and unusual instruments. So colourful and memorable were her visions that she recorded them, at a later date, in the form of a dramatic painting, which stands before us now.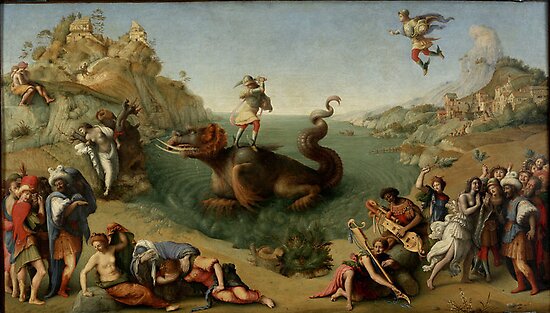 This link will take you to a very high resolution image of this work which is really worth viewing and zooming in on for detail!
It will also show the details of the painter and location of the original.