Sometimes you've gotta get a little excited about something you've worked on ......
… especially when it's taken a lot of your time and energy!
I'm pretty stoked because the first run of copies for a book I designed, poisonous2pets has finally come in. What's even cooler is that while this is the work of a self-published author, it's already getting interest from the likes of Gardening Australia and ABC 774 down here in Melbourne, along with members of Vet and Nursery organisations around the country.
I'm less than pretty at the best of times, and am just getting over a fortnight-long bout of god-knows-what, but what the hell, it's a special occasion: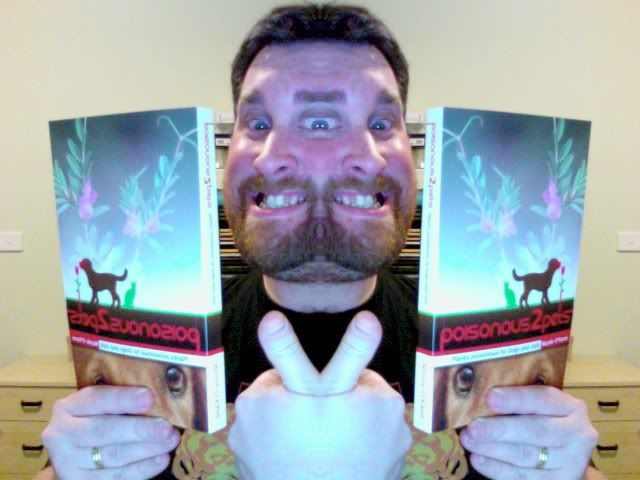 For anyone out around Melbourne on Saturday 10 October, there's going to be a launch for this and another self-published book entitled The White Dingo. As part of World Animal Week, donations from the sale of both books will be going to the WSPA and Dingo Discovery Centre, who will also be bringing some live dingoes in to press the flesh. I'm not going to be there, unfortunately, but it sounds like it's going to be worth a look if you're in the area.
If you're also interested in the self-publishing side of things, Paul and Debbie Higgs, the owners of Palmer Higgs will be there, so you could head over to pick their brains (or mine via bubblemail – always happy to help).
Cheers
Si