Why I Am Designing Atheist Greeting Cards
Uploaded December 1, 2011 • As of December 29, 2015: 1,145 views • 3 favourites • 1 feature
FEATURE: The World As We See It
———————————————————————————————————
This is a great time of year to send greetings. Red Bubble and other places offer a huge selection of Christmas cards. There are many Hannukah cards as well. But for those who want to spread the love, yet do not identify with religion, the only cards that come close to being appropriate are the neutral "Season's Greetings" cards. Although this option serves the purpose quite well for some, it is unsatisfying for others because Season's Greetings cards are not accented with a particular philosophy or world view as Christmas and Hannukah cards are.
What I love most about this time of year is the sense of connection among people and the excitement of everyone beginning a new year together. But as an atheist, I always feel overwhelmed by the inundation of advertising, music, decorations, and cards associated with religious holidays. It feels sometimes as though religion has called dibs on joy and good will!
The fact is, joy and good will are for everyone — Christians, Jews, Muslims, Atheists — everyone. So, in an attempt to distribute the joy and good will more equitably and, more importantly, to make the point that joy and good will can and do exist independent of religion, I have started designing a series of atheist greeting cards. So far, I have completed these two (click on the headings or the cards themselves to go to their RB pages):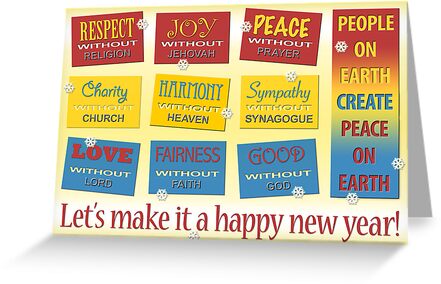 Season's Greetings and a Happy New Year!