The past few weeks have been a tad challenging – triggering an interesting chain of events was the disappearance of my Subaru from the local large shopping centre. Long story short – the insurance company was brilliant and paid up in 14 days, by which time I'd agreed to fly to Melbourne and buy my brother's lovely Mazda 3 MAXX (doing a 1000km photographic road trip on the return journey …. what an opportunity!!).
On the 17th day following the car's disappearance the police gave me a nice 6am wakeup call to say the Subaru had been found – in the big shopping centre carpark!!! Firstly, once insurance has been paid, the car belongs to the insurance company. Secondly, despite the amusement of the constabulary, neither the security guards at the shopping centre nor I can understand how it could possibly have been in the carpark for 17 days and nights and not noticed or reported by trolley collectors, security guards, or even ordinary staff who pass through at odd hours.
Soooo … a quick (ha!!) trip to Melbourne by inglorious Tiger Airlines (not only running late as usual, but herding us into a tin 'cattle shed' with a malfunctioning carousel on the other end!) … a lovely couple of days catching up with Katie and John, a quick overnighter with my brother, and, with "Tom" guiding me, I ventured into the wilds of the Yarra Valley, Kinglake, Seymour, where, with the luck of the Irish, a tummy bug made its presence rather obvious. (Do you know how many rest areas between Seymour and Sydney do not sport 'public conveniences'?? HEAPS!!)
With some modfications to my original plans, I still managed to complete the 3 days and get some nice rural shots, a few of which I'll upload when I get myself sorted!
Meanwhile here's a small sample… Saturday evening's excellent dining experience at Mt Rael in the Yarra Valley (thank you John!) provided views as magnificent as the food …


The late sun, the same evening, on the vineyard netting had our shutter fingers twitching …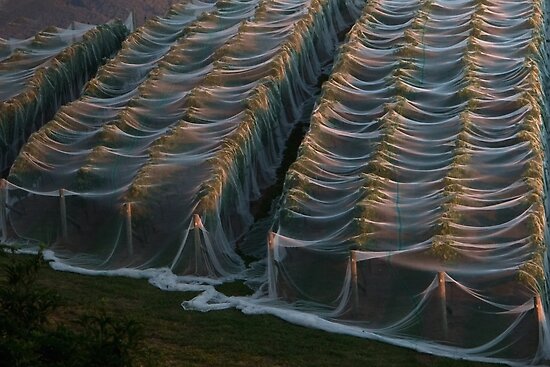 And I couldn't resist a 'product shot' of the new set of wheels on the lookout at Gundagai … storms certainly gave spectacular backdrops to many of my images over the few days.