☆ º ♥ `•.¸.•´ ♥ º ☆ Bonita's Heart Felt Tribute To Sept11-01 ☆ º ♥ `•.¸.•
A PICTURE I MADE UP LAST YEAR IN DEDICATION TO 9-11 2001,JOIN WITH ME AND RELECT AND REMEMBER TELL SOMEONE U LOVE THEM THAT U CARE AND LET US BE THANKFUL FOR ALL WE HAVE HUGS.

CLICKABLE PICTURE BELOW HUGS FOR DEDICATION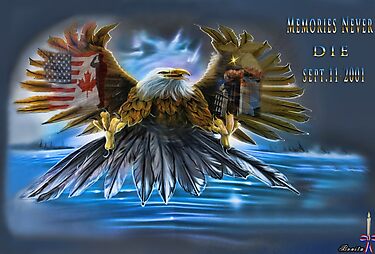 What will you do TODAY to remember those innocent thousands and the murderous acts committed against them?? We must never forget please take a moment and reflect ,lets reflect,We must never forget hugs. Won't you Join me in this moment of prayer below hugs † ❤ † ❤ †
† ❤ † ❤ † Dear Heavenly Father, † ❤ † ❤ †
Today is a difficult day. The memories are painful and some of the wounds I fear may never heal. Yet I pray you will help me to go on living for truth, firm in my hope of your salvation. May I live for you, Lord, and by doing so, be an example to my friends and family. I pray, just like Jesus, I may learn obedience through these things that I have
suffered. Help me not to question why, yet even if I do, give me courage to continue to trust you. Help me take the comfort and strength you've poured into my life and use it to comfort and strengthen others who need hope.
I pray I might become a better person and help make the world a better place because of this terrible event. Thank you for the heroes that gave so sacrificially on September 11. Help me to remember their courage and learn from them. I want my life to be worthy of you Lord, so make of it what you desire, and use me to fulfill your purposes. May the evil of that day cause me and my family to work harder to do good on this earth and to bring your light into the dark places. Help me to never stop believing in you and living my life for you.Lord, heal all those who were crushed and broken on that day. May they come to experience your presence and know your peace.This Is A Moment In Time I will Never Forget as i reflect on Sept 11th for all who lost there lives such a trajedy, And i count my blessings for all that i have .Amen. Hugs Rapture777 (Bonita)*