PAINTER'S IN MODERN TIMES NEWSLETTER - 1st of DECEMBER 2010
PAINTERS IN MODERN TIMES – WHAT'S NEW
1st of December, 2010
---
---
---
As the holiday season fast approaches PiMT Newsletters and Challenges will wind down to give us a well deserved break.
Challenges will resume for the new year.
This break has given us the opportunity to work full steam on the determination of PiMT Painter of the Year 2010
From 60 past challenges, from later in 2009 and 2010 we will be obtaining 12 finalists who will vie for the title!!!!
Four semi finals are running at the moment and if you are eligible to enter you should have received a bubblemail.
Once all eligible entrants have entered the challenge will be opened for voting.
Round Three …………………………..
Round Five
Round Four…………………………..
Round Six
Please see the challenges for the full details
---
---
---
…………….
CHALLENGES
………………
Challenges! Challenges! Challenges!
Remember if you have entered a challenge do not forget to…….
MAKE YOUR VOTE COUNT FOR THE CHALLENGE
OPEN FOR ENTRIES
Writing/Photograhy Collaboration
AND
Whilst your entering your work don't forget to vote in the The Cafe Scene challenge!
COMING SOON
New group challenges will begin in the new year!
ANNOUNCING THE WINNER OF…….
The Unsung Challenge – By Request
Congratulations to skye oshea for winning the challenge with White Raven
……………………..
White Raven, Oil on canvas
Learn more about this fantastic artist in the featured artist forum
……………………………….. skye oshea
………………………………..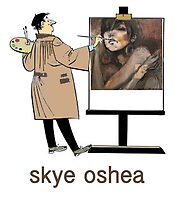 So wonderful to see so many unique styles. Just check out the top ten!
If this wets your appetite then take a moment and check out all the entrants!
---
---
---
Remember we are always interested in your feedback and ideas so if you have any we would love to hear from you.
---
---
---
Because of the groups guidelines invitations (images) of your shows are not accepted into the group, however we are more than happy to accept your journals or even publicize your show in the newsletter.
We also have a forum where you can post your upcoming exhibition
Promoting your work – The Business of a Working Artist & What's On
If you would like me to publish your exhibition details in this newsletter please just bmail me! Marilyn Brown
All it takes is a bubblemail
---
---
---