"This won't hurt a bit ... "
"This won't hurt a bit .."
Please NOTE: I encourage unrestricted sharing of this image – especially with
press entities in Oklahoma, such as Oklahoma Bureau of Tourism, et al.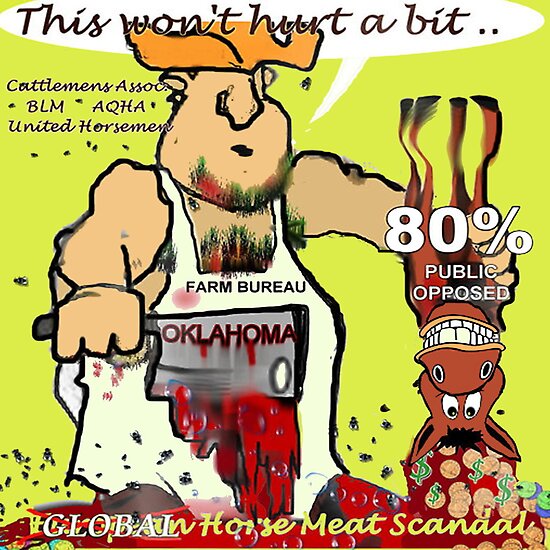 Despite outrage in Europe and elsewhere, over the discovery of misidentified HORSE MEAT in beef products, proponents of horse slaughter in the United States are rallying to support legislation to reopen slaughter houses in Oklahoma and New Mexico (and possibly in other states)
Pro-Slaughter industries include the horse racing industry, AQHA (American Quarter Horse Association), American Cattlemen's Association, BLM (Bureau Of Land Management), United Horsemen (which intends to sponsor producing equines for meat — which is not currently done in the U.S.), and the Oklahoma Farm Bureau, among others.
Groups that promote this grisly and environmentally disastrous industry insist that slaughter is the only "humane solution" to the abandonment and starvation of horses, which they claim have resulted from low horse prices and the high cost of feed. When confronted by the fact that horse slaughter can never be humane, due to the psycho-physiology of horses, these people usually respond by saying, "Horses are livestock." – as if that makes the horrific and cruel circumstances by which they are transported and killed, acceptable.
Horse meat is not approved for human consumption in the United States, primarily because horses are not raised as meat animals, and are customarily administered numerous pharmaceuticals that are known to cause cancer and other potentially deadly diseases.Horses are physiologically predisposed to panic response, and the harrowing slaughter process is known to cause the infusion of adrenalin and cortisol into the muscles and organs of slaughtered animals. Pet food manufacturers ceased using horse meat in the 1970's, because certain breeds of dogs were highly susceptible to the lethal effects of chemicals. Horse blood is banned for use in fertilizer.
Proponents of the horse slaughter agenda insist that the resultant "product" would not be permitted to be sold for human consumption within the United States. They're more than happy, however, to ship it abroad for people in other countries to consume. Russia has recently banned the import of ALL meat from the U.S., and the EU (European Union) are initiating much more stringent controls on horse meat imported from other countries. Most horses raised in the United States will not be acceptable in foreign markets.
A protest is being organized in Oklahoma City on Monday, MAR 4, to coincide with the annual BLM Advisory Board meeting in that city. In addition, horse advocacy groups are calling for a BEEF BOYCOTT to emphasize our outrage over the cattle industry's sponsorship of these actions.
Polls show that 80% of Americans are opposed to horse slaughter.