Journey to the Waterfall Capital of Australia - Part 1
I have made a discovery. I suspect that others have also made the same discovery, and it is that the Dorrigo region on the NSW North Coast is the waterfall capital of Australia.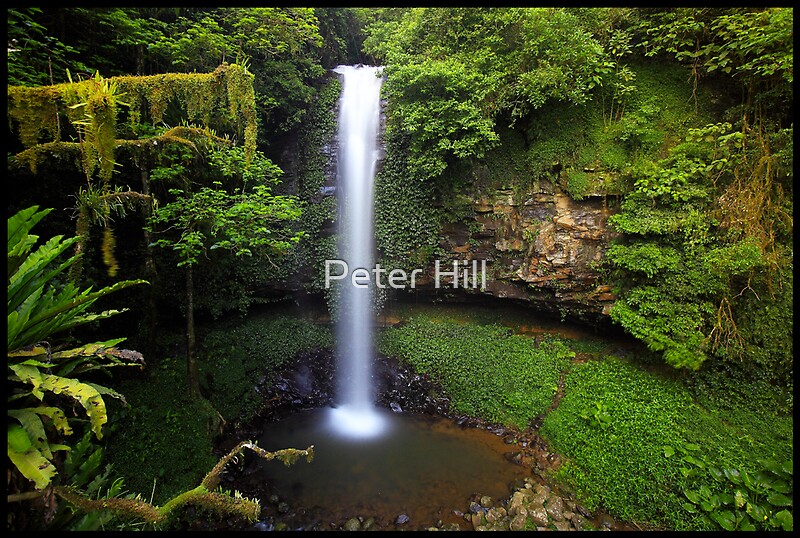 Crystal Shower Falls, Dorrigo National Park
How do I know this? Tanya and I have recently returned from a week long shoot in the Dorrigo region, shortly after heavy rains and flooding. The raging waterfalls shooting down the escarpment high above Bellingen as we drove up Waterfall Way were an exciting hint, and we soon discovered after our arrival at the top that there were slightly more than the 15 specific waterfalls we had on our hit list. According to Matt, our co-host at Ridgetop Hideaway and who was born and bred in Dorrigo, there are 235 "and counting" waterfalls to be seen in the area. And I'm talking so many waterfalls that many haven't got a name or have even made it to a topo map, including the raging drop we shot in a hidden glen simply pointed out to us by Matt from Waterfall Way.
I can hear Travis right now – you've got to kidding me! I'm leaving Victoria and moving to Dorrigo! – and I well understand the sentiment. It's the logical thing to do. Even I have to admit my usual haunt, the Blue Mountains, are outdone by Dorrigo.
This was a serious shooting trip, and we weren't disappointed. With the continuing improvements to the 'Specific Highway', Dorrigo is even more accessible from places like Sydney, and hopefully this three-part Journal will give you a taste to its secrets. For 2 weeks before leaving Sydney we monitored the weather in and around Dorrigo – there was a LOT of rain and our main concern was just being able to pick the right road to turn left off the highway.
All the shots you see here are uploads of low-res screenshots, not the real deal. Many of the shots have though been uploaded to my other site and I recommend clicking on the links I provide (hover your mouse over the image to see if it is linked) to see a much larger and crisper version.
Day One
First stop, however, was Crescent Head. Tanya had suggested an overnight stay to shoot our favourite cove at sunset and sunrise the following morning before continuing our journey up to Dorrigo. Unfortunately, the tide was against us and we couldn't reach "our" cove on the late afternoon shoot, although Tanya gave it a good try. Other shooting options were explored: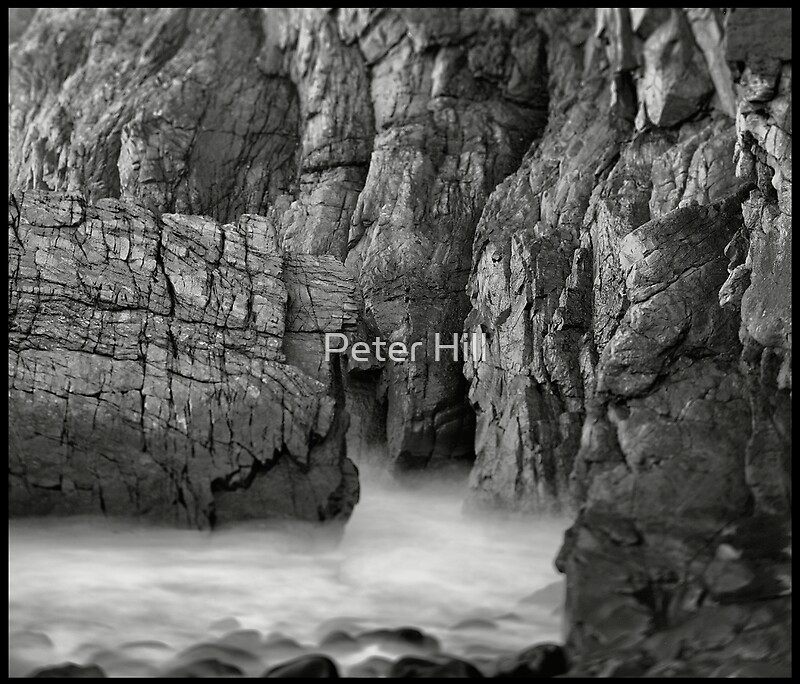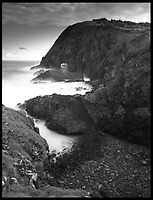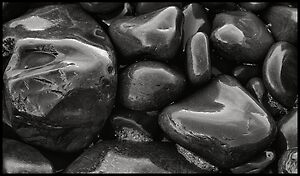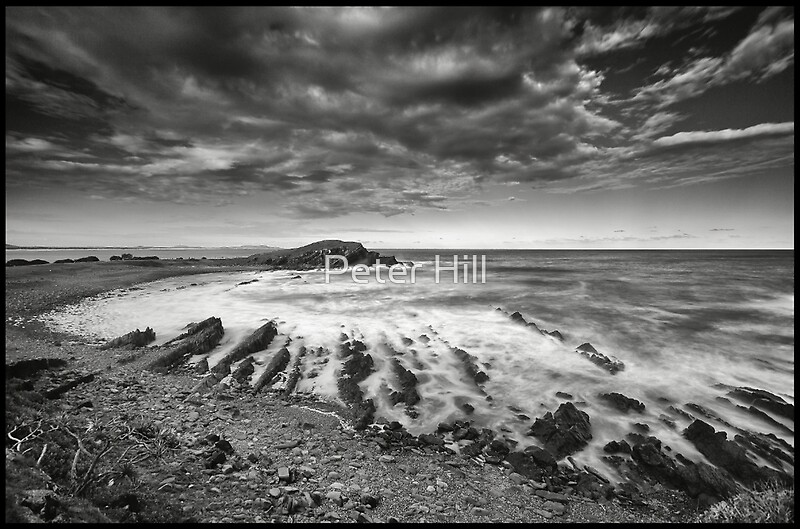 Unsatiated, and before ordering a pizza from the liquor store (as you do) for dinner, we headed back along the road to Kempsey to see if the floodway provided any shooting opps in the setting sunlight. It did.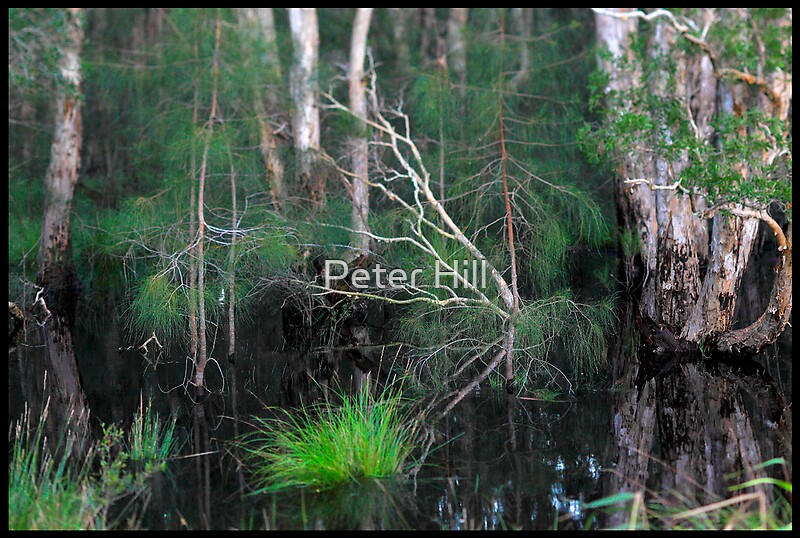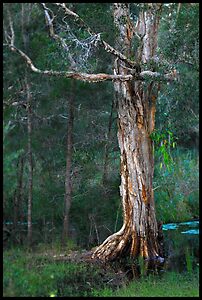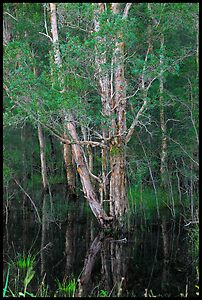 Btw, this "land" is for sale if you're interested. It wasn't toooo flooded. When I was a kid on Christmas hols at grandma's at Crescent, I remember Dad having to train up from Sydney to Kempsey to "rescue" us from the floods. I remember standing on the road at the water's edge watching him row up in a dinghy! Funny how I remember that and not the hairy trip in the old Holden south on the dirt and sand track to Port Macquarie straight after.
Day Two
The sunrise shoot didn't happen. I awoke at around 5am and observed a completely clear sky, so combined with the high tide, the decision to go back to bed was made. Tanya didn't complain.
On leaving Crescent, we had 3 options. One, go south to Wauchope and head up the Oxley Highway to Armidale and then onto Dorrigo. Not preferred. Two, go north up to Urunga before turning left onto Waterfall Way and then up to Dorrigo. Second preference. Third, keep heading west past Kempsey and take the road past Bellbrook up "Slim Dusty Way" (uurgh) all the way to Waterfall Way and turn right to head into Dorrigo. This was our preferred route as we could reccy Wollomombi Falls and then Ebor Falls before hitting Dorrigo, but the police at Kempsey advised us against taking the road. Bugger. Option 2 was the go.
This entailed driving through Bellingen, where we stopped for petrol and a pie (as you do). And that's where we discovered the wonderful Hammond & Wheatley Emporium (1910) and a shopkeeper more than happy for us to shoot the interior to our heart's content and who urged me to "shoot the four Asian ladies on the ceiling". Which I did.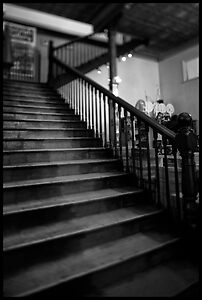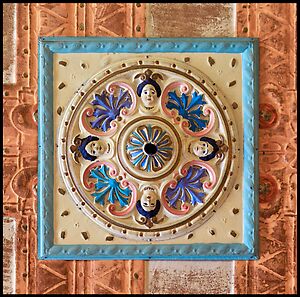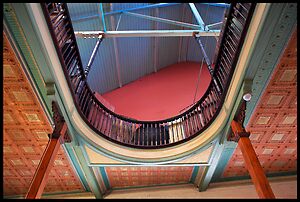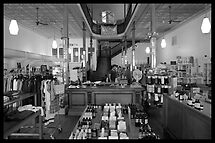 Onwards and upwards, past Newell Falls and Sheppard Falls, both of which had blocked Waterfall Way a few days before when they overflowed onto the road. Unfortunately, and notwithstanding there's a rest stop at Newell Falls, the road is pretty hairy there and "normal" waterfall photography just isn't possible without a police escort and road block.
Finally, we arrived at Dorrigo and drove straight to the end of town for our first look at Dangar Falls, which are just off the road north.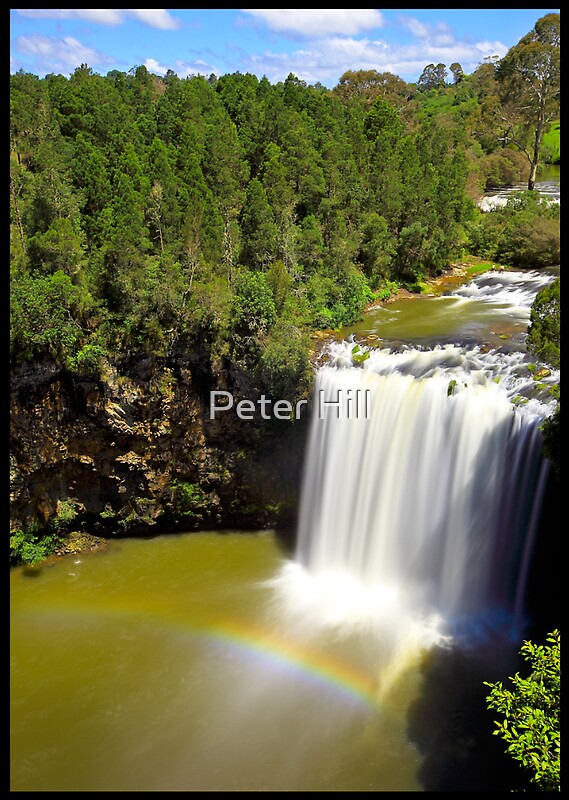 This was a tourist shot from the tourist platform. As you can see, there was a lot of water going over the falls. That turned out to be a common theme that week! Got lucky with the rainbow. Spot the two local lads at the top of the falls. Matt later told us it was a right of passage for the local kids to jump off the falls, on the right hand side, and into the bottomless pool.
Anyways, I knew from Adriana's great shot of Dangar Falls that there was a lower view to be had, but that had to wait. We decided to return at dawn. For now, we had Ridgetop Hideaway to find and an esky to unload.
We chose Matt and Dina's place because there are no camping facilities in Dorrigo National Park, we wanted self-contained accommodation, and it had to be close to everything. We've stayed in a LOT of places in our travels, but Ridgetop Hideaway tops them all. I'm not being paid to say that, it just is. Matt and Dina hand-built a stone and wood house about in the 1980s and now live next to it. A perfect place to sit on the verandah, soak in the view, and DO NOTHING. And it's easy to find, you just have to look for the naked lady diving into the water tank.
After we spotted said lady (fine pair of legs!), it was a drive through a paddock on a pebbled driveway and that's when we met DILLIGAF. Well, that's what I named him. DILLIGAF is a horse and he has his "spot" under a tree next to the driveway. And if the shade dictates standing on the driveway, so be it. All vehicles must go around him, and when you do he gives you that look. DILLIGAF.
Unpacked, we headed off again, driving around DILLIGAF again (and not for the last time either). Our aim was to go into Dorrigo National Park for a reccy.
The most famous waterfall in the Park is Crystal Shower Falls. It's about a 40 minute walk in, mainly downhill through rainforest. It is also very photogenic and you can walk around behind it.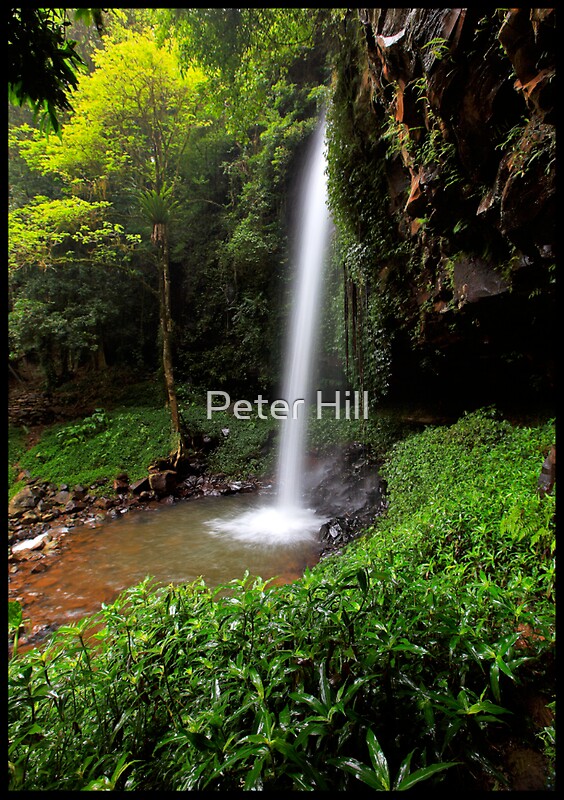 Our aim had been to also shoot Tristania Falls further down the track. We did make it down there (another 30 minutes) but by then it was very late and we had to head back up to the car. The sun was setting by the time we got back and we were thoroughly soaked in sweat. Certainly got the cobwebs out and made the swim in the 15m pool and the cold beer back at Ridgetop Hideaway that much better!
If you'd like to, continue reading about our journey to the waterfall capital of Australia in Part 2