A little visual story with postcards by artists of RB -
I chose some pictures that I really liked among hundreds of others. When I received them I wanted to combine them together to photograph as a visual story. The postcards are visible here (in order from left to right and top to bottom):
Frites minute by Jazzdenski, Doll n°1 by chrythmnove, just down The Mirror of the Uncounscious by 1morephoto, C 2 by Alex Preiss, Doll n°2 by Chrythmnove , VITRINE : Fanfare for Elisabeth : collaboration chrythmnove + pascale baud, Dancers by PB, Triste, train, triste, train, triste, train by Ina Mar, A matter of principles by Loui Jover , What Lumina Catches Your Eye? by chrythmnove & The forgotten Image : Chalk on carved wood by donnamalone.
http://www.redbubble.com/buyers_booth/8966320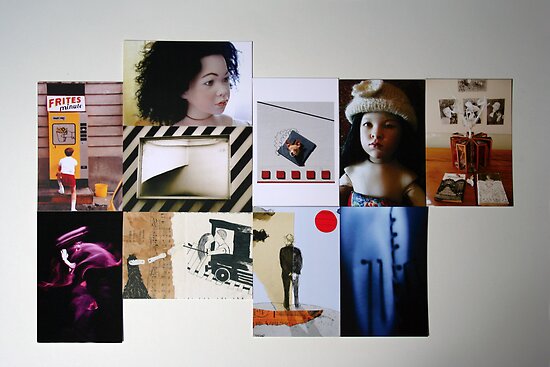 &