In my absence over the last few months..
Hey everyone,
Recently, I've been missing in action on here, for the most part. Spending most of my time away from RB and my folios has been a big change for 2012. I will be returning soon though and I'm sorry to say I've missed a lot of your great art on here in recent months. That will be changing soon :)
Having said that, this is what I have been up to…
I've managed to get myself involved in three exhibitions, two in Melbourne and one in Barcelona. All of them are taking place between June and August this year, so it's been a race to the finish to organise myself for all three at once!
I was lucky enough to be selected and approved for this exhibition, taking place in Casa Batllo in Barcelona. Anyone familiar with the architectural works of Antoni Gaudi would know Batllo is a prominent and featured attraction of Barcelona. I am a massive fan of Gaudi and this exhibition was extra fantastic for me, as one of my very first images on RB was of Casa Batllo.
I'll be showing three pieces in this exhibition from my Lensbaby Dreamscapes series, shown below.
Exhibition opens on Saturday 14th July 2012.
---
The second exhibition is the RedBubble brainchild known as SITHOM.. This exhibition features street photography and photojournalism pieces from several Melbourne based photographers.
I will be displaying five works in this one.
Shot in the Heart of Melbourne, Exhibition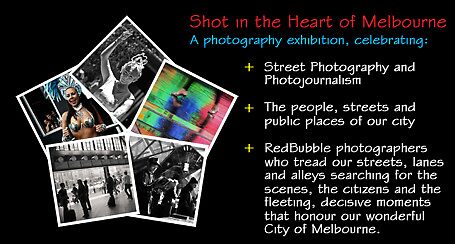 Location
Victorian Artists Society
430 Albert Street, East Melbourne Victoria, 3002
Google Map
Viewing Times
Mon to Fri: 10:00am – 4:00pm
Sat – Sun: 1.00pm – 4.00pm
Official Opening
Friday, 22nd June, 2012, 7:00pm – 9:00pm
---
The third opportunity I came across is with a cafe supporting local artists in McKinnon, Melbourne.
Mr Burch has given 12 artists, including myself, the chance to display works for one month each, for free! No commissions and no fees or charges. This is exactly the kind of community the local art world needs!
I will be displaying around 10 pieces during August 2012.
Mr Burch – 129 McKinnon Road, McKinnon. ph: 03 9503 4312
---
So this has been my life for the last few months. I thought organising one exhibition was stressful.. three at once is a circus act!
Looking forward to reconnecting with everyone very soon!! Thanks for the continued support, even when I am not here to reciprocate.
Andrew