Baggies Full of Peppered Ice...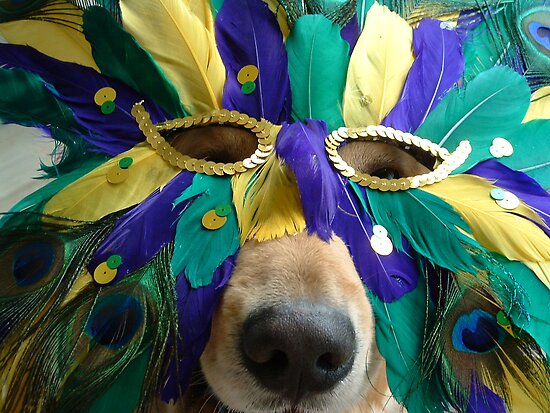 Is It Time For Mardi Gras?
by Karen Helgesen
IF HAVING A SOUL MEANS BEING ABLE TO FEEL LOVE AND LOYALTY AND GRATITUDE, THEN ANIMALS ARE BETTER THAN A LOT OF HUMANS"
JAMES HERRIOT
Her heart is broken. And, just like any other mother in the world, I want to kiss it and make it all go away. When Kelly was a little girl she could carry on, for days, about the tinniest 'Boo Boo'. I finally gave in to her cries of pain and told her I had a Special Secret Recipe for such grievous injuries. A secret shared only with those who were in unrelenting pain. The Secret Recipe? A ziplock baggie of ice cubes with pepper sprinkled on top. It always worked. I recall hearing great sighs of relief after she plopped her 'Special Boo Boo Recipe' baggie on the hemorrhaging and life threatening wound she had incurred. And, I went through a great deal of pepper, baggies and ice during this time of sweet and trusting innocence.
Carter was a rescue Golden Retriever. What blessing it was for him to have found her. And what a blessing he was to her in return. He followed her everywhere, usually with some toys jammed into his mouth….just in case she was in the mood to play fetch the stuffed bunny. He knew it was one of her favorite games. She was always first in his heart and he always aimed to please. He did have one tiny annoying shortcoming. Just one. Shoes. Her shoes. Her expensive ones…no flip flops for this dog! I think he just missed her when she was gone and if her shoes smelled just like her, well then, why not try to eat them? Other than his vicious assaults on her shoes, he was the gentlest dog in the world. Carter was her world…and I suspect he still was even after she got married, as he was her first love.
He died the day after they arrived in Oklahoma ( Cushing…her husband's hometown). Life had not been kind to them the last few years. After having to sell their refrigerator to pay their utility bill, they decided it was time to move on and start over. With the exception of college, she had never been so far away from home. So far away from her mom and light years away from that magical baggie full of ice cubes and pepper.
I loved Carter too, and I will deeply miss him. But, I love Kelly more and that is what hurts the most. I have no magic tricks for this kind of pain. There are no remedies for maladies of the heart, there is only time. Not to heal the wounds….but, to learn how to live with them. To learn that love is the only thing that matters. That refrigerators may come and go…but, love goes on forever. Even after death.
May God bless your sweet and loving heart, Carter. You taught us much.