A baker's dozen which inspired my 2009 RB journey
Gosh, I love reflecting on the year. I am rarely introspective, but am inclined to over-thinking, so it represents a good challenge for me to pinpoint all the things that have really inspired and shaped me through a year. Rather than New Year resolutions, I tend to think on such things – such as the friendships which have evolved, or are new, or which words made me think or ponder or dream…
Well, now on RB, such challenges are ever-more interesting. So many people I adore, and find compelling, but here are my top 13 picks that have moulded me and influenced my outlook in ways I could not have guessed at in 2008. And I look forward to sharing which of them do the same in 2010. Cannot wait to discover in fact!!!
The poets in question (alphabetical):
Anthea Slade
ArcadiaTempest
Bellmusker
Cassidy JK
H M Bascom
Lisa Jewell
Masqueone
RaymondoAntonio
Rubyjo
RVRFNX
Sandra22
ShadowDancer
Shoaib
And gosh – so many others! Unfortunately, too many to list in the manner I'd lvoe to – and trust me, I would if there were time!!! But I cannot write forever my friends – please consider these pinnacles among literary mountains which have moved me, made me smile, cry, laugh, delight in the world, frown at its sorrow – all in all, feel. So amazing and such a gift. But I have loved thousands more and try to convey that with every comment I post; every time I click the buttons – this site and community has changed me in so many wonderful ways, and I love everyone who shares that with me. Love and laughter peoples; the stuff that counts xoxo
I am not ranking these in any particular order (they are all important pieces to me) but I'm referring to them below based on the number of pages of faves I went through, some 35+ in nine months if that gives you an idea of how hard it was to cull a reasonable list LOL!
March
Of poets and immortality
Reason So many elements catch me in this: seasonal and visual imagery that hits powerful triggers in the brain, the ending and the line And the mundane will be more relevant and moving then another poem about your lover's kiss. Of the old immortal poets, often my favourites are the ones like this: challenging the status quo, critiquing the form and verse that has become commonplace – and even when beautiful, has an inherent emptiness to it. Something like style without substance – which this most definitely is not! Shoaib is one of the finest minds and hearts I have encountered in the bubble – and this poem is testament to me of his poetic might xoxo
May
Under the willow tree
Reason Love the story itself and the phoenix imagery. Crooked smile brought tears to my eyes. I love when the love of a grandchild for grandmother is truly and beautifully expressed. Re-read this when my Grandma passed in July – cried some more, but also was reminded none of us is alone in grief just in whether we choose to shine from what love has been provided to us! Thank you Cassey
for helping me to that lesson my friend xoxo
July
Happy Birthday to Me
Reason Although I read this after her birthday, I love this tale by Rubyjo – such a testament to her beauty, and so full of wisdom and grace (like the woman herself). I love the strength of this line I feel beautiful today on my 47th birthday, and that in of itself is an accomplishment which for me amounts to something more than an accomplishment. I just felt filled with wonder for the image of her on a beach with a beloved child. So deserving – one of the most beautiful, kind, considerate and empathetic women I have ever been lucky enough to call a friend. Also means I do not intend to ever drink mimosas again until I can one day share one with Ruby xoxo
August
Fuck is just a word
Reason Although I now adore so many more by Ray thanks to hearing him perform them in person, this was the first poem that caught my eye by the powerhouse that is RaymondoAntonio! And I love the FCUK word, plus Ray putting so much of his deliciously energetic poems in UPPERCASE. Love it :D always makes me smile xoxo
The Meltdown
Reason There really are so many lines in this narrative that speak to me, but for a glimpse into a brilliant mind – We are concussed yet alive, like some beautiful beaten up girl lying in the gutter of some fucked up world In my comment I suggested – Ah yes, the world. I read in The Big Issue today of someone being world-wary rather than world-weary and this story took me to exactly the same place. Thought-provoking and I love that dear RVRFNX xoxo
September
Arabesque en Pointe – Rejection Slip
Reason This story holds so much that is true about Lisa Jewell. She has divine wit, elegance, and wow, such a way with words! I also adore the story for a beautiful image Tracey Mac provides to it – another wonderful woman of the bubble I have met through beloved Rat Rhymes xoxo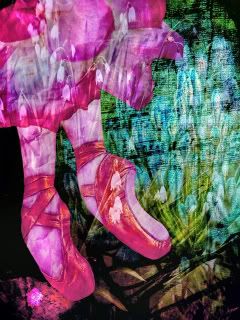 October
Love those breasts
Reason In part due to the Breast Cancer Awareness Month, but mostly just for her gorgeousness! I met Sandra at my first Rat Rhymes in October and love her writing and when we get to spend time together. She is a pure gem – can also improve each of my RR journals with the little things I forget – wine amnesia is a curse dammit! I do enjoy subversion – this has so many of my favourite things about Sandra, humour, panache, gravity – all of it impressive xoxo
No is No
Collaboration – No to Date Rape by Reynaldo


Reason The Womanhood series of collabs between Anthea Slade
and Reynaldo – every item moves me. In this case, picking a favourite becomes nigh impossible, but this is the one I come back to (time and time again). Every time I read this, despite it being No is No, I find myself thinking, yes, yes, yes so on a juvenile level that amuses me! But of course the subject matter is anything but amusing – and as always with the womanhood collabs – I am just in awe of what they each bring to the art. Gorgeous and so deserving of all features xoxo
November
Ice water
Reason Masqueone is a lovely friend who inspired my own musings in ice cubes. I find so much that Peter (aka skinnyman) writes so very beautiful xoxo
Tabula Rasa
Reason Bellmusker is one of the bubblers I was most delighted to discover lives in Melbourne. Her poem bears the name of one of my favourite Buffy episodes ever and it hinges on issues of recall. But all the lyrical comments based on The Smiths and my love for that band and Morrissey make it a poem I return to often. I have both laughed and cried from its lines – makes me adore Bell all the more xoxo
Word versus Word
Reason Helen Bascom is an amazing artist. You can change the world one word at a time I believe it – and it's as powerful a philosophy to me as the one I cite in my description to the poem Salvation. Copyright Alice Sebold You save yourself or you remain unsaved Both hold powerful sway in my heart and life attitude – and I like that they co-exist so well xoxo
December
Today I shall be radiant
Reason The photo and words – sublime! ShadowDancer, aka Patty Jo, often takes me to music I adore. I can imagine dancing with her – feeling so free and graceful in her presence. This one evoked REM and Orange Crush for me, a song I love too, especially the lyrics which for me mirrored the poem's conclusion
REM – Collar me, don't collar me
I've got my spine, I've got my orange crush
We are agents of the free
PJ – today i shall bask in what is
and in what is in me
today i shall be radiant
Beautiful truth my friend xoxo
I wanna be 2
Reason ArcadiaTempest, my dear friend KarenSue, is a truly wonderful person. So encouraging and lovely – and though she often considers herself sour rather than sweet, I know this piece shines with her beautiful soul and her gorgeous voice. I love it in ways my meagre words cannot express xoxo