Vintage-style Railway Posters Commision!
I finally went to speak to the South Devon Railway shop staff about my 'Journey by Rail' 1930's style rail travel poster. They asked me to make it a limited edition of 500 – and have ordered the first few already for their Gala Weekend (this weekend). The staff were quite fascinated by the painterly style and kept saying things like "look that's JIm in the foreground and that's…"!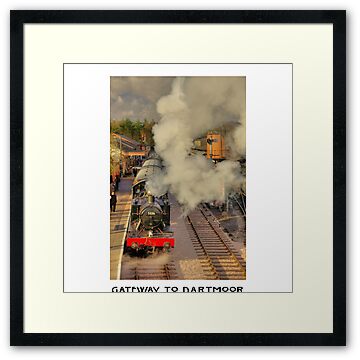 They have also asked me to do a series of Great Western Railway and Southern Railway ones focus on both train stations and destinations/ local areas of interest in that style.
Some of the few from the original southwest England posters had destinations such as St.Ives, often not including a train in the image but focussing on using the train as means to get out and explore places near their stations.
I did some more this week and have plans afoot for a few more…they have a full on weekend of events at South Devon Railway this weekend with loads more trains running than usual.
To say I was utterly squealing with delight when I got out of their shop is something of an understatement!
Cheers for looking
Morpheus71