What art is in which group? - NEW UTILITY
The one thing that most people have asked me for, ever since I started writing
RB utilities
back in early 2009, is a utility to see what art has been submitted to which group.
I am pleased to say that I have given in to the nagging and finally found the time to write it! There have been rumours for a while now that RB were redesigning their group management interface to provide this, but it seems that it keeps slipping down their priorities list, so I got fed up waiting and finally wrote this utility:

What art has been submitted to which group
You don't need to install anything, just click on the link to run it. It takes a while to run (because RB does not have an SDK or API, for those that understand what this means…), but it will give you a list of all your groups with thumbnails of all the pieces of art that you have submitted to the group. Just click on the thumbnails to edit the artwork, or on the group name to see the rules or leave and re-join. And all within the snazzy new RB interface.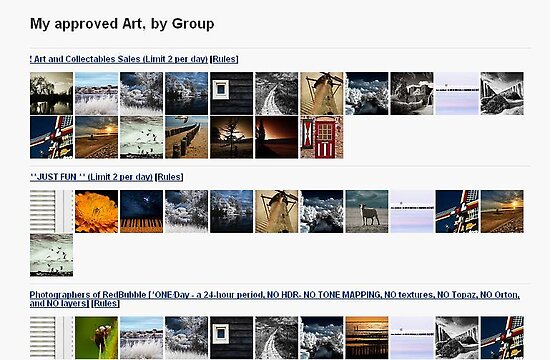 As with all my other utilities, the main customer is ME. I write them because I find them useful and it just seems silly not to share them out with other RBers that can benefit from them. But just be aware that (a) these have nothing to do with the wonderful people that give us RB, so don't go moaning to them about them and (b) they come with no guarantees that they work and will continue to work as you expect them. (In fact they are known to fail every time RB tweak their user interface). Drop me a bmail if you find they don't work for you, or if you have any suggestions and I'll try my best to fix things. No guarantees! :-)
I hope you find this newest utility useful! If you do, I recommend that you add the main RB Utilities Summary journal to your favourites, as I tend to keep that one up-to-date with updates, new features, etc.
regards
George