Comic Con and Prof. Mad Brainer
Some of you already know about the hugely exciting New York Comic Con Challenge being held by RB and for those not yet inspired check out the great work here.
My entry Professor Mad Brainer Smash! started of nicely at the start of the week and I thought I was done. But like all good fun once you start you just can't leave it alone. As I've tinkered with the artistic elements of the t-shirt design, the character's back story and personality grew as well.
I thought it was a story worth telling because it wasn't just a matter of brainstorming the story actually formed at least in part by accident.
I didn't know where to start with the challenge at first. Sure, I could have used one of the various superhero/ villain characters I'd dreamed up over the years but none seemed right. I wanted something more light and easy to understand without having to read volumes of back story and pages of art to appreciate the character's power set. So I just started drawing the first thing that came to mind. A giant behemoth with a mad professor instead of a brain, of course!
Muscles, madness and capes- it had it all. At least I thought it would do until I thought of something better. But I stuck with it. I've spent hours cleaning lines, tweaking the background and adding extra details such as the bio-mechanical implants to better illustrate that the behemoth was under the Professor's control and probably had more machine than animal.
So just a day left until voting starts and I think to myself that the design probably can't get any better than it already was. Of course as soon as I arrive at this conclusion I'm already thinking of ways of making it better. From the get go I was a little unhappy with the lack of detail I provided for the Professor himself. The A4 scale of the original drawing made it a little hard to do the little guy justice. So again I put pencil to paper once more and made yet another full A4 drawing but this time featuring just the Prof himself gleefully cranking the controls in his cranium cockpit.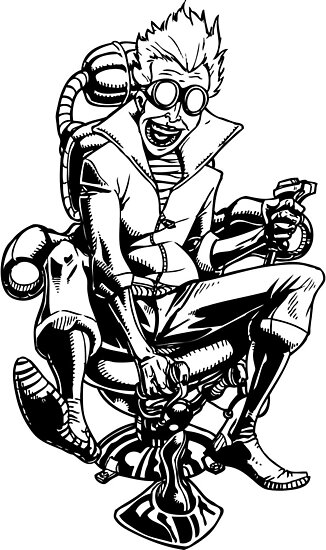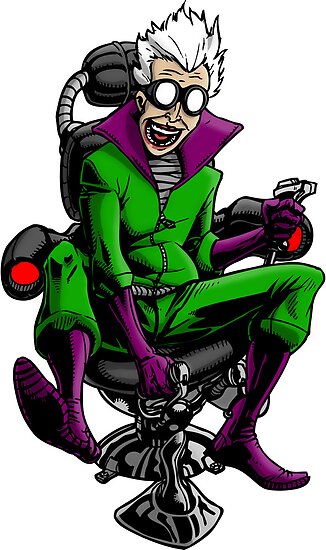 As it would happen an accidental slip of the pen at the inking stage made the once mad man into a decidedly mad woman. I liked it. He already looked like he could be an elderly woman so I embraced it. I fell in love with the old bat and after laying some colour down I noticed the resemblance between the feminine professor and a younger heroine I'd penned some time ago:
Sure, it was mainly the green and purple colour scheme but it was food for thought.
Presenting the story of Professor Mad Brainer!!
Power Gal by day – Science Post Graduate by night school our lovely super powered heroine was both the city's protector and noble insight all packaged in a tidy purple one piece Lycra uniform. For a long and courageous career she battled the forces of evil on the streets and in the Petri dish. Her exploits won her the key to city and the acclaim of her peers. But when it came to hang up the her super digs and put away the lab coat, our still bright eyed protagonist wasn't ready to retire but instead longed for something new. While her comrades retired to retirement villages and park benches our hero decided that she wanted to have a little fun with her winter years.
So, with a new handle and a dastardly new costume she made her new career debut. The impact on down town boulevard shook hero-tropolis to it's knees as the 85 metric tonne behemoth touched down from it's orbital descent. The man shaped creature roared insensibly whilst inflicting little more than minor property damage.
She'd called him out and it didn't take long. A next generation caped crusader met our hero come villain's challenge. The two combatants measured each other with a silent gaze then the old lass smiled sweetly as she thought of how much fun this game could be.
The hulking demolition-with-no-volition raised it's mighty mitt high above the still unfazed superhero and readied to slam him into the tar. Our sweet old villainess smiled with glee as she cackled over the megaphone:
"Professor Mad Brainer gonna SMASH YA!!"