I'm going on a Tassie adventure... Wanna come?
I've never been to Tasmania.
I've drooled over Mark's Cradle Mountain photos for years now…
I've marvelled at ClaireBear's diverse and beautiful scenics from the region…
I've favourited too many of Robert Mullner's Tassie photos to count…
I've felt myself turn slightly (or not so slightly) green whilst perusing David Murphy's stunning Tassie collection…
and I've been mesmerised by the glorious colours captured in Garth Smith's depictions of the famous mountain range and its lake…
Well, enough's enough, I say!
I'm going!!
The above team are already gearing up for the Fagus Week 2013, and come what may, April 21st – 28th 2013 will see me joining this wonderful group of photographers and traipsing up hill and down dale to try and get a different angle on one of the most scenic and beautiful… and most photographed… areas of Australia!
Mark (Tinnieopener) and Claire (ClaireBear) run the Cradle Mountain Discovery Holiday Park and this will be their fourth Fagus event. Mark says:
"This all started as an accidental meeting of ten photographers here for the fagus in 2010 and we had such a great time in 2 days, Claire and I decided to start hosting an event for it."
22 photographers made it down there for the "Turning of the Fagus" last year… and it's already shaping up to be another awesome get-together. There are no restrictions on your photographic experience – it's just a great chance to meet other like-minded photographers and pick up some tips and tricks (and hopefully some amazing photos) along the way. According to the comments following Mark's latest Journal, if you come, you'll be joining:
Stephanie Johnson,
Nick Skinner,
Ian Berry,
The irrepressible Mrs Mel Brackstone,
Kylie Reed,
Brett Chatwin,
Dave Callaway,
Rosie Appleton
Warren Patten,
Julie White,
and I've also heard rumours that we might be joined by
Donovan Wilson and the lovely Rhana Griffin … I hope so!!
So… who else wants to join us? If you're still not convinced, check out all the RB photos of Cradle Mountain here… Time to start planning your Annual Leave, I think!!??

First Day of Spring
by Garth Smith


Hanson Lake Scenic
by Robert Mullner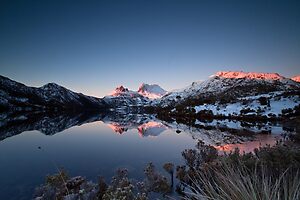 Cold Cradle Dejavu
by tinnieopener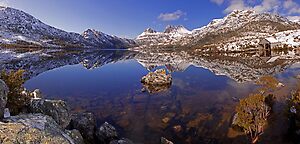 Cradle Snow Panorama
by ClaireBear
Oh, one final thing… I'm not really the organiser, I'm just the cheerleader… so for further information, please get in touch with Mark by clicking on the grey speechbubble (the one between the "Following" button and the "Tweet" link under Mark's name) on this page here.
I can't wait!!!