Calling all Melburnian Photographers!!
I'm going to be in Melbourne on Saturday January 4th and I thought it might be nice to meet some Bubblers and get some shots of Australia's best city! (I can't help being biased… I haven't lived in any other Aussie cities!)
So I have a rough plan… there is still a bit of fine-tuning to do, but here are the basics:
1) 8am – 8:45am Coffee at Brunetti's on Swanston St
? Cathedral Arcade , Swanston Street (depending on time and interest)
2) 9am – 9:20am Degraves Street, off Flinders Lane
3) 10:00am – 11:20am National Gallery of Victoria: 180 St Kilda Road – Edward Steichen & Art Deco Fashion Exhibition (Tickets cost $12)
4) 11:45am – 12:45pm RedBubble HQ: Suite 1, Level 3, 180 Flinders Street
? Hosier Lane (depending on time and interest)
5) 1:30pm – 2:00pm The Block Arcade, off Collins Street
6) 2:15pm – 2:45pm Royal Arcade, off Elizabeth Street
7) 3:00pm – 3:30pm 333 Collins Street
8) 3:45pm – 4:15pm Flinders Street Station and Fed Square
9) 4:30pm – 7pm Riverland Bar & Cafe on the Yarra (under Princes Bridge on the Fed Square side)
We need to catch the 109 tram on Collins Street at Melb. Town Hall at 7:20pm
10) 8:00pm – 9:00pm Sunset at Princes Pier, Port Melbourne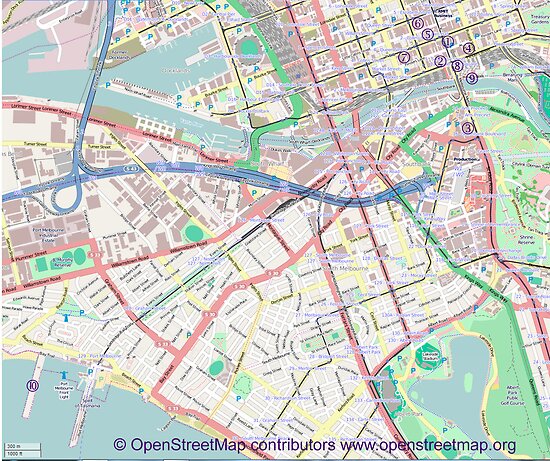 and a closer look: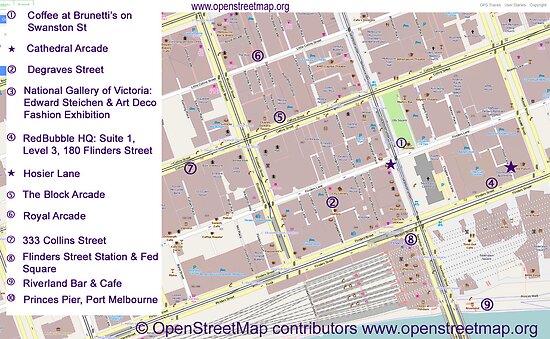 I understand that most people won't be able to do the entire day (or might not want to), so the times listed above will be the times that we DEPART each place. That way, if you miss us, you know where to "catch" us!
Sunrise is at 6:04am and sunset is at 8:46pm.
Please be sun-smart and make sure you're wearing runners or other comfy shoes!
Finally, please let me know if you're a vegetarian or have any other dietary requirements!
So…. who wants to join me??
Please either include your email below, or bmail me your email so I can put together an email list and let you know if any plans change!