Midori's article on a magazine!!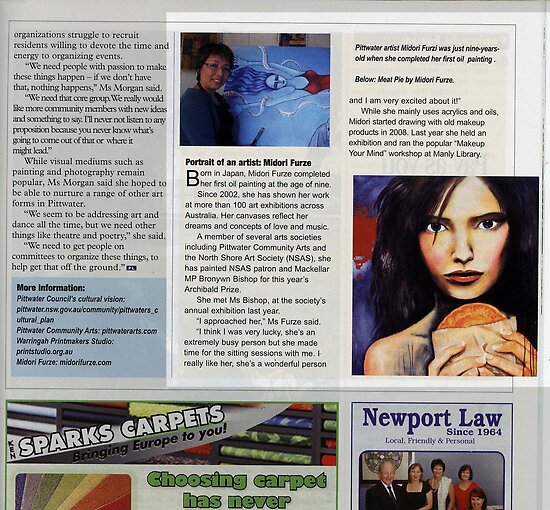 I was interviewed by Laura Greaves, the Peninsula Living Magazine!!
It is a free full coloured magazine. They say it is delivered to the Sydney's Northern Beaches' 87,000 homes and businesses every month!!
"Born in Japan, Midori Furze completed her first oil painting at the age of nine. Since 2002, she has shown her work at more than 100 art exhibitions across Australia. Her cnavases reflect her dreams and concepts of love and music.
A member of several arts societies including Pittwater Community Arts and the North Shore Art Society (NSAS), she has painted NSAS patron and Mackellar MP Bronwyn Bishop for this year's Archibald Prize.
She met Ms Bishop, at the society's annual exhibition last year.
"I approached her," Ms Furze said.
"I think I was very lucky, she's an extremely busy person but she made time for the sitting sessions with me. I really like her, she's a wonderful person and I am very excited about it!"
While she mainly uses acrylics and oils, Midori started drawing with old makeup products in 2008. Last year she held an exhibition and ran the popular "Make yup Your Mind" workshop at Manly Library."
Pick up the Pittwater version of Peninsula Living Magazine today!!