Jesus Loves You...read on ;)
OK before you all think I'm trying to convert you, relax!
I just want to tell you a story.
I had the privilege recently of being in Shanghai for two weeks of work.
That meant a lot of time (weekends) spent pounding the pavement with my trusty Nikon.
There's no shortage of photographic opportunities in China – Shanghai included.
The architecture is stunning, the China meets West images are intriguing…but the images I remember most are these ones. Why? Because of the story behind them.
Christianity in China is 'tolerated' – just. The regime is of course Communist which means it is atheist by decree. But a number of religious groups including Christianity are doing a fair bit of welfare work in this challenging country and the government knows it needs these organisations. Boy does it need them. Poverty and illiteracy are rife.
So it turns a blind eye to some religious activities (all religions) whilst keeping a very watchful eye on them at same time.
There are some "Government Sanctioned" Churches – their reputation is mixed as they only exist because they 'tow the company line.'
But most die hard followers attend secret house Churches. They risk their lives and freedom attending them but despite Government bullying they have grown substantially in recent years.
All this means, you can call yourself a Christian but it still takes guts. To declare your faith publicly and encourage others to do so is a big call.
So here I am strolling along through the French Concession area where my office was and I see this guy writing in chalk on the pavement.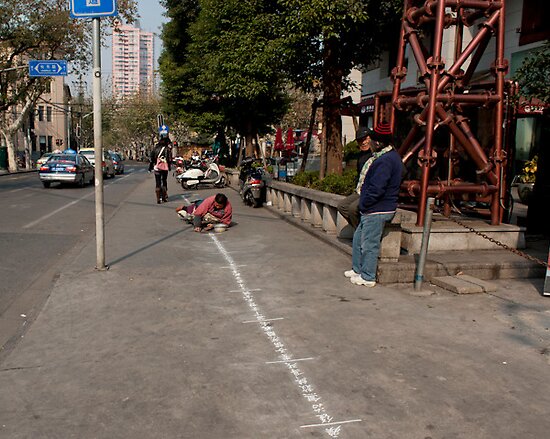 At first I thought he was lying on the ground so he could write but on closer inspection I saw it's because he's disabled.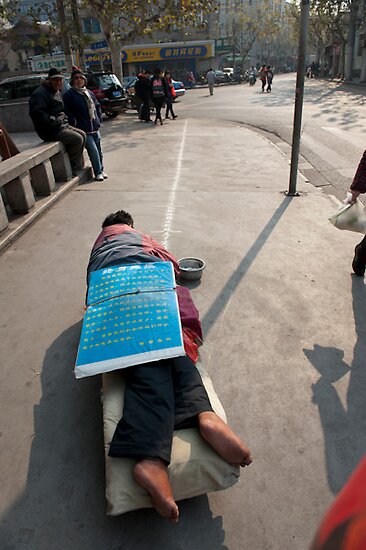 As a typography nut I asked him if I can take a shot of his work. I love the Chinese calligraphy, and although I didn't know what it said I thought it looked beautiful. He was fine about it.
After I took the shot I gave him some money (as he had a tray next to him with a few coins in it).
He looked up at me – as far as his disability allowed and said in a low mumble…
"thank you for loving me."
It really hit me. Here was this guy horribly disabled in the freezing cold, trying to earn some coins to survive. And he took the time not just to say thanks but to really say thanks.
I said no problem, thanks for letting me take the shot and then I followed his typographical trail around the corner to the end where I saw it said (randomly) in English…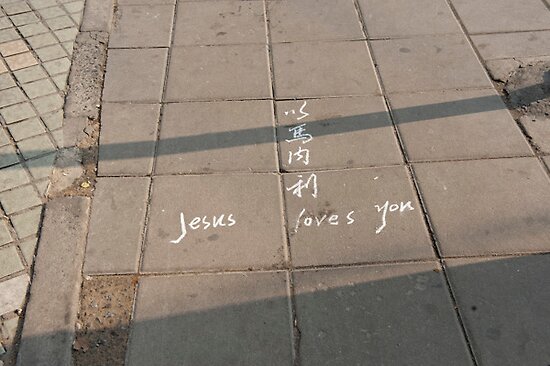 My point? Courage and humility still hit like a sledgehammer whenever you see it. If this guy can love with all of his challenges and the bravery required to do so, I reckon I can pledge to try do the same.
Happy New Year all.
Peace.
Love, Melly xx