I've been interested in shooting the Milky Way for quite a while, so when I was down in the Dandenongs with Robyn and we decided to go out at midnight to see if we could see the Southern Aurora,(we didn't,) I tried to shoot a few Milky Way shots with the little bit of information I had. (Pump the ISO, 30 seconds, wide open aperture)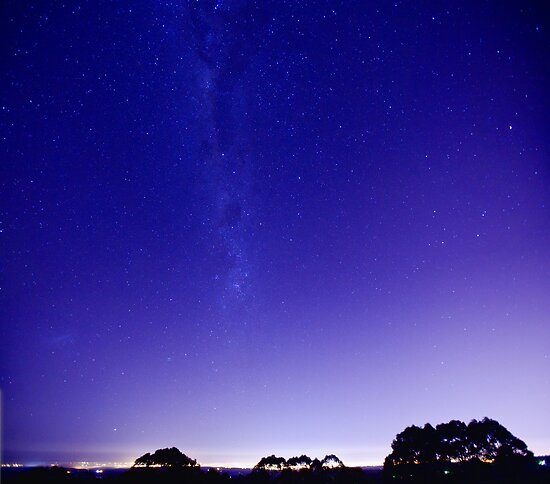 The lights from Melbourne were pretty intense from the top of the mountains, but I managed to at least see the Milky Way in my shots. And it was gratifying to know that, at least! This was shot with the Canon 5D Mk II, 16-35mm at 16mm, f/2.8, 25 seconds, and ISO 1250 at 14minutes after midnight.
Then when I came home, Robyn and I did a little bit of research, and found this page. Needless to say I was inspired again, and since I knew it was a new moon (and therefore a dark sky) I ventured out late one evening at home, with the camera and tripod.
This is one of the shots from one of the nights I shot, this one worked out best because I was in the garden surrounded by mostly dark houses. This is the original, straight from the camera.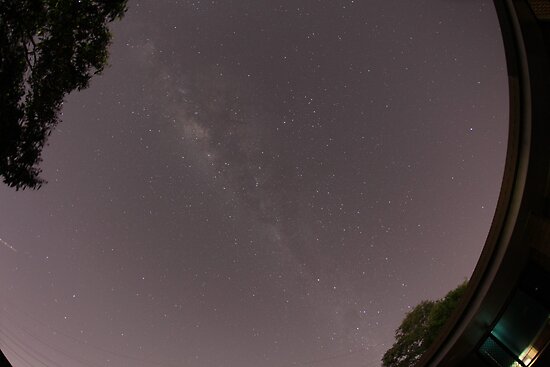 After a great deal of jiggery pokery which included many layers and lots of contrast I arrived at this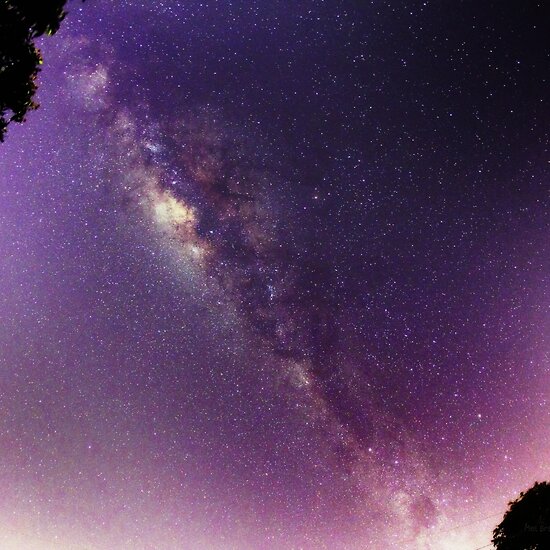 The dark skies and surrounds meant (I think) that I needed to up the ISO quite a bit to capture the detail in the sky. This was shot at ISO 1250, for 30 seconds and f/3.5. My old 15mm fisheye doesn't actually work with the camera anymore, it's been dropped so many times it was misbehaving, so I opened it up and removed all the electronics to stop it going crazy….so it's basically focussed on infinity and that's that, thank you very much!
Then on Tuesday night I went out to shoot sunset with Nick at Cleveland. The skies were a little orange from all the grass fires, but very uninspiring. Once the sun had gone down, and we'd feasted on fish and chips, we wandered over to the lighthouse to shoot some more. Nick was shooting star trails, but I wanted to go for the milky way again. I lent him my 14mm fisheye and stuck with the 15mm.
Standing in the shadow of the moon gave me the best result, and I was able to drop the ISO down to 500, but there was a LOT less info getting to the sensor.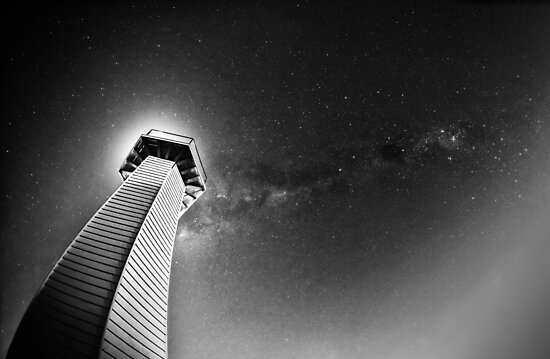 I need to fine tune this a great deal, as you can imagine, but hopefully next month when I'm in north west WA I'll have another chance, although I picked the wrong time, it'll be full moon….dammit! :)
Any suggestions to try are very much appreciated!
I did learn that if you shoot for longer than 90seconds with a wide angle lens you could end up with star trails, which I don't want. I'm looking for pin points.