I just nuked my 'BubbleSite'...
…and good riddance, I say!
Less Confusion
Yes, seriously. I've watched several people trying to use it (picking up the URL as I had it on my business card and sticky notes). It was terribly confusing to them, even if I told them in advance that this was a way to get to my 'real' RedBubble site.
If you want people to view your photographs, you do not want to confuse them! The main RedBubble site is confusing enough as it is (especially with an artists's name not even appearing above the fold – they never know if they are still looking at your work or someone else's!) but still it's actually better than the puny BubbleSite.
Contact?
What about the contact form? Well, for starters, it was never used. :) And anyway, I have for a long time already had a link on my profile page here pointing to my contact form on PhotoShelter
It can do with a little extra love, but it's a real contact form and it works… I'll update that link (here and on my profile page) if I have something better elsewhere.
Archived
Just for posterity (haha), I've archived the two pages on there – so here they are.
Note the text is not even quite up to date any more! This is merely an ARCHIVE. Still, the home page is more up to date than the 'about' page.
---
BubbleSite Home Page
---
Two passions
| | |
| --- | --- |
| I have two major passions: travel and photography – often combined. My curiosity makes me want to travel all the time (I can't), my photography is the culmination of that curiosity. | You can always find current images via my Profile on RedBubble. |
| | And don't miss my calendars! |
When I travel, naturally I take pictures of landscapes, of people, and of the places they live: after all, seeing those things, and making contact, is a major reason why I travel. But above all, I look at things a little bit differently, take pictures of things others walk right past. Once when we stopped somewhere at a dilapidated gas station, a travel mate asked: "What's to photograph here?" – "A bike with a box," I said: there it was, leaning against a pole.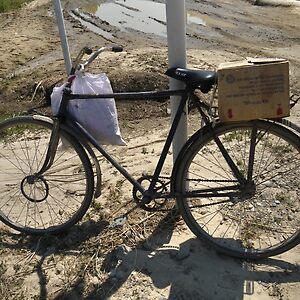 A bike with a box
Traveling or not, I also love to go hiking, and usually take my camera. Even in my own city I often have a camera with me and like to record views you're unlikely to find in the tourist guides. Quirky images, maybe, but real life is often quirkier than books.
That's just a hint of the themes you may see in the various places I present my photography. What you see here is just tiny sample.
---
You can also find photographs (and some other images) by me in some other places, such as:
Share
Like my work? then please share it with your network, family, friends, colleagues, neighbors…


Contact
There are a lot of ways (and places) you can contact me, so I'll just list a few:
---
BubbleSite About Page
---
About me

I am a photographer with an incurable itch to travel: I constantly wish to walk somewhere where I don't know what's around the corner! Travel is as much a passion as is photography, and even when I'm not traveling I rarely go out without a camera.
When I don't happen to be traveling or working on my images, you may find me programming or otherwise working on my web sites, and I have a passion for web standards, usability and accessibility.
You can contact me through my Contact form here or on PhotoShelter; I also hang out on microblogging site identi.ca.
About my photographs
Some of my subjects ("themes") are on my mind wherever I go (like textures), others are more travel-specific (like markets), or specific for my own country (like Temporary Amsterdam). In my portfolio, accessible from my profile you'll find samples from a variety of my "themes", organised by theme or in special 'collections'.
You can also find my photographs in some other places, such as Marjolein Katsma Photography on PhotoShelter, Flickr (mostly images released under a Creative Commons license), marjoleink's posterous and Marjolein's Travel Photo's on SmugMug.