Mirrors: A Charity Art Exhibition: Opening Night...
"Beauty is not just an image, it's a feeling"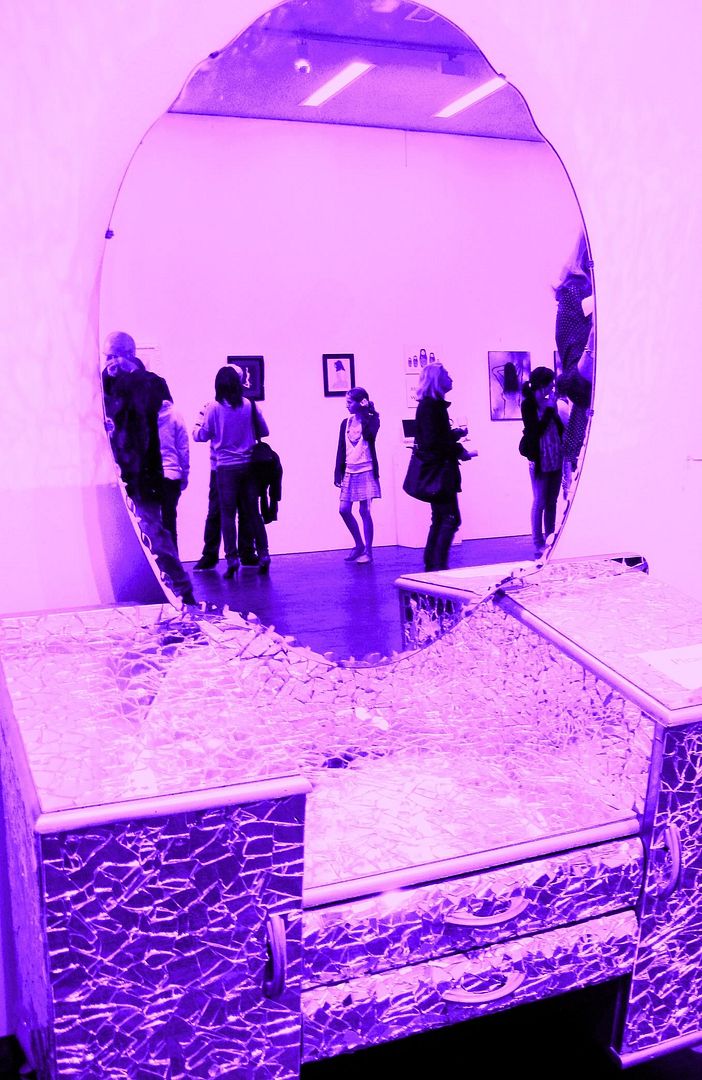 Wednesday night saw the opening of the Mirrors Art Exhibtion, a charity event to benefit The Butterfly foundation, raising funds & awareness surrounding the complex issues of Eating Disorders & Body Image through Art.

The Gold framed mirror that nearly wasn't… I found this frame in a council clean-up… & a friend had a 3m wall mounted Mirror he was desperate to get rid of… perfect for the event! Until the glass cutter wouldn't go through as it was hardened glass! So i purchased a new piece, it was delivered with glue still wet just in time!


You can read the full text written on the Mirror here
As many of you will already know, alongside the events founder, Rhiannon Bulley, i've been involved in the organisation of the exhibition this year & was blessed with the support of several artists right here on the Bubble.
They included:
Despite being supported by cool fashion & art mag Yen, no-one seemed to be too concerned with being "fashionably late", in fact there were people sticky beaking from 5PM onwards… the show wasn't billed to open until 6! It was a diverse crowd that flowed through the doors… From trendy young things to Mums with toddlers, Sharply dressed men who knew more than a thing or two about art to teenage boys who to my great surprise were incredibly interested in both the art & the issues.
The several "creative spaces", aimed at encouraging personal expression were warmly embraced…


The Drawing Table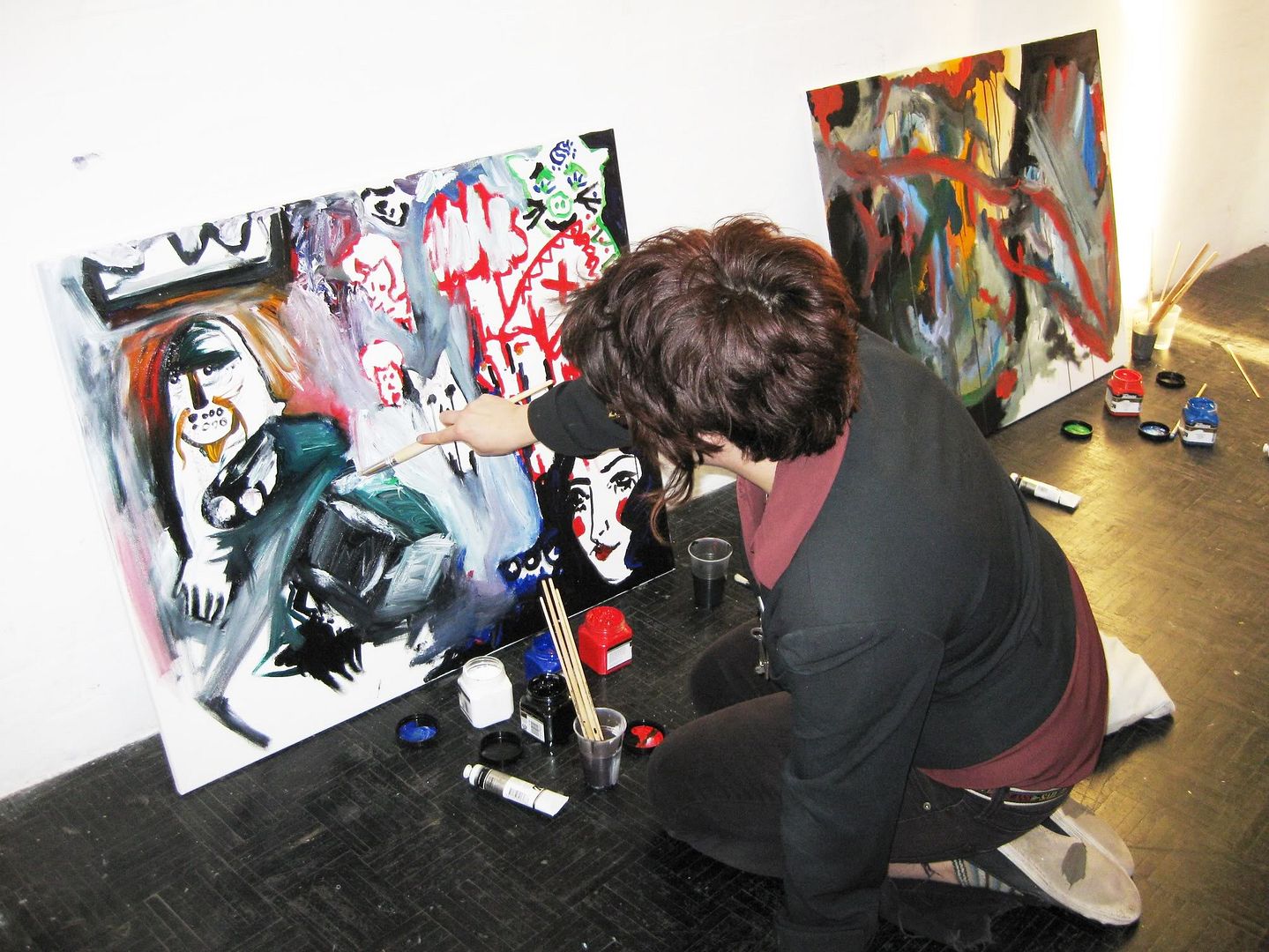 Communal Canvasses…


In progess…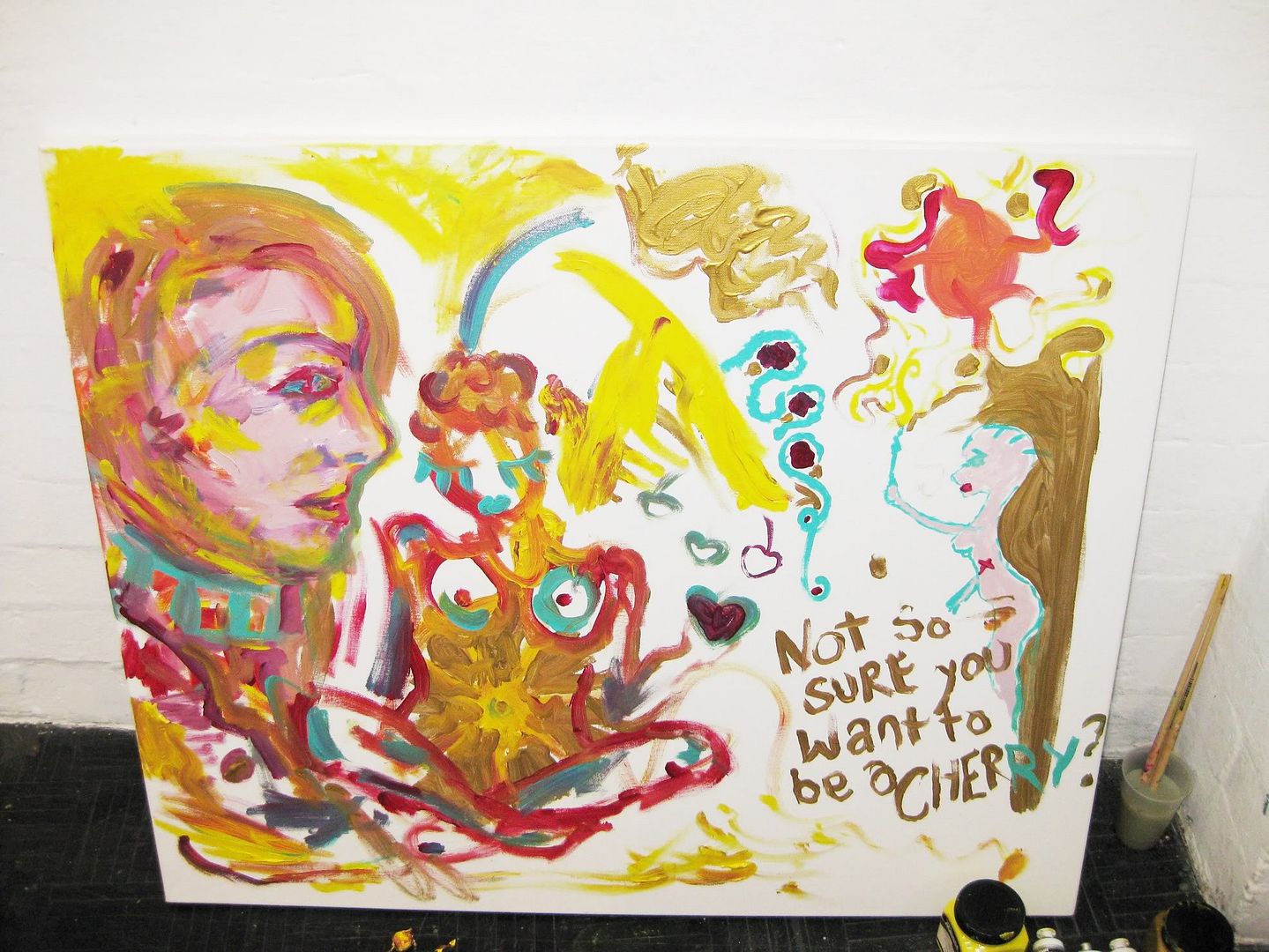 Finished!… Until the next person picks up the paintbrush!
I started off the night managing the payment desk until my Dad kindly relieved me when a flood of people i knew arrived… I never made it back to the table… everytime i turned around there was another artist or friend, an opportunity to elaborate on an artwork & the creative force behind it, or a new face to meet… i would say the crowd more than tripled last years attendance, where i was merely someone who submitted a painting, & as part of the team this year, I couldn't have been happier with the turn out…


Serious Art Critics?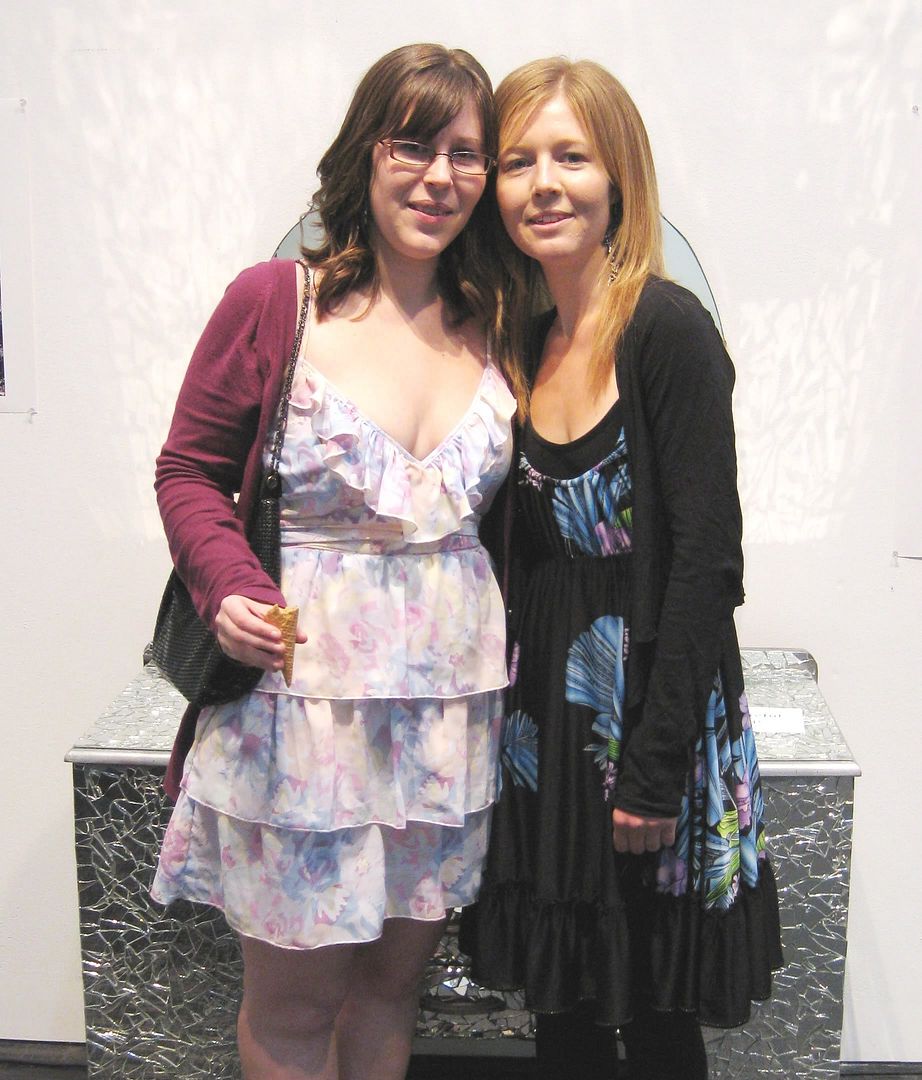 Sisters


Sisters 2: The little one & the adopted one
Aside from the number & mix of people there, what made the night a success was the feeling amongst the crowd… And it wasn't just the champagne & cupcakes… nor solely the wonderful art on the walls… people were genuinely interested in seeing such heavy issues cast in a different light…
Books by artist Cindy Wider & Author whom herself beat Anorexia, Melinda Hutchings were donated to be raffled…
we had to enlist my Dad to get the attention of the chattering crowd…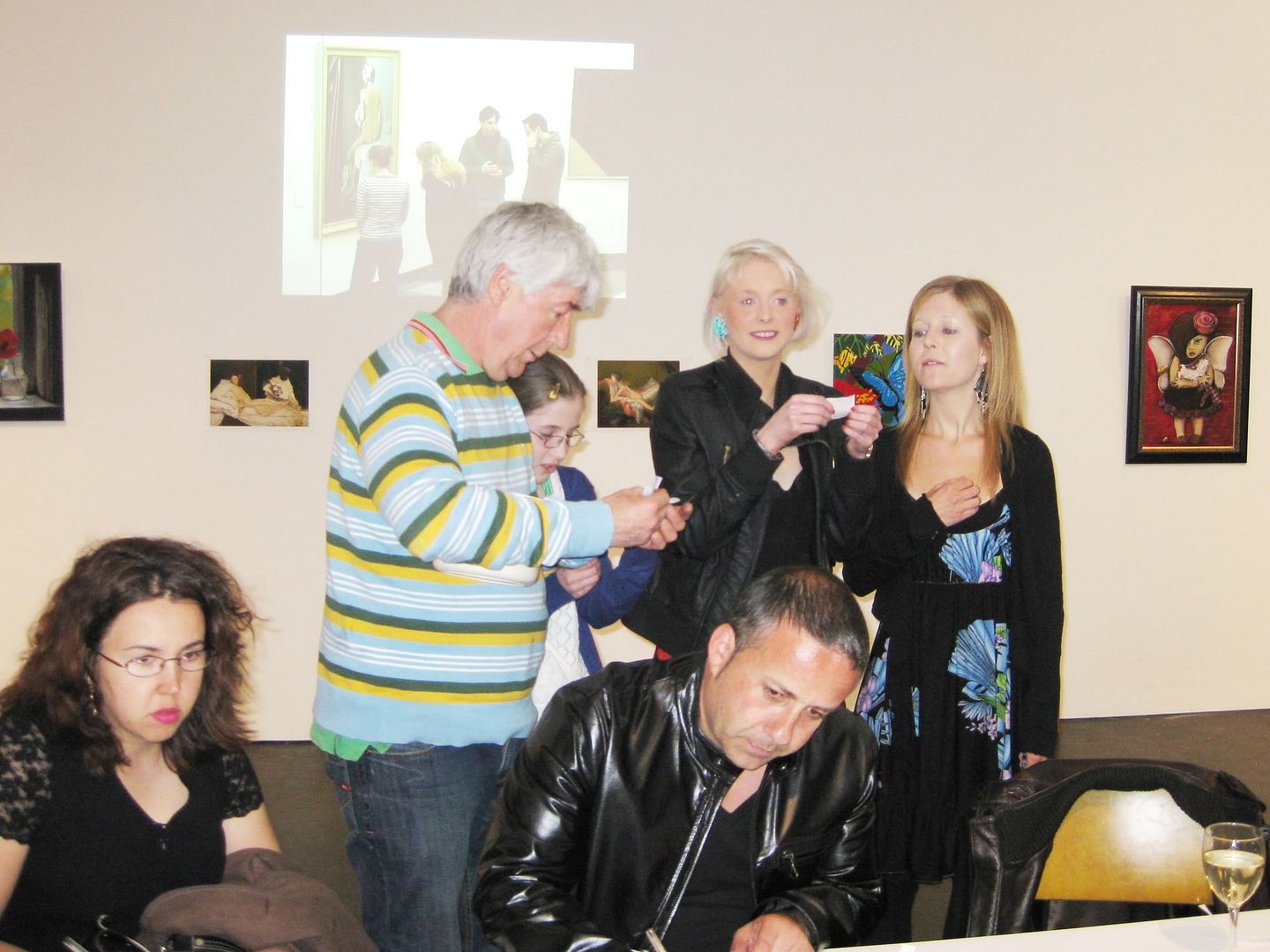 …Although the serious concentration of the pair at the creative writing table in the foreground was unbreakable!…


…Rhiannon rewarded my Dad's crowd control skills by drawing out his winning ticket!
Whilst the seriouness of a deadly illness such as Anorexia can't, & shouldn't, be diluted in any way… the pervading feeling was one of hope… that where maybe the conventional wisdom is failing so many… perhaps there is another way.
No better example of this was found in a friend of a friend… A mother whose Daughter's Best Friend has been battling Anorexia & is currently being treated in hospital for the 3rd time in the last 9 months… she relayed the all too familiar heartache of a family who feel helpless, & a girl who feels she lost her Best Friend… Despite her obvious sadness & concern for this young girl, her face lit up as she excitedly explained that this young girl was herself a talented artist… her work featured in Art Express, despite her illness preventing her from completing her HSC… and just maybe something in Mirrors, or the concept of the event itself, just might reach her. The hope was that she might be well enough to visit on day release… But where there is a will there is a way… if she can't come to Mirrors then i may take Mirrors to her… whilst i can't very well carry paintings in to the hospital, i can take photos… & hopefully a little of the feeling it's all inspired.
This dresser was the centrepiece of a shoot by photographer Louise Whelan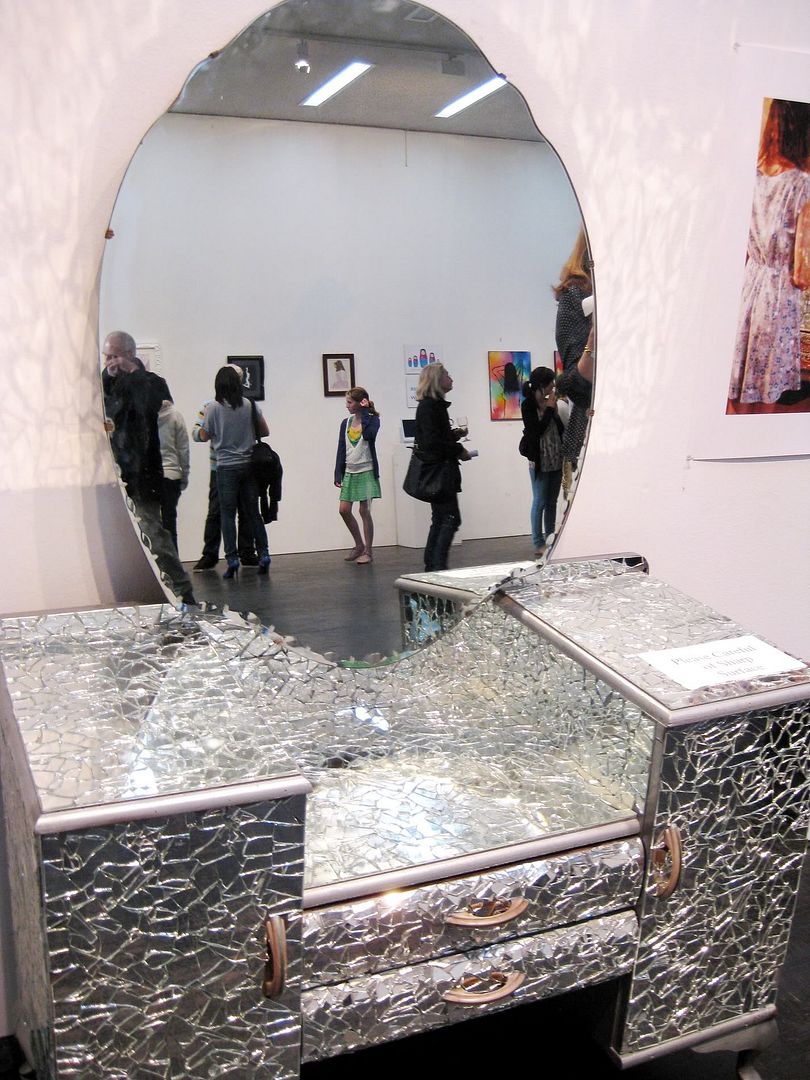 An old friend who worked for my Dad when i was a kid, Lou & i caught up a few months ago…


…The dresser & the concept for her shoot were already in motion before i even mentioned The Mirrors Exhibtion…


…It was naturally perfect for the exhibition… sweet synchronicity once again!
Next week, once Mirrors begins to wind down i will be posting a complete photo gallery of as many works as possible, including the work of all my wonderful Bubblers, & a bit of a wrap on sales, funds raised & a few other little surprises!
The one sneak peek i can give you is at my own piece for the exhibition, What If I'm A Mermeaid… and in an unexpected twist, last week we discovered that Nature Colours Beauty my painting from last year, whilst paid for in full, was never picked up… fortunately it was quickly sold once again!
Although i have already expressed my gratitude, both publicly & privately, to all of the Red Bubble artists involved i cannot rave about the success of the night without mentioning once more just how grateful i am… when i began seeking artists for this project i must admit there was some nervous hesitation, i am not one to ask for help or favours generally… But my belief in the Mirrors concept & cause overrode that & i'm so thankful it did… Not only for the benefit of the exhibition but it began what have turned into some very special friendships… there's the power of art for you right there.
Yet i'm still amazed at the willingness & support i & the exhibition have received, especially since posting this journal in the lead up to the event… & in hindsight it would seem that a great number of you would have loved to be involved… & we'd have loved to have you… so although this years exhibition is still hanging on the walls, whilst it's fresh in mind, if you're interested in being involved in Mirrors in some way in the future, please leave me a comment here or drop me a bmail & i'll compile a little list for reference when we begin planning for next year.
Thankyou all for your love, support & encouragement,
Xxx Sarah
The Lead up
Photo Gallery