ARTISTS' OPEN STUDIOS IN THE SHIRE OF MITCHELL
Over the past couple of weekends the Shire of Mitchell, (in Victoria, Australia) has hosted an Artists' Open Studios event, which I was involved with. The weekend of 15th and 16th was the turn of us three artists at the southern end of the Shire. Here I am pictured with Wid Bradley and Wendy Webster.
My studio is an old Victorian school building, and it began it's journey many years ago. It was destined for demolition, so I submitted a tender to the Shire and bought the building. It had to be moved to our block from a nearby town, and it wouldn't fit under the freeway bridge. It had a Police/Vic Roads escort, and the traffic had to be stopped on the freeway while it took an alternative route over the bridge…..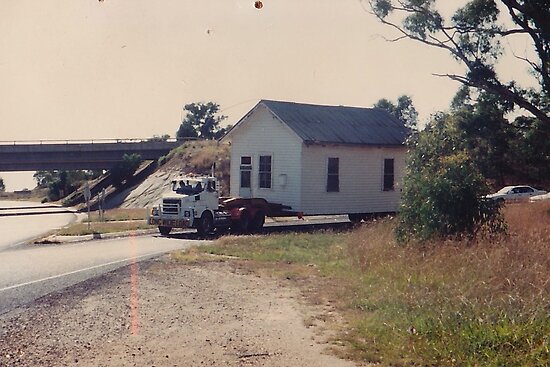 …….and then along some narrow roads, while men from the electricity company lifted wires, and others raised branches to allow it through. (The roof still took a bit of a battering)! It was very exciting!!!!
and here it is in it's final resting place…….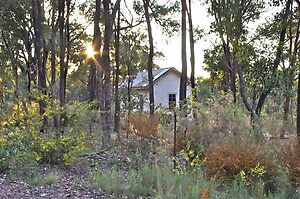 Now, with much nervousness and trepidation, I have been able to open my Studio to the public for the first time. I wondered what the weekend would bring, and hoped a few people would turn up!

I need not have worried. 'Artists' Open Studios' was an extremely successful, and very exciting venture! 57 people signed my visitors book, but a few more missed signing it, so overall I had 60+ visitors over two days. I sold numerous RedBubble products, including Tote Bags, Calendars and Cards and, to my extreme delight, I sold three original paintings off the wall! The weather was very blustery and cold on Saturday, and then it poured with rain overnight! We have not had such heavy rain for MONTHS! My roof leaked!!!! My framing table was soaked, and all the things on top of it too. This included a newly acquired printed book of my works, my 'catalogues', a few other bits and pieces, and my iPod! I was not in the least bit daunted!!! (Well, maybe a little bit, but I hummed 'We shall Overcome' and tried to keep smiling, especially when the first visitors started arriving).
Sunday was a dreary day too, but thankfully it did not seem to deter my visitors. My closest visitor came from just down the road, and the furthest made a trip from Frankston, which involved a two hour trip for four lovely people who decided to have a day out after seeing details of the event on my Facebook page. Overall I had a great time and enjoyed meeting many lovely people, chatting with them and answering questions about my art.
Here are a few more photos……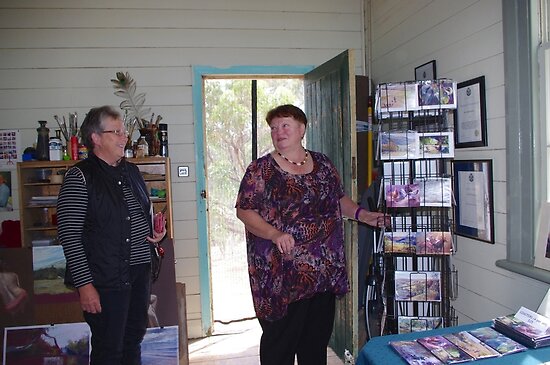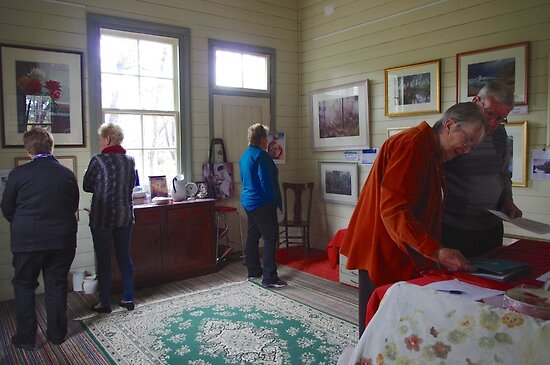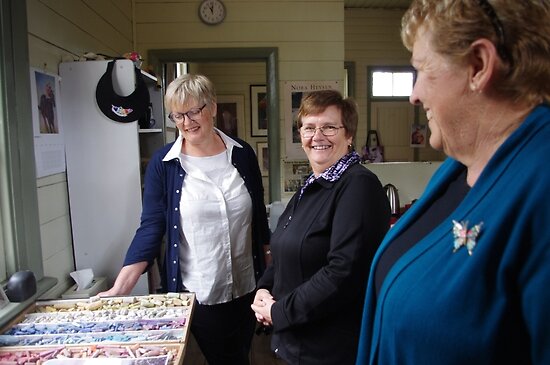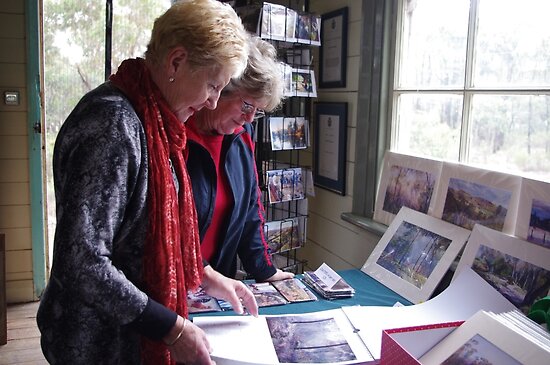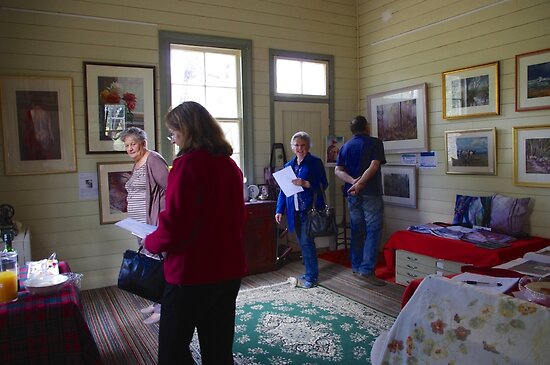 The Tawny Frogmouths nesting nearby viewed the proceedings with curiosity!!!!