PULL STRING ART DEMO FOR SPRAY PAINTS OR ACRYLICS!
this is my demo of pull string art, many of you have requested this
this demo's how too do it with spray paints
spray heavily your colors of paint, lay your string down with curls etc, leaving a tail at the bottom for pulling
spray with clear coat spray, or more of your colors again so the string is wet, working very fast
cover with a piece of plain poster board, press opposite hand in center firmly
start pulling string from bottom, straight back level with table and quickly.
keeping firm pressure on cover, repeat for next string, pull cover off and you will have a positive and negative image,,
LOTS OF QUESTIONS COMING IN AND THAT IS AWESOME::
STRING, should be soft, pliable, yarn works the best no matter what paint media you are using, it does not break as easy, soaks up the paint, and leaves bold lines, in my demo pic above, that is black yarn I used.. for finer lines you can use butcher string, crochet string, but they are really fine, and cotton string will hold the paint. especially those of you who are trying this with acrylic paints. it does not matter with spray paints, only laying strings down on already wet paint and covering and pulling quickly
ANOTHER IMPORTANT THING, MUST PULL STRINGS QUICKLY or paint soaks into your paper and you will get blobs. do not water down paint to much,, and if you do, let your strings drip a couple of minutes over something else too get excess off before laying down your shapes,,and do not forget to leave your TAIL..
IF working with acrylic paints,
wet the string in your paints until soaked, lay down on your paper, may do many strings, but always leave a tail hanging out to pull
and may do many colors with this medium.
cover again with plain white paper, hold down with pressure and start pulling the strings slowly at and even level, like do not pull up or down, keep level with the table area you are working on,,
good luck, have fun, if anyone has any more questions, please bmail me, and leave me comments if you give this a try, add your pic in the comments also,, that would be fun.
COLORS:: I STAY TOO ONE TO THREE COLORS, TOO MANY AND YOU WILL GET BROWN, ALL COLORS MIXED WILL BE BROWN, SO KEEP THE COLORS SIMPLE!!! SEE MY EXAMPLES BELOW!!
"pull"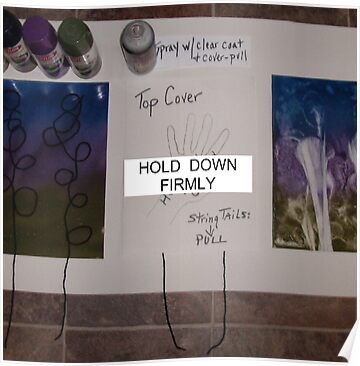 PS: THIS IS A VERY MESSY PROCESS SO MAKE SURE YOU, YOUR TABLE, YOUR FLOOR IS COVERED WITH PLASTIC, IF WORKING WITH SPRAY PAINTS, WORK IN A WELL VENTILATED AREA, WEAR A MASK, OR GO OUTDOORS!!!! GOOD LUCK AND HAVE FUN..
EXAMPLES OF SOME OF MINE… ALL DONE WITH SPRAY PAINTS..
"FOR YOUR LOVE"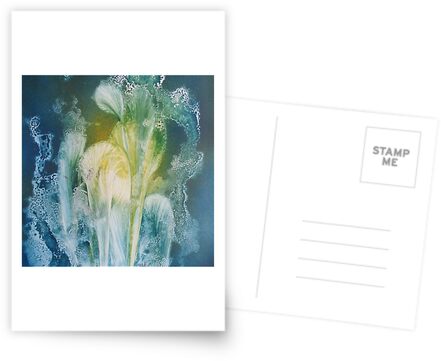 "APRIL PEACE"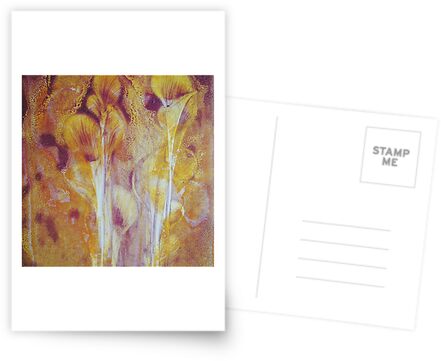 "PHANTOM CALLA LILIES OF THE PAST"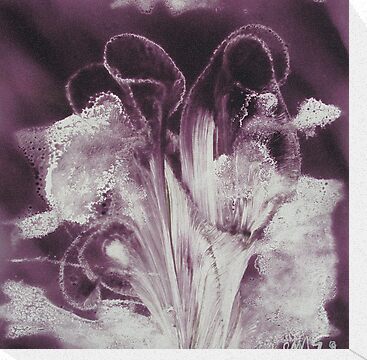 'PAPER BLOOMS"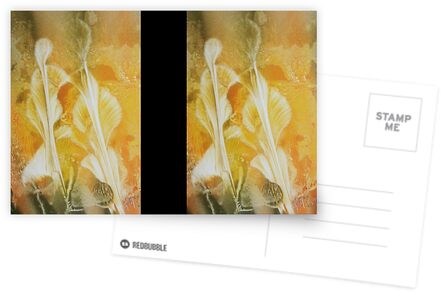 "PATRIOT IRIS"