SUCCESSFUL FIRST SOLO ART EXHIBITION
Very excited to share my good news with you all that my first solo art exhibition 'For the Love of Art' was a great success. It ran for two months and was open to the public on Friday, Saturday and Sunday at a local gallery in the Blue Mountains.
I was delighted with the experience and my hard work paid off. I was totally overwhelmed with the support and positive feedback that I received and I am happy to announce that 8 of my originals (as shown) were sold: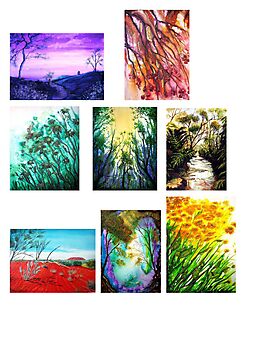 Also many cards (that I ordered from redbubble), prints and bookmarks that I made were sold. I must add that on the weekend, just gone, when I collected my paintings I found out that I had sold one of my larger paintings "Imagine"


at the Blackheath Rhododendron Art Show…could it get any better…?
Yes it could.. at the risk of blowing my own trumpet I also want to share some sales with you on the bubble recently and thank any of the buyers if they read this post.
Spirit of the Trees – Calendar sold
Daisies – Iphone Case
Autumn Love – Card
Giraffe – Sticker
Colours of Sunshine – Print
Some of you know that I am in the process of setting up my home art studio and my paintings are now hanging on the walls ready for display to the public when I decide everything is ready to show. Just a few things left to set up.
So my art journey continues…and I thank you my friends for all the encouragement, support and inspiration that you show me every day.
Enjoy the rest of your week
best wishes
Linda