STUDIO NEWS AND A MERRY CHRISTMAS!
Hello friends!
This year is passing so quickly and I hope it is being kind to you. Time waits for no one and is becoming invisible so thus an early journal post to wish you all a
'Merry Christmas and a Happy, Safe New Year.'
I would also like to share with you my latest studio opening on the arts trail of the Blue Mountains. It was a wonderful day meeting new people and I was delighted to sell two original paintings, Katoomba Falls and Autumn's Gold along with many cards and prints. You can view and see some photos, if interested, at this link –
Studio Open Day
I am also happy that the following works have been purchased through Redbubble and would like to thank the lovely people who bought the following:
1 x Christmas Robin T shirt
1 x Jellyfish Sticker
4 x Calendars of 'Underwater Treasures'
1 x Leafy Sea Dragon Card
1 x Colours of Autumn Card
1 x Autumn Blaze
1 x Beach Sticker
1 x Jellyfish Sticker
1 x Christmas Moon Card
Feeling blessed to have made many friendships here, long time and new, and I appreciate those who support and follow my art journey. As life grows busier and busier it is always nice to know that we can keep in touch and connect whenever we have the time, so a BIG thank you to Redbubble itself.
Wishing you all a very safe and happy time over the festive season and looking forward to seeing new works and sharing mine in the new year!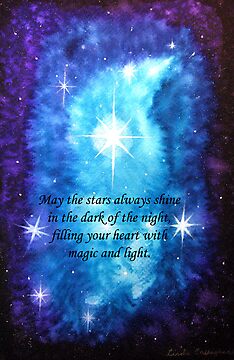 warm wishes Linda