Hi fellow bubblers I trust you are all keeping well.
Since my last post I have had two studio open days one in July and the other last weekend, along with the Blue Mountains Artists Network. Both open days were enjoyable meeting lovely, new people and I had a few sales. Even though no originals were purchased, many of my cards (from Redbubble) were sold, along with magnets, and 2 of my new books called The Spirit of Trees, filled with paintings and poetry, just printed (as shown below). I also picked up 3 commissions ..two are on hold until Christmas.
My book: The Spirit of Trees, $25 plus postage available direct – (lindart@mail.com)


Here are my beautiful girls, Tracy, daughter and Marli, granddaughter who support me all the way…Marli is checking out my new Underwater Treasure Series in my studio/gallery :)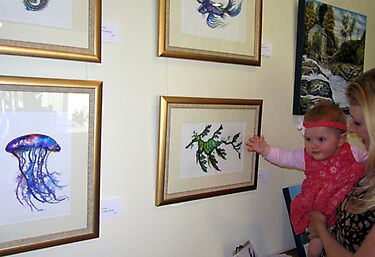 On the July trail I was delighted and surprised when the local newspaper turned up and interviewed me to give the last trail more exposure (was also a bonus for me) and we are hoping, as time goes on, it will become more known. Here is the cutting from the paper. Not very clear but you get the idea.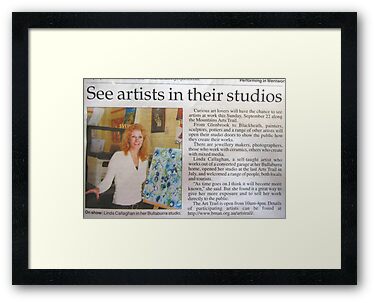 I am happy to have completed 3 commissions in the past couple of months and sell a large original Autumn Memories, at a local art show recently and to top it off my Kookaburras and Major Mitchells 'flew off' to a new home.
'BIG thanks' also go to the buyers of the redbubble items listed below – if you read this post…'your support is appreciated'.
Jellyfish Sticker x 1
Coral Stickers x 10
Hidden Grotto Card x 1
Dancing Poppies Cards x 2
Tree Song Card x 1
Beach Stickers x 9
Colour of Trees Print x 1
Waratah Stickers x 2
Ray of Hope Print x 1
Bubbles Card x 1
Ray of Hope Card x 1
Life is busier than ever, as it is for all, but I would like to say 'thank you' to my bubble friends for all your lasting support and especially to those that have been here since the beginning. You can also follow me at www.facebook.com/lindartcallaghan for all my latest news.
Happy bubbling….
Linda