NEWS - STUDIO OPENING & REDBUBBLE MEET
Hi Bubblers
It has been a very busy time of late for me with organising the opening day of my studio/gallery recently that co-incided with the Blue Mountains Arts Trail. It went well (despite a hacker bringing down the Blue Mountains site with the details a few days before) and I had a wonderful day. Although I did not make any major sales a lot of my Redbubble cards were sold and I had a string of visitors throughout the day. I had just started a commission, 'Kookaburra Magic', so was good timing to share it and I have picked up another!
Here is just one photo of the day:

Also sharing with you my first meeting with talented wildlife artist and fellow bubbler Sandra http://www.redbubble.com/people/sandysartstudio who was visiting the Blue Mountains with her husband. A few words from Sandra as shown in her Redbubble journal put a big smile on my face :
"Linda and I have over a couple of years complimented each other on our art. I just said in one of my posts that we would be in Katoomba in a couple of weeks.
Linda being the lovely lady she is, invited me to visit her and her studio. On the day of my visit it turned into a cold wet day but Linda's beautiful smile soon brought sunshine into the day so did the lovely fire she had going. A nice hot cup of tea and treats went down very well. Her art was a joy to view and I wish her all the best for the future with her lovely gallery. I was a bit green with envy at the space she has to paint in. I enjoyed my visit very much and I am sorry that I live so far away in Queensland."
THANK YOU SO MUCH SANDRA IT WAS A PLEASURE TO MEET YOU!
Sandy and I in my Gallery

More news is that I have had recently been featured on Redbubble's Homepage with Ray of Hope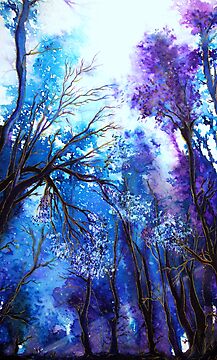 and Kookaburra Magic just featured on 25th May (slowly moving down the page)
Thank you so much Redbubble it is always an honour!
Enjoyed a few sales of late on the bubble too with
4 stickers sold of Beach


1 medium print of Bubbles



1 iphone case of Wishing Tree


Thank you so much to the buyers …enjoy!
Have a wonderful week all and keep bubbling…
Linda