How exciting is this! – I have reached my 13th Challenge Win, this time in the Old Farts of Red Bubble Group in the Members Choice Challenge for an Unusual Shaped Building, on 25th May 2014.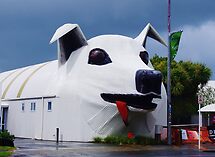 Tirau's Informative Dog
Thanks to everyone who made this possible – the hosts for setting up the challenge and the voters for putting this one up first.