Quality Textures, HDR & Photo Manipulation Group "Best of the Best" Challenge
Here's a bit of a plug for a new challenge we are going to run in a group I co-host.
If you're not already a member of this group and would like to enter, just head on over HERE and join up! I'd love to see you all in the running.
Best of the Best – By Nomination
The Challenge
This is a 'by nomination' challenge.
To be eligible to enter, members have to have a piece of their work nominated by another group member (using the nomination banner below).
No nomination, no eligibility to enter.
Each group member, can only nominate 2 other members (1 so you can reciprocate when your work is nominated, if you wish, and the second so you can choose someone else).
And.
This challenge WILL RUN FOR THE REST OF THE YEAR!
At this stage we can only have challenges run for a period of 1 month of submissions and 1 month of voting maximum.. BUT… we can extend challenge finish dates once they actually open for entries/voting by up to a month at a time.
So, we will open the challenge for entries and have an entry period that will run til the end/mid November (we will keep extending it in the challenge settings once the entries start coming in).
Then, we will have the month of December up to just before Christmas (or so) for voting.
(at this stage we are quite sure this will work, if not, we will rehash the rules etc and let all members know)
Judging / Voting Criteria
Vote for the entry/entries you feel are "THE" best of the best in the challenge.
Be fussy, be critical, be selective!!!
Rewards & Prizes
The winner will receive:
- a RB voucher
- a unique "Best of the Best" 1st place and "Premium Featured Member" banner
As a "Premium Featured Member" the winner will have
- a selection of their work and a profile blurb posted on the front page of the group.
- they will become a featured member (as per a 'normal featured member') and have 12 of their pieces posted as the group features for a week in the normal features section all in one big hit!
Additional Information
To nominate another member of the group for this challenge please paste the code for the banner and the challenge link below – in the artwork comment section of the person's work that you are nominating.
It should look like this when pasted correctly, and be a link to the challege: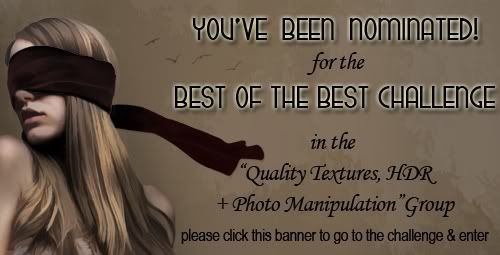 REMEMBER YOU ONLY GET TO NOMINATE 2 OTHER MEMBERS OF THIS GROUP
Work MUST be in the group to be eligible!!
Please head to the dedicated discussion topic on our group forum for any questions.