A journey in digital art - One Night in Morocco
This is a digital art creation for the Sojie 18 Abstract Art Workshop. My inspiration came from Tina Arena's song If I Ever A song about a love perhaps from a past life, but found in a strangers eyes, a deep feeling of knowing a person and feeling a strong magnetic pull to them. Knowing that they're with someone else and hoping they'll change their mind and choose you. I love all of Tina's songs, very passionate and amazing singer. These are the words to the song, followed by my Works in Progress!! This is my second digital art creation, my first being Moondance in the Night Garden
"If You Ever"
We are not strangers
Could we have met some place before
Am I in danger of myself
You're like a magnet
You pull me right across the room
It's like were thinking out loud
I can feel an unexplained connection
I can feel your undivided attention
I know that you're with somebody else
But I do
Feel like I have loved you
In another place and time
If it's true
Then I'll be waiting for you
If you ever change your mind
Let me change your mind
You leave me breathless
While sweet seduction takes a hold
You lied to everybody else
I can feel an unexplained connection
I can feel your undivided attention
I know that we have to say good bye
But I do
Feel like I have loved you
In another place and time
If it's true
Then I'll be waiting for you
If you ever change your mind
If you ever change your mind
If you ever realise
That it's me you want in your life
You know where to find me
If you ever change your mind
I am using part of a nude portrait painting that I started a while ago but not finished yet (my first), a macro urban shot "Celtic Fire" of peeling, paint, metal and rust, and a couple of cloud and sunset shots.
WIP 1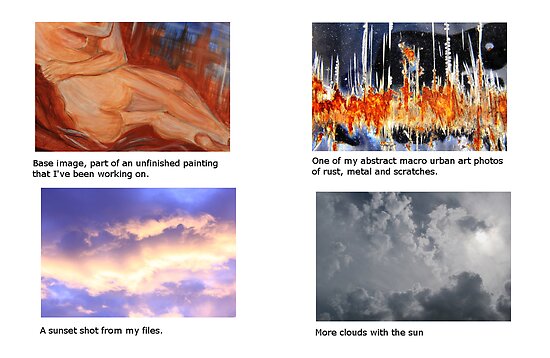 WIP 2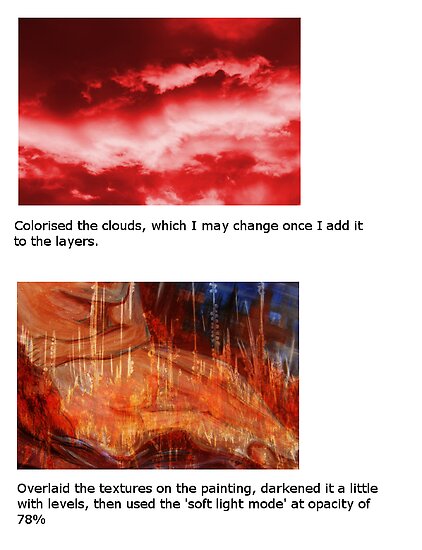 I'm finding it hard to keep track exactly on what I did on which image although I am writing it down as I go …LOL…so hopefully my steps with the images below are with the right wording!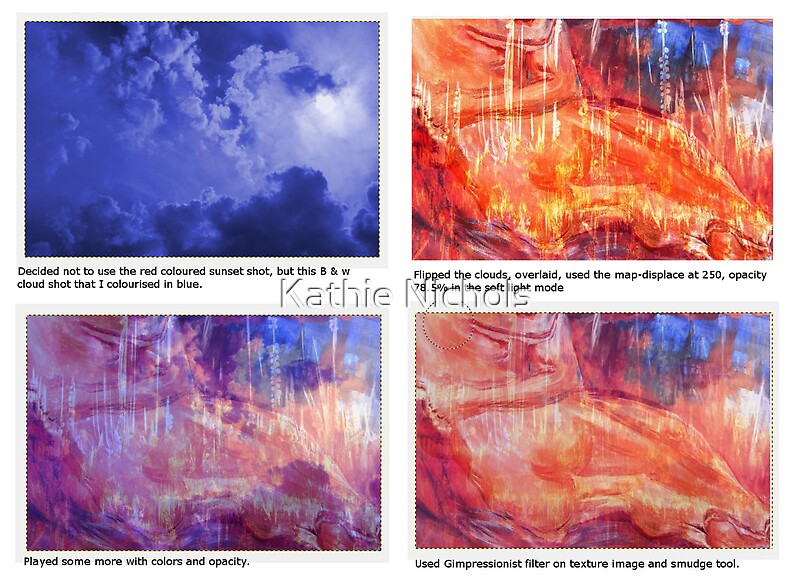 The blue/purple image reminds me too much of my first image for workshop, so I'm going with the reds and blues. Will now working on a little burning and dodging after merging all the images together. I added the blue cloud layer twice for more impace, and to soften the jagged edges from the texture layer of macro rust, I used the smudge tool and dragged it across from the left to the right. Adjusting contrast and brightness here and there.
I was going to try a radial blur, but it didn't quite work out, it froze 80% of the way through, although I did experiment with different modes with what as there…..however I did find a lovely effect instead, Distorts-wind-blast-right-leading-Threshold 10-strength 50, and did this twice….the second time I clicked on <trailing> instead of <leading>…I've been playing for the last couple of hours, doing small chores in between and cooking dinner! So here's the image with all of that and a close up shot too.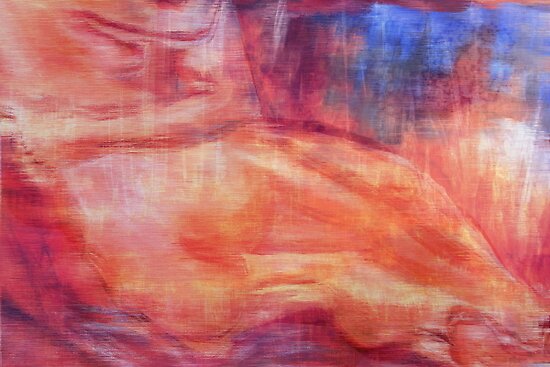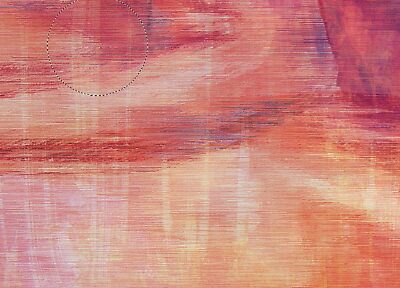 Hopefully the next one will be my final, I duplicated what I had done so far on the top layer then played with burn and dodge tool, creating a little more texture in the background, creating some highlights and shadows. Two lovers entangled…..a hot sultry night…..perhaps in Morocco….just maybe adding one more element. My inspiration is Tina Arena's song If you Ever