aloha…..I'd like to thank Frannie and Elizabeth and everyone who helps Frannie in SoJie 19 for my Award today, which is an unusual award in recognition of amazing tablet and penwomanship so I am deeply grateful and pretty chuffed. The details about the art work that won me this great award, are below. Oh and I almost forgot in my excitement to congratulate all the other participants and winners of awards who without you, this would not have been the fun it was, nor would it have been nearly as inspirational and challenging! So thank you everyone!!

…in recognition of amazing tablet
and -penmanship- penwomanship!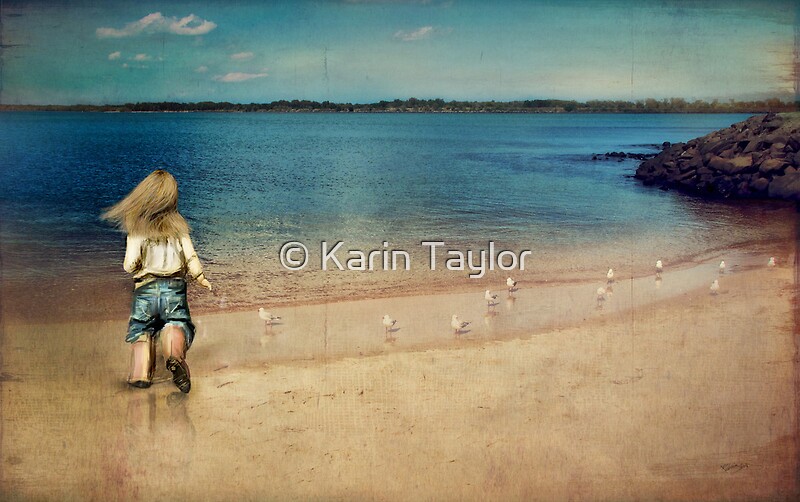 seaside holiday
by Karin Taylor
Digital Art
Digital Drawing of Girl
Inspired by the following reference image,
under written agreement with the photographer:


See Ya…
by DeeZ
This work (the drawing of the little girl) is from the Workshop we did.
Photograph reference of little girl is from the RB portfolio of Deez called "See Ya"
Little girl was created in Procreate using a stylus/pen, an iPad drawing/painting application
Processing and blending of image to (my own) previously existing photograph of the Bay was done in Photoshop CS4
Filter on previously existing photograph (my own) of Bay were previously processed through Nik Color Efex Pro 4
Free Texture on previously existing photograph (my own) of the Bay from Shadowhouse Creations
Photograph of Bay taken previously with Canon PowerShot G11 Digital Camera
I draw directly onto the iPad screen and build up the colour and form in layers. I save the image as I go, to keep a record, so that later I can create a video of how the work progressed to show viewers. I merge the layers together from time to time, as is necessary and at the final stage, I take one last photo and send it via email to my iMac. From there I uploaded the file to Photoshop, opened up my image of the Bay and superimposed the little girl in a separate layer. It didn't quite look like it belonged, so I flipped the Bay image, and grounded my little girl with some shadow and reflection. I gauged where to put it, by observing the seagull's shadows and reflections, to make it look authentic, like the little girl was really in the scene. I changed her tones, particularly her jeans, to make the denim tones more in line with the overall look of the Bay. I also added layers onto her hair with various hair brushes in Photoshop, to make it swing more freely in the breeze and help her to look more like she belonged in the image. I also changed her top and whitened/lightened it quite a bit and decided not to add the black polkadots that were in the original photograph I was using as a reference from Deez.
….mahalo (thank you) Frannie and Elizabeth and Team Solo/SoJie :)