Aloha!


To view my elephant designs on prints, cards, stickers, t-shirts and hoodies click here
Isn't it great we have so many different products now on Redbubble. They say variety is the spice of life, and so it is. It's been ages since I wrote about sales or did any kind of newsletter, so I thought it was high time. So, so far, this month I've sold 25 pieces, in a range products, including iPhone cases, photographic prints, tshirts, stickers and greeting cards. The elephant stickers really do sell well, which is great, but it's also nice to see my other designs like Kokeshi , Three Little Night Owls , Little Love Bird , Shaka sign and Little Green Teapot and Smile Baby Photographer designs are still popular choices. I was thrilled to also sell a greeting card of I painted a cloud so the sun could shine thru too :)


To view my designs of birds and owls on prints, cards, t-shirts, hoodies, kids clothes, stickers, etc click here
Sales for early to mid August 2012
Elephant T-Shirts, hoodies, childrens wear, stickers, etc



To view more of my T-Shirts and hoodies please click here
9 Sep 12 vintage elephant iPhone Case
9 Sep 12 Kokeshi 982891 Greeting Card
9 Sep 12 Vintage Elephant TShirt Sticker
9 Sep 12 Tattoo Elephant TShirt Sticker
7 Sep 12 Patchwork Elephant Sticker
7 Sep 12 Tattoo Elephant TShirt Sticker
7 Sep 12 three little night owls Greeting Card
7 Sep 12 Vintage Elephant TShirt Sticker
7 Sep 12 Shaka Sign Sticker
6 Sep 12 Little Green Teapot TShirt by Karin Taylor T-Shirt
6 Sep 12 Vintage Elephant Photographic Print
6 Sep 12 freckles Greeting Card x5
5 Sep 12 Little Green Teapot T-Shirt
5 Sep 12 Tattoo Elephant TShirt Sticker
4 Sep 12 smile baby wedding photographer T-Shirt
4 Sep 12 little love bird Photographic Print
4 Sep 12 Rajah TShirt Sticker
3 Sep 12 Tattoo Elephant TShirt Sticker
3 Sep 12 Vintage Elephant TShirt Sticker
3 Sep 12 Shaka Sign Sticker
3 Sep 12 I painted a cloud so the sun could shine thru Greeting Card
2 Sep 12 smile baby macro photography Greeting Card
2 Sep 12 dancing on rooftops Greeting Card
1 Sep 12 Smile Baby – Retro Tee Sticker
1 Sep 12 Tattoo Elephant TShirt Sticker
Smile Baby Photographer T-Shirt designs for Tees, hoodies, childrenswear, stickers, etc



For more go here
A huge thanks to everyone who buys my art and enjoys it, I am very grateful to you!
Busy busy busy…doing what exactly?
Apart from the sales, I have been very busy, as I've taken up photography and am really really enjoying that very much, it's a bit of a change from drawing and painting, but photography is good for the artist, as it makes your observational eye that much stronger and helps with composition too.
To see more of my photography please click here
Writing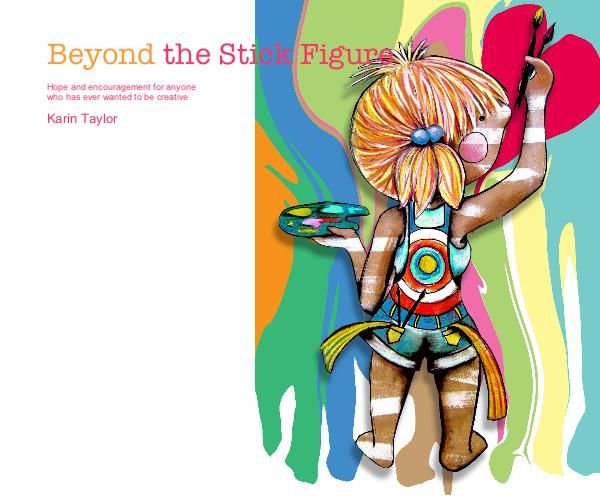 As some of you already know, I wrote a book Beyond the Stick Figure not all that long ago, designed to help people to be more creative. Preview the book here and read the reviews. Apart from that, I just love love love to write poetry and prose I have been doing a lot of that in the last couple of months and enjoy it so much. It's great to have a number of different creative outlets.
Etsy store
An artist friend of mine from RB who lives in Singapore "frozenfa" or Fa as we like to call her, has recently opened an etsy store for anyone who might be interested in our art on necklaces and earrings. Here are some examples:


To visit the etsy store to see what's currently for sale click here
Inspire Create
I've also spent a lot of time drawing and encouraging through my other Facebook site, called Inspire Create with artist Karin Taylor where I've posted lots of videos to help with drawing and lots of drawing exercises. This has been a most fulfilling time over the last few months and I've seen some wonderful results from other artists who have been working to improve on their drawing skills and gaining more confidence as they go. Really proud of you all!

Here are some of my still life studies and drawings from the Creative Exercises at Inspire Create.
Drawing and Painting


To see my art and paintings click here
I am continuing to draw and paint also, because that's a huge part of my creative drive and expression is so important to me. Lately I had the opportunity to take part in a wonderful drawing exercise. The theme being the "Human Figure" which is currently still in progress through a group on redbubble here called Solo. It was very challenging and a worthwhile experience. I chose a photograph of a little girl by Redbubble photographer DeeZ (with her express permission of course), as my reference.. and I then created a drawing of the little girl in the photo on my iPad, which I later exported and superimposed or merged into another photograph of my own called "Bay of Dreams". It was a fantastic exercise and really interesting as many of us have been posting our works in progress. It"s called Seaside Holiday


To see more of my art please click here
My most recent work is called "Wonder" and I've done x3 different versions of it, my favourite version being the warmer sunny one Wonder III

My intention is to continue drawing and painting digitally and later on, I am looking forward to making a return to large canvases and oil painting, on which I intend to paint large abstract skies and reflection surfaces on water. This is my goal, over the next 2-5 years, some of my ideas, take years to come to fruition, but this is a long held goal for which I should be ready to undertake in the near future.
Creating videos
This actually led to me this morning learning how to create videos of my Works in Progress, so that I can share with my audience, how my work takes shape, particularly when I'm working with the iPad, as I just need to take lots of photos as I go, and at the end, upload them into a video format through an iPad app for Slideshow. It's fast and intuitive. I hope that this helps gives my audience an idea of what goes into each piece and shows the layer upon layer of work.

Video of the progression of my painting Wonder

Video of the progression of my painting Seaside Holiday
On the horizon
My intentions are to continue drawing and painting as much as possible in the digital medium, however, I also hope in the next couple of years to start painting large abstracts on canvas in oils, of skies and reflective surfaces and bodies of water. This has been a vision of mine for a long while now, and I believe that I've been building up to it….so it is an exciting new frontier for me. I think I'll always paint my girls with the large eyes, because that is my signature of course.