Art Statement, Biography & Career Highlights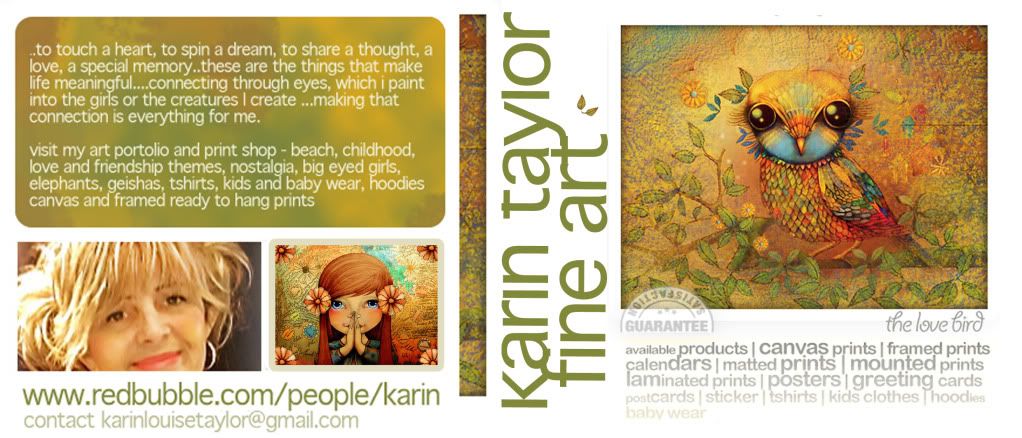 View my full art portfolio and online print shop click here
Objective
To convey a sense of restfulness through visual reflection. I use painting as a vehicle for expressing emotion as well as a reason to further my passion for researching different themes. Painting is always a learning and intoxicating experience for me. In researching my subject I am learning new things, and this is my favourite part of the process. In executing the painting itself I am problem-solving. Finishing a painting, is a great accomplishment, which brings with it a sense of achievement.
Background
Karin Taylor was born in 1965 in Parkes in the middle of a drought. Her early life was interesting, living in extreme landscapes, on the coast or in the outback or the bush as it is better known. She soon developed a fascination with colorful characters and an inquisitive nature.
A dreamy child, Karin was a drawer of fairies and princesses and won regular $2 prizes and Merit Certificates in the Sydney Morning Herald children's drawing competitions.
Karin's father John, an artist also, encouraged Karin to pick up the brush at the age of 15, introducing her to famous Australian artists in person, such as Maynard Waters and Graeme Stevenson. There was a certain amount of solace in the brush, and painting became a cathartic experience.
Karin is wife and mum with 2 kids…After the kids came along, Karin dabbled in oils, pastels and acrylics now and then, until she experienced a dramatic change and what was a hobby became a fully-fledged passion in Karin's life.
In the summer of 2002 Karin began painting full time and producing lots of work and within a short time was exhibiting in galleries along the east coast of NSW and Qld. Admirers from as far away as the United States and United Kingdom began to collect Karin's paintings.
Karin's use of mixed media allows her to explore different mediums and materials, and how they produce unexpected results which excite the imagination. The use of mixed media has become a way of exploring boundaries and pushing limitations.
It's funny finding that I've spoken about myself here in the third person, as one does sometimes when asked to create an artist statement, or biography….so I will just add to this in the first person….to laugh at myself….lol…I am now also exploring the field of digital art and what I'm doing is photographing my art to colour or paint it digitally using Photoshop software, it's a fascinating journey.
Karin's inspiration flows from the immediate environment, namely her coastal surrounds. She aspires to uplift the viewer wherever possible through her character portrayals.
Quote
The real epiphany for me would be that art is not only a career that I am pursuing, art is who I am, it defines me, it is the creative expression of all that I am, all that I see, all that I know…. all that I yearn for.
'I love to be near the ocean, I find it lifegiving and cleansing…it's beauty takes my breath away. I've always been one for exploring the rockpools, walking the beach and daydreaming…the ocean recharges my batteries and makes me feel inspired…I also get that from a full moon!…. oh and I also like to sit in the sun on a cold day, absorbing the warmth and just daydreaming about my next painting, that's when the best ideas come. Listening to my children play their music and seeing them develop their creative abilities …hearing about their day at dinner time, watching my family interact and being a part of a team, these are the greatest pleasures in life. Art is more than something I do, it really defines who I am. I paint because it is necessary to be creative in order to find balance and happiness. I love what I do and warmly welcome you to my portfolio
Exhibitions
2010 Solo Exhibition
2009 The Happy Challenge , 2nd place, (Stefan Sagmeister/Redbubble) appearing in Australian Artist magazine with Affirmation with winning painting featured
2009 Mirrors Charity Exhibition, Moiri Gallery,Sydney "Hidden Treasure"
2009 Womanly Tshirt Exhibition, Manly, Sydney (hung and sold)
2008 Mum=Mum2 Exhibition, Manly, Sydney
2008 Vivid Fine Art & Jewellery Gallery, Lennox Head
2007 Swell Gallery, Tugun
2004-2005 Rotating art Cafe De Mer, Lennox Head
2004 Inspirational Gallery, Robina Town Centre, Autumn Exhibition, QLD
2004 The Ethical Feast, Bangalow, NSW
2004 Avalon 8, Byron Bay, Autumn Exhibition, NSW
2004 Sheoak Shack Gallery Café, Fingal, Whole Womans Forum, NSW
2004 Roxy Gallery, Kyogle, Perspectives Exhibition, NSW
2004 Horizons Art Gallery, South Tweed Heads, Between the River and the Sea, NSW
2004 Citrus Upstairs Gallery, Byron Bay, Citrus Gets Fresh for Summer, NSW
2003 Sheoak Shack Gallery Café, Fingal, Art Not War, NSW
2003 Horizons Art Gallery, South Tweed Heads, NSW
2002 Masterpieces Lennox Head Primary School
Highlights
2010 conducted weekly series of live on the SPOT interactive interviews with artists on redbubble
Interview
2010 I was recently interviewed by here by anastasiia
Writing
2010 I also recently began writing poetry and some short stories here Some of my poems have been made into songs by The Katie Winter, click on the link below to listen to the songs or for more information

2010 Featured art in 'Office for Youth' REAL Poster Board Launch The board exposes the truths of digital manipulation, shares experiences, challenges and successes of young women, empowers readers to respect their bodies and minds and aims to inspire girls to achieve their potential. 'REAL Poster Board' that will be displayed in all Secondary Schools in the Greater
Shepparton region, Victoria, Australia.
2010 Featured and interviewed OMGEE fashion magazine
2010 Interviewed by Welcome to the Trueness blogger Amanda Pinkham
2010 International Graphics, Germany make contact and contracts to be signed for inclusion of art in international art catalogue
2010 Winner 'Book Depository' Bookmark Competition
2010 Curating/co-ordinator A Wonderful Life Exhibition
2010 Creation of justdrawing blog, mission: drawing for therapy and the expression of drawing in all forms, encouraging others to take up a pencil and draw for better outcomes and more wholesome living
2010 Commission accepted and successfully completed for Brand Logo with small business startup, Turkey
2009 Successful negotiation and collaboration with Reggae Party organiser, Tobias Dentz to have artwork printed on posters and flyers advertising upcoming Reggae Parties/Concerts in Denmark
2009 Griffith University/Griffith Review editor makes contact to feature artwork Baby Bull Production in next edition of The Griffith Review
2008-2009 Sales of prints and tshirts at Red Bubble totalling 545
2002-2009 Sales of original paintings totalling 97
2008 Created digital images representative of multicultural children for a children's restaurant/entertainment business startup
2008 Awarded Place and received Press in Mum=Mum2 Art Exhibition, Manly, hung in Chill Cafe, Manly, Sydney (see Madonna and Child
2007 approached by JMS Art Licencing USA to sign 3 year contract
2007 signed with America's Largest Mobile Phone company (screensaver contract), Fun Mobility USA
2007 signed with Chinese manufacturing import company for the production of manufactured prints to leading retail outlets in USA like Bed Bath and Beyond, Hobby Lobby, Home Goods,Ross Stores, Kirklands, TJ MAX and more
2005 1st Place Horizons Art Gallery, South Tweed Heads, Flora & Fauna (hung & sold)
2004 Hung and sold Casino Beef Week Art Exhibition, Casino
2004 2nd Place Horizons Art Gallery, South Tweed Heads "Between the River and the Sea"
2003 Hung and sold Southern Cross Art Exhibition, Ballina
2003 3rd Place Open Art Section, Tabulam Art & Craft Exhibition, Tabulam
2003 Hung and sold Sheoak Shack Gallery Café, Fingal
2002 Hung and sold St Francis Xavier Primary School, Private Show
2002 Commenced full-time practice
2001 Hung and sold Pines Art Exhibition, Tugun
1999 Highly Commended, Masterpieces Exhibition, Lennox Head Public School
Current Representation
Contracts under negotiation with International Graphics
Prior Representation
2007 Vivid Fine Art. Fine Jewellery, Lennox Head (paintings, prints & giclee Jewellery)
2007 Sublime Clothing, River Street (giclee jewellery)
2007 Sheoak Shack Gallery Café, Fingal (prints & Jewellery)
2007 Damien Rocks, Citrus Deli, Byron Bay
Major Influences ~ Brett Whitely, Gustav Klimt, Mirka Mora, Arthur Boyd, Clifton Pugh, Paul Klee, Henri Matisse, Amedeo Modigliani, Ken Done, John Olsen, Kim Gamble, May Gibbs, Shaun Tan, Poh Ling Yeow, Ainslie Roberts, Arthur Streeton, Charles Conder, Margaret Olley, Charles Blackman, Sidney Nolan, Margaret Preston and Albert Tucker, Indie Music, scripture, psalms and novels incl Hawaii by James Michener, Del Kathryn Barton, Charles Rennie Mackintosh, Margaret MacDonald, Art Nouveau, fashion, Frida Kahlo, traditional costumes from other cultures, particularly asian