Reflection on Creative Flow
As I reflect upon my creative journey I realise much of my output is simply a reflection of myself, my state of mind, grappling with things, etc. We are complex and there are many facets to our personality.
Creativity is a journey into myself and back out again, it is like mining, extracting from my core whatever I can find of value, as a sort of currency I use to live my life. It affords me a sense of worth, gives me a sense that I'm contributing somehow. It's not a means to an end, no, quite the opposite. I would describe my creativity more, as a living organism that has a heartbeat/rhythm, ebb and flow and experiences times of growth and times of health, wellbeing, is subject to getting ill and falling over, is fragile yet strong, is willing, vulnerable and versatile, sometimes insightful and sometimes lacking, essentially, it is as close to me, as my soul, spirit, mind and body, so when you are looking at it, I feel rather vulnerable. I cannot separate my art from myself. We are entwined.
For instance, when you view one of my paintings I'd suggest that I am revealing to you, something of me. If you make a connection with it, then you make a connection with me on some level, however, it is only an aspect of myself, not the entirety of who I am. Also, I would surmise that if you make a connection with it, you have made a connection with something far greater than me, which I like to call "The Great Blue Pool of Creative Flow". I believe it's something that those of us willing to enter so deeply into our inner worlds, find there. It is where all of us creatively connect, at this amazing watering hole from which we drink our collective inspiration.
It is interesting to read texts or programs about paintings and artists who've created them, and what the author suggests the artist's intention was, I find it fascinating, but never put much emphasis on it, because I tend to think that it was just the artist's state of mind at the time, and possibly they were trying to work things out like I do, experimenting and exploring, then again, perhaps that is an over simplification.
One of the best (and most popular) things to come out of my experimenting has been
Koi Watergarden another experiment that has proved very popular is Vintage Elephant I'm very interested in exploring more works along these lines.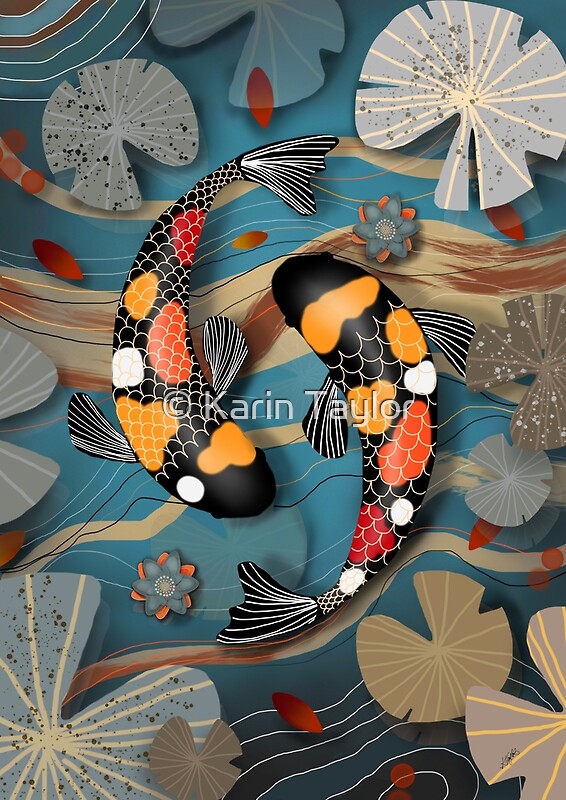 Sometimes I create when I am attempting to make sense of something, during a state of perplexion. Perhaps I'll pen a poem, or create a drawing, which I find has similar benefits to talking with a friend over coffee, in that it often helps me make sense of things.
From time to time, I'll enter into a state of flux or uncertainty, before I am able to proceed. My state of mind, has everything to do with my creative flow. A number of times, I've been bored and frustrated enough to change my direction and enter a state of exploration, and through that, discovered newfound satisfaction. It hasn't always been popular, but it was always necessary.
Other times, I'll create when I'm in a very good space and want to project that out beyond myself, it is my way of 'loving' others, just as some might say, that cooking is their way of expressing love for their family. Sometimes, I'll create because I'm looking to make a clear statement of belief, compassion, desperation or longing.
Often I create with the simple intention of making a special connection of simple goodwill toward the wider community, whom I rarely see, as I'm a bit of a recluse. It is that intention that I hope most permeates my works, and gives them a credibility, shows that what I'm creating is of authentic and genuine intention, and therefore has value.
If you do find a connection with my work it makes it all the more worthwhile to me, because I've reached out to whoever I could, in the hope that it would. Ultimately, that connection was my intention.